Westwood Innkeepers See No Room for UCLA Hotel
University says project boon to business.
Monday, March 12, 2012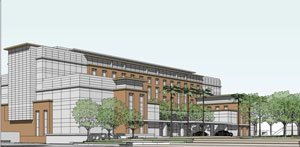 A proposed UCLA hotel and conference center – newly scaled down and moved to satisfy upset faculty and neighbors – is finally heading to the UC Regents this month for review.
But even if the $152 million complex receives the blessing of the university's governing body, it will face challenges from another group.
Local hoteliers are stepping up their own opposition. They argue the hotel will unfairly draw away visitors because of its lower room rates and the fact that the center will be publicly owned, which means customers will not have to pay occupancy taxes.
"The association is not saying that we are against any hotel development. We are saying if anything, it should be on a fair-competition, equal-playing field," said Bob Amano, executive director of the Hotel Association of Los Angeles, which is mulling legal challenges.
The opposition from the hotel association is the latest stumbling block for the facility, which UCLA officials first proposed in detail last year, saying the school needs a larger conference center for academic events and more rooms to accommodate guests.
It was originally proposed to have 282 rooms and replace the faculty center at the edge of campus near Hilgard Avenue, but residents feared congestion and the faculty was against losing the 53-year-old center.
The proposal was withdrawn in April and the university in November released its current proposal, which calls for a 250-room hotel and conference center that would be built more in the center of the campus, on what is now a parking structure at Westwood Plaza and Strathmore Drive near Pauley Pavilion.
The school, which will operate the hotel, is scheduled to release a business plan for the 255,000-square-foot, seven-story facility shortly before the Regents meeting set for March 27.
However, university officials have already acknowledged the hotel will have room rates substantially lower than nearby Westwood lodgings. They have pledged to restrict customers to UCLA visitors.
In fact, university officials say the center would attract more visitors for the hotels because the school would be able to host additional conferences, though officials were unable to provide a figure for how many conferences the school currently hosts.
"We aren't competing for tourists or business travelers," said Vice Chancellor Steve Olsen, who is overseeing the development.
He said the facility will generate a sufficient amount of new visitors to UCLA that will benefit the local business community.
Unfair advantage
However, local hoteliers maintain that the university is taking advantage of its financial wherewithal and public status to unfairly compete.
The complex would be built using about half of a $100 million donation that local businessman and alumni Meyer Luskin and his wife, Renee, made to the university last year. About $40 million would go toward construction and $10 million would be used to create an endowment to sponsor conferences at the center, which will be named after them, Olsen said.
The rest of the construction costs, totaling about $112 million, will be funded mostly through revenue bonds that will be paid off from conference and room fees. Olsen estimated that the hotel will have a 70 percent occupancy rate throughout the year and will break even in three years.
He added that the hotel rooms are projected to be priced at $185 a night. That's about $35 less than the average rate of $219 in the larger Westside-Santa Monica region, according to hotel consultancy and research company Atlas Hospitality Group of Irvine. Also, the $10 million endowment from the Luskins will subsidize some students and visitors who stay at the hotel.
On top of that, visitors will not have to pay the 14 percent occupancy taxes that Westwood hotel customers pay, nor will they have to pay the county's 8.25 percent sales tax for food and other purchases.
Hotel owners said the price advantage would lure away UCLA visitors, who make up about 40 percent of customers for some nearby inns.
"That would be a significant hit not just to us but all the hotels," said Reginald Archambault, general manager of the Luxe Sunset Boulevard Hotel, a 161-room hotel in Westwood that typically charges in the low $200 range per night and generally is about 70 percent occupied.
"If it's not our No. 1 partner, then (UCLA) is neck and neck with the Getty, so it's extremely important, and I would say the same for the other hotels," Archambault said.
What's more, hoteliers say the university is defining "university visitors" broadly. It would include not only those attending conferences, but, for example, families of high school students who are considering attending the university.
Plenty of space?
However, UCLA officials contend that hotel owners are overly worried and that area actually needs more beds.
In Westwood, there are 896 rooms combined provided by W Hotel Westwood, Hotel Angeleno, Palomar Hotel and Luxe; adding the Hyatt Century Plaza, the InterContinental Century City and the Beverly Hilton brings the total to 2,557 rooms, according to UCLA's market analysis.
That may sound like a lot, but Olsen said the university's two area hotels – the 61-room UCLA Guest House and 100-room Tiverton House – operate at near maximum capacity all year.
"There's an enormous shortage and I am confident that if we add another 250 rooms that they will be fully subscribed," he said.
Indeed, the greater Westside-Santa Monica hotel market is among the hottest in the country today, according to Alan Reay, president of the Atlas hotel consultancy. At the end of last year, the market had occupancy of about 78 percent with an average room rate per night of $219.
Reay said his consultancy does not have numbers that break out Westwood specifically, but he expects that the neighborhood would be just as tight.
"Santa Monica is just off the charts. West L.A. is off the charts. One reason that the hotel market is doing well is because there's a shortage of quality rooms," he said.
Kathleen Komar, a professor of comparative literature at UCLA, recalled when said she and her husband, also a university literature professor, tried to throw a Scandinavian literature conference several years ago. They were forced to hold it at the Crown Plaza hotel in Redondo Beach after failing to find enough space and affordable hotel rooms in Westwood.
"It gets frustrating not to be able to hold a conference," Komar said.
For reprint and licensing requests for this article, CLICK HERE.