SHAPE SHIFT
Biotech firm breaks mold, becomes manufacturer too
Monday, March 12, 2012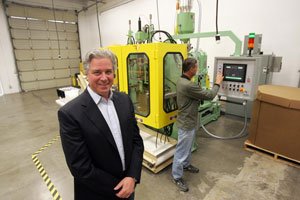 Imagine an inexpensive blood test that looks for tiny mutated cells, ones that can tell not only if you have cancer, but if it's spreading.
In developing such a diagnostic tool, Cynvenio Biosystems Inc. in Westlake Village ran into a common problem faced by such companies: The specialized lab equipment it needed didn't exist.
That usually means finding a way to modify an existing product or paying exorbitantly to have a company make custom parts.
But Cynvenio did something unusual for a biotech company: It recently started its own manufacturing subsidiary.
Called BioMolded Products LLC, it makes plastic pieces for medical tests and for a blood-processing machine the company plans to unveil later this year.
Even more ambitious: Biomolded is making lab equipment for other companies, potentially giving the company a revenue stream while it works to commercialize its cancer tests.
"It's revenue. It keeps everything humming," said Cynvenio Chief Executive Andre de Fusco. "We can get the plant up and running without waiting for the demand to pick up on the cancer side."
BioMolded started making parts for its parent in December in a leased 15,000-square-foot plant next to Cynvenio's Westlake Village office. Now, the company is making parts for an undisclosed customer and is in talks with Camarillo medical device and implant maker Kinamed Inc. to develop and manufacture disposable surgical instruments.
Starting up a manufacturing plant in any industry is a rare move in Southern California these days. Ahmed Enany, president of the Southern California Biomedical Council trade group, said he hasn't heard of any other local biotech firms starting such operations. He believes there should be good demand among local companies for BioMolded's services.
"I think they noticed there is a need in the market for specialty plastic molding," Enany said. "If you're a small business and not looking for a lot of volume, you're not going to get a low price."
Plastic pieces
Cynvenio, founded in 2008, is focused on detecting breast, prostate, lung and colorectal cancers without the need for a surgical biopsy. Its proprietary machine separates cancer cells from blood, allowing them to be analyzed to see if cancer is growing or responding to treatment.
The company plans to sell the cell-separating machines to labs and universities, and to provide blood-processing services to other customers. In the latter case, customers will send blood samples to Cynvenio.
One of the company's advances is a blood-collection system that allows blood to be shipped unrefrigerated. To do that, de Fusco said, Cynvenio needed to custom design a collection kit, one with specially designed vials and small plastic tubes of chemicals called fixatives that are mixed with the blood before shipment.
"A lot of the parts used in the liquid biopsy kit are made at Biomolded," he said. "They're custom kits, designed by us, for us, for this test."
Cynvenio spent hundreds of thousands of dollars on BioMolded's plant and equipment, de Fusco said, but the company has already started to realize savings. Some of the custom parts the company had made through an outside manufacturer cost $10 each, in part because Cynvenio was ordering in small batches. BioMolded now makes the same parts for less than $1 each.
Bringing manufacturing in-house has another benefit: control. Some of the plastic molders Cynvenio worked with don't specialize in medical equipment, leading to products that didn't meet its requirements for cleanliness.
"We've received parts that had hair in them," de Fusco said. "You wait three months for them and then someone's eyebrow is embedded in one of the pieces. It's just so much easier to do something yourself than try to outsource it to people who are not well versed in this area."
Customers
Bill Pratt, vice president of operations at Kinamed, said Cynvenio's familiarity with clean manufacturing procedures is one of the reasons his company is considering manufacturing products at Biomolded.
"As a medical company, they have some of the same parameters we do," he said. "We're not going to a toy maker and asking them to mold something for us."
But he believes Kinamed will also save money in part because of the startup's manufacturing process. BioMolded makes parts using blow molding, a process in which plastic is blown into a mold, which is the way bottles and other hollow plastic products are made. The process uses relatively inexpensive, single-piece molds made from aluminum.
By contrast, injection molding, used to make most other plastic products, involves forcing plastic resin into molds that define both interior and exterior contours. It requires more complex molds that must be made of steel because the resin is injected at high pressure.
"With injection molding, your mold starts at around $20,000 and then every feature you add is another $5,000 or $10,000," Pratt said. "In blow molding, you might be at a quarter of that."
Southern California has no shortage of both blow- and injection-molding companies, from ones specializing in medical devices to others that supply the aerospace industry. But the Biomedical Council's Enany said there's a shortage of shops specializing in making relatively small quantities.
Cynvenio's foray into manufacturing is a continuation of the company's funding strategy, which has aimed to make it less reliant on private investors, who have provided just $6.5 million since 2008. Instead, de Fusco said the company has sought grants and received a "few million" from a contract with a major pharmaceutical company to do research.
"We've never been in a period where we've not brought in cash," he said. "Other companies don't have that revenue and have raised 10, 20, 50 million (dollars from investors). That's just a different choice."
For reprint and licensing requests for this article, CLICK HERE.