Downey Hospital Has Checked Out of Chapter 11
HEALTH CARE & BIOTECH: Medical center retains same ownership after reorganization.
Monday, March 12, 2012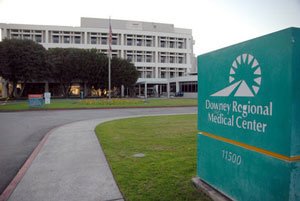 Non-profit community hospital Downey Regional Medical Center last week emerged from Chapter 11 bankruptcy without changing owners, an accomplishment achieved by only a handful of hospitals in the state's history.
The 508-bed facility in South Los Angeles County managed the feat during a time of unprecedented upheaval not only in the health care industry but also the capital markets.
Rob Fuller, chief operating officer, said it was a struggle for him and Chief Executive Ken Strople.
"Both Ken and I lost a lot of sleep, over the last two years in particular," said Fuller. "The remarkable thing was that through it all our employees banded together and kept the hospital operating as normal."
Downey suffers from a challenging payer mix, with roughly 50 percent of patients on Medicare, 14 percent on Medi-Cal and less than 35 percent paying their bills with commercial insurance. When Strople and Fuller replaced previous management, they inherited reimbursement contracts from insurers that were inadequate to cover the hospital's bills. The hospital, for example, used to lose about $1,000 each day for every bed occupied by a Medi-Cal patient.
Previous management had depleted a $100 million investment fund to fill the gap, Strople has said. In addition, the hospital lacked sufficient financial controls to monitor costs and make sure insurers were being billed and had paid. Strople and Fuller cut costs, put better controls in place and renegotiated better reimbursement contracts with insurers.
Downey also was hurt by the 2007 closure of Martin Luther King Jr. Hospital, a South L.A. facility operated by Los Angeles County that served the poor but lost federal funding after repeated patient deaths and other care problems. Downey was among nearby hospitals that had to pick up the slack.
Talks with non-profit hospital chains about a potential affiliation for Downey did not result in firm offers, and the 2009 credit crisis hit as the hospital was about to firm up a refinancing plan. That prompted Strople to put the hospital in Chapter 11.
Now, as the capital markets have gradually recovered, Downey recently issued $32 million in federal taxable bonds and entered a $20 million credit facility tied to its accounts receivable. That enabled the exit from bankruptcy.
Wider Network
Health Net of California Inc. in Woodland Hills has retooled and renamed one of its low-cost insurance plans – that offer a smaller number of doctors than other plans. It's an effort to win over employers and potential members who didn't think its tailored network offered enough local doctors in their communities.
The expanded tailored network, SmartCare, brings on board the largest physician group in the county, HealthCare Partners Medical Group, among others.
The plan, formerly known as Bronze HMO, will still cost members about 25 percent less than the company charges for a comparable level of benefits available in the company's traditional broad network plans.
"Narrow networks are becoming more important across the industry because it's one way for the plans to negotiate more effectively with hospitals," said Ana Gupte, analyst for Sanford C Bernstein & Co Inc. in New York. "If all you have are broad networks, you can't eliminate the (physician) providers who won't offer you the discounts necessary to price a more affordable health plan."
Health Net has more than 47,000 physicians in its statewide provider network. SmartCare roughly offers 6,400 doctors in Los Angeles, San Diego and San Bernardino counties. Further expansion in Southern California is planned.
In addition to more doctors, the plan now provides coverage for nontraditional complementary care such as chiropractic and acupuncture. It also will offer new financial incentives, such as gift cards for SmartCare members who take certain preventive care measures.
"Our studies find that while people are very interested in a healthy lifestyle it takes certain incentives to get them to follow through and be proactive with their physician," said Larry Tallman, chief sales officer of large group accounts for the western region of Health Net Inc., the parent of the California unit, also in Woodland Hills.
Tooth Money
C3 Jian Inc., which is developing a topical treatment to prevent dental cavities, last week closed its most recent equity financing, raising $30 million.
The Marina Del Rey company plans to use proceeds to pay for clinical trials of its experimental peptide drug targeting dental cavities, C16G2, and expects to file an application with the U.S. Food and Drug Administration next month.
Three earlier shareholders of C3 Jian, Wyssta Investments Inc., Renaissance Health Services Corp. and Corvesta Inc., participated in the financing. Each company is affiliated with or owns at least one company that underwrites dental insurance, C3 Jian noted.
Staff reporter Deborah Crowe can be reached dcrowe@labusinessjournal.com or at (323) 549-5225, ext. 232.
For reprint and licensing requests for this article, CLICK HERE.