Ready to Take Off?
Business leaders scramble to tie down air base
Monday, March 5, 2012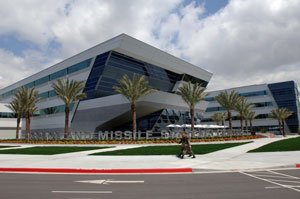 The Los Angeles Air Force Base doesn't have a control tower. Or a runway. Or, for that matter, airplanes.
Instead, the El Segundo installation has the Space and Missile Systems Center and a half-million square feet of offices. It's where some 4,500 military and civilian engineers and contract administrators dole out billions for satellites and other hardware built largely in the South Bay.
But some local officials fear those thousands of jobs and, ultimately, billions of dollars of contracts could ship out in the coming years if the Department of Defense opts to close the base as it slashes the military budget.
To combat that possibility, members of the Los Angeles Area Chamber of Commerce, including representatives from at least one aerospace contractor, are launching a preemptive strike, lobbying California's congressional delegation and Pentagon officials. Starting with a trip this week to Washington, D.C., they plan to argue that closing the base would hurt the local economy as well as national security.
"The loss of Los Angeles Air Force Base would be an economic tsunami at a time when we can least afford it," said David Herbst, executive vice president of L.A. aviation services company Mercury Air Group Inc. and one of the chamber members leading the push to keep the base. "We need to educate the public and the decision makers about the base's importance. It was by the hair of our chinny chin chin that the base wasn't (closed) last time."
If the base closes, the tens of billions of dollars in space-related contracts it oversees will be managed from another base. Local officials worry that would make the South Bay less attractive to aerospace contractors, further diminishing Los Angeles County industry that has hemorrhaged tens of thousands of jobs over the past few decades.
Congress and the Pentagon haven't called for a new round of base closures, but as the Defense Department seeks to trim nearly $500 billion from its budget over the next 10 years, it seems nearly certain base closures will be necessary. Los Angeles Air Force Base has been targeted for closure the last several times Congress has convened a base realignment and closure commission.
Since the last round of closures, the El Segundo base was rebuilt through a $115 million public-private partnership. That would presumably boost the base's stature.
On the other hand, political changes could hurt its chances.
In 2005, Rep. Jerry Lewis, R-Redlands, and then-Rep. Jane Harman, D-Torrance, were key supporters of the base. But Harman gave up her congressional seat last year and Lewis has said he won't seek re-election this year, leaving base supporters looking for new backers in Washington.
Harman said it will take a team effort to keep the base.
"Both senators, 53 members of Congress and the governor would be a good team," she said. "They need to start working together."
Shared history Since its founding in 1954, the base has been closely tied to the South Bay's aerospace industry. Most of it was built on land acquired from TRW Inc., now part of Northrop Grumman Corp., or on former U.S. Navy land that once housed a Douglas Aircraft Co. plant. Those ties are still visible today. Northrop, which moved its headquarters from Century City to Falls Church, Va., last year, still has a facility adjacent to the base, while the headquarters of the company's aerospace systems division is just two miles south. Raytheon Co. of Waltham, Mass., has its space and airborne systems division one block away. Indeed, the base was built in the South Bay in part because of the presence of aerospace firms, and those firms have maintained a presence in the region in part because of the base. "It's part of the glue that keeps (companies) there," said Jon Kutler, founder of Admiralty Partners, a boutique aerospace investment banking firm with offices in Los Angeles and Washington, D.C. Procurement officers and contract administrators at the base are responsible for buying satellites and other high-price equipment, and engineers at the Aerospace Corp., a federally funded research center across the street, help design that hardware. Many projects are then built at nearby plants. On their trip to Washington this week, Herbst and other chamber members, including representatives from Northrop Grumman, will argue the nation will be less safe if the South Bay's aerospace synergy is lost or the local concentration of aerospace talent is diluted. They believe that the local engineering jobs could be relocated to Colorado Springs, Colo., the headquarters of Air Force Space Command. But many of the region's engineers might be unwilling to leave Southern California. "We have to make the case that the intellectual capital is so valuable here in Southern California that it cannot be transported. 'If you try, you will harm what is really the tip of our spear: technology,'" Herbst said. However, Kutler doesn't believe the aerospace industry will pull out of the region anytime soon if the base closes, given the local talent and facilities. "Given the huge investment that's been made here, military space won't leave the South Bay in the near term," he said. "We still have a leading ecosystem in that area because of all the work being done in the private sector that's still there." But Steve Kuykendall, a former South Bay congressman, said that investment is no guarantee companies won't eventually move entire manufacturing operations. "They may initially keep that production here, but over a 15- or 20-year period, they might migrate to where the engineers are," he said. "You can't just pick up and move the satellite plant, but can they close that plant and transfer the talent? I imagine they can."
New mouthpiece
Each round of basing closings has been more difficult than the last, with fewer bases left to cut. That means leaders from every state will lobby fiercely to keep their local bases, believing they can't afford to lose jobs and federal investments.
But with a new round of base closings on the horizon, California will have to fight for its bases without two long-serving representatives who championed the L.A. installation.
Herbst described Harman, a hawkish Democrat who served on the House intelligence subcommittee, as a key backer of Los Angeles Air Force Base in 2005 and during previous base-closing rounds. In the most recent round, she got Lewis, then chairman of the powerful House Appropriations Committee, to lend his support to the base.
"I give Jerry Lewis huge credit," Harman said. "He personally intervened with (then-Secretary of Defense) Don Rumsfeld, with whom I did not have as warm a relationship."
Under California's new congressional district boundaries, created last year by the California Citizens Redistricting Commission, the base will fall in the district of longtime Rep. Henry Waxman, D-Los Angeles.
Waxman has not been out front on the issue, but issued a statement to the Business Journal in which he said he doesn't believe the base is in danger.
"The Los Angeles Air Force Base is fulfilling such a critical mission that I don't expect that it will be targeted. But in the unlikely event it is, I will work hard to preserve it," the statement read.
For reprint and licensing requests for this article, CLICK HERE.