Ready to Take Off?
Business leaders scramble to tie down air base
Monday, March 5, 2012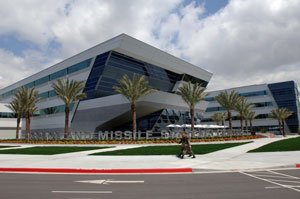 The Los Angeles Air Force Base doesn't have a control tower. Or a runway. Or, for that matter, airplanes.
Instead, the El Segundo installation has the Space and Missile Systems Center and a half-million square feet of offices. It's where some 4,500 military and civilian engineers and contract administrators dole out billions for satellites and other hardware built largely in the South Bay.
But some local officials fear those thousands of jobs and, ultimately, billions of dollars of contracts could ship out in the coming years if the Department of Defense opts to close the base as it slashes the military budget.
To combat that possibility, members of the Los Angeles Area Chamber of Commerce, including representatives from at least one aerospace contractor, are launching a preemptive strike, lobbying California's congressional delegation and Pentagon officials. Starting with a trip this week to Washington, D.C., they plan to argue that closing the base would hurt the local economy as well as national security.
"The loss of Los Angeles Air Force Base would be an economic tsunami at a time when we can least afford it," said David Herbst, executive vice president of L.A. aviation services company Mercury Air Group Inc. and one of the chamber members leading the push to keep the base. "We need to educate the public and the decision makers about the base's importance. It was by the hair of our chinny chin chin that the base wasn't (closed) last time."
If the base closes, the tens of billions of dollars in space-related contracts it oversees will be managed from another base. Local officials worry that would make the South Bay less attractive to aerospace contractors, further diminishing Los Angeles County industry that has hemorrhaged tens of thousands of jobs over the past few decades.
Congress and the Pentagon haven't called for a new round of base closures, but as the Defense Department seeks to trim nearly $500 billion from its budget over the next 10 years, it seems nearly certain base closures will be necessary. Los Angeles Air Force Base has been targeted for closure the last several times Congress has convened a base realignment and closure commission.
Since the last round of closures, the El Segundo base was rebuilt through a $115 million public-private partnership. That would presumably boost the base's stature.
On the other hand, political changes could hurt its chances.
In 2005, Rep. Jerry Lewis, R-Redlands, and then-Rep. Jane Harman, D-Torrance, were key supporters of the base. But Harman gave up her congressional seat last year and Lewis has said he won't seek re-election this year, leaving base supporters looking for new backers in Washington.
Prev Next
For reprint and licensing requests for this article, CLICK HERE.