Pollution Credits A Smoke Screen?
Business rips 'cap and trade' as $1 billion tax.
Monday, June 25, 2012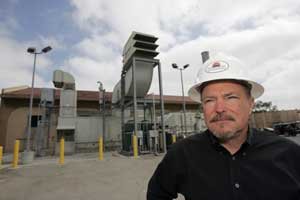 Among the L.A.-area companies and facilities covered by the carbon cap-and-trade program: Amgen Inc. of Thousand Oaks; Southern California Edison, a unit of Rosemead-based Edison International; Anheuser-Busch Inc.'s Van Nuys brewery; Paramount Petroleum Corp.; Owens-Brockway Glass Container Inc.'s plant in Vernon; and all six oil refineries in Los Angeles County.
Controversial auction
The business coalition formed in 2006 to fight passage of greenhouse gas emission law AB 32. That year, Gov. Arnold Schwarzenegger signed the legislation, which included the cap-and-trade program.
Based on other agencies' cap-and-trade programs, the businesses targeted by AB 32 thought that the California Air Resources Board would give free credits to all 625 targeted facilities in order to give them enough time to budget for credit purchases or investments in carbon-reducing technologies.
But last year, the air board surprised them by forcing many companies to buy some credits at auction. The companies can still get most of the credits for free, but if they need more, they will have to bid on them.
However, the rules now affect some facilities, such as Signal Hill, more dramatically. They will not get any free credits and will have to buy them all.
That's because Signal Hill's facility, and some others, generate electricity only for on-site use; such facilities don't get any free credits.
As originally conceived, the cap-and-trade plan was not going to make any money for the state. By forcing some of the credits to go on the block before the program even starts, the money goes to the state, since companies won't yet be able to put their credits on the market. So the state gets an estimated $1 billion it would not have received had it set up the program as others that distributed the initial credits for free.
"The auction is an important mechanism to promote market transparency and it also gives companies additional incentive to find innovative ways to cost-effectively reduce emissions," air board Chairwoman Mary Nichols said in testimony to a state Senate committee in March.
At the projected opening price of $30 per metric ton of carbon emitted, the initial auction could generate close to $1 billion for the state government. Nichols said the revenue could go to other state-run clean energy and environmental programs, including the proposed high-speed rail project.
Despite business opposition to the opening auction, the air board has stuck to its revised plan, which has prompted the last-minute drive by the business coalition to have the Legislature step in.
For reprint and licensing requests for this article, CLICK HERE.