Upper Crust
Pizza places vie to spin artisan pie into dough
Monday, June 18, 2012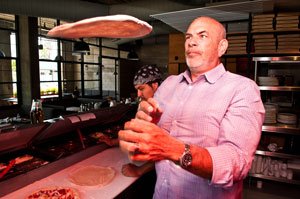 Before Nancy Silverton opened Pizzeria Mozza in 2006, there were few places Angelenos could go to find the kind of handcrafted artisan pizzas she serves. But pizzerias dishing up similarly styled pies have been popping up all over Los Angeles lately, and more are in the oven.
Pitfire Artisan Pizza, for example, a small Venice chain with five locations, will nearly double by opening four more pizzerias in the next 18 months.
Though his Pitfire predates Mozza, co-founder Paul Hibler said he gives Silverton credit for popularizing artisan pizza in Los Angeles.
"We're eight years older than Mozza, but I think they really started this," he said. "Nancy really opened the eyes of people in Los Angeles."
Other pizza restaurants slated to open this summer include dinner-oriented Italian places Soleto and Trattoria Neapolis, opening by the end of the month in downtown Los Angeles and Pasadena, respectively. In addition, two Blaze Fast Fire'd Pizza locations, a fast-casual concept by Rick and Elise Wetzel of Wetzel's Pretzels, will open in Irvine in July and in Pasadena in September. Another fast-casual pizza concept, 800 Degrees, opened in Westwood in March.
While chefs seem to be running to get a slice of the artisan pizza pie, those who have been around longer said it's not that easy.
Hibler said chefs can't expect to succeed if they haven't taken the time to learn how to craft a good pizza.
"You don't just buy a pizza oven and start making pizza, then expect that it's going to be good," he said. "It's a craft like any other; it requires time to develop your style. You can't skip to the end."
Rick Wetzel said that's why he and his wife hired L.A. chef Bradford Kent of Olio Pizzeria & Café to help develop the menu for Blaze.
"He has spent years in front of the oven, and he brings that to our chain," Wetzel said. "It gives us a big advantage. That's why I think I'll be one of the guys who come out on the other side. It's easy to get into the pizza business, but it's hard to make a really good pizza."
Innovative Dining Group will open Soleto shortly. The company currently owns and operates 11 restaurants in Los Angeles, including Sushi Roku and BOA Steakhouse restaurants. Lee Maen, a partner at Innovative, said he has a lot of respect for people who have perfected their pizza skills. But even though making pizza is a departure from what the company has done in the past, he believes the restaurant will be successful.
"I don't think it's easy to come out of nowhere and do something great," he said. "But it definitely happens."
What's behind the popularity of artisanal pizza in Los Angeles today? First, diners are demanding higher-quality ingredients. Second, pizza restaurants have wide profit margins.
Restaurant consultant Jerry Prendergast in Culver City said chefs are opening pizzerias because food costs for pizza are low and those savings can be passed along to diners.
"People are looking for bargains, but they're looking for something that's exciting and interesting, too," he said. "Artisan pizza gives them that chance."
Both 800 Degrees and Blaze are geared toward bargain hunters and the lunch crowd. They're fast-casual concepts that allow diners to customize each pie by means of an assembly line process, similar to Chipotle Mexican Grill. L.A. chef Anthony Carron collaborated with Umami Restaurant Group to open 800 Degrees.
Pizzas at both Blaze and 800 Degrees will cost diners about $7 each on average, and a pizza at Pitfire runs about $10. Mozza pizzas are more expensive, ranging from $11 to $19.
But with more than 67,000 restaurants across the nation, pizzerias are the biggest dining category in the United States. Sandwich places (including Subway) and burger joints (including McDonald's) are the second and third biggest, with 56,000 units and 47,000 units, respectively.
Darren Tristano, executive vice president at Chicago market research firm Technomic Inc., said that even though the numbers might suggest there's little space for new pizza players, there is room at the table for those responding to changing consumer tastes.
"The pizza market is very mature. It's very saturated," he said. "But it's also a staple in American consumers' lives. What we're starting to see is a demand for better quality on the consumer side being met on the restaurant side."
Artisan pizza is defined as crafted with dough made from scratch, topped with high-quality ingredients, then baked for a short time in a very hot oven, usually wood-fired. Most artisan pizzas are loosely based on the classic Italian pizza from Naples, characterized by a thin base crust and a thicker, bubbly outer crust.
Hibler opened Pitfire's first pizzeria in 1997 with co-founder David Sanfield to sell artisan pies in North Hollywood. The company opened its most recent restaurant in March on Fairfax Avenue in West Hollywood.
Now, after five restaurants in Los Angeles County, the pizza company is expanding its horizons. Three of the four restaurants the company is planning to open will be outside the county; one each in Newport Beach, San Diego, and in or near Oxnard. The fourth will be in Manhattan Beach.
But while Pitfire grows, Hibler said he wants to avoid giving the restaurants a corporate feel. That's why the company hires different designers to create a different look for each restaurant – in contrast to a chain such as L.A.-based California Pizza Kitchen, which is working to reclaim its former popularity.
"Eating pizza is a communal experience," he said. "You can't have a shiny corporate joint and expect people to feel that."
The Newport Beach location, which will be one of the first two new Pitfire pizzerias to launch, is just around the block from a second Pizzeria Mozza, which opened at the end of last year.
Hibler said he doesn't think the two will compete for customers.
"I think it's great," he said. "There's plenty of room for a couple of goofy artisan pizza guys down there."
Consultant Prendergast said that he doesn't think the market for artisan pizza in Los Angeles is oversaturated yet, but that day is not far off.
"We have a large population, so I'm not sure we're at the stage where we're overwhelmed yet," he said. "We have a little ways to go, but at some point it's going to be time for someone to open something else."
For reprint and licensing requests for this article, CLICK HERE.