Mall Owner Sold On Century City
Westfield plans expansion, new HQ.
Monday, June 18, 2012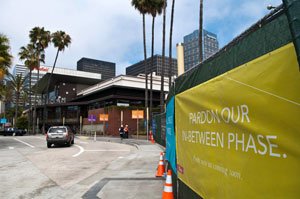 The Westfield Group is gearing up for a $500 million makeover of its Century City shopping center – already one of the top performers in the country – at the same time it plans to move its U.S. headquarters closer to its prized outdoor mall.
The Sydney, Australia, mall developer is slated to sign a lease with landlord JP Morgan Chase & Co. this month to move from its longtime Brentwood offices into the Century Plaza Towers, at 2029-2049 Century Park East.
"Similar to Westfield's Sydney headquarters, where the office is 'on top of the shops,' the objective is greater proximity to a flagship property," said Katy Dickey, Westfield's executive vice president of corporate communications, in an e-mail.
One of the world's largest mall owners, with 118 properties and $4 billion in global revenue, Westfield has been refocusing its corporate strategy to develop high-end urban malls – and improve those it already has – with particular interest in its U.S. locations.
That's a description that fits the 800,000-square-foot Westfield Century City shopping center, the company's top performing U.S. mall. It generated $920 a square foot in sales last year, one of the highest figures of any mall in the country.
Now, Westfield wants to expand the retail complex by building a second story with more shops. It also would demolish two adjacent office buildings and replace them with a separate parking structure and a 39-story residential tower with retail on the bottom floors. Commercial offices would be added to the mall structure to replace some of the space lost from the office buildings.
The company plans to begin the project later this year and complete it by 2017.
Gary Horwitz, managing director for brokerage Jones Lang LaSalle Inc.'s El Segundo office, said he was not surprised that Westfield was moving its headquarters to Century City.
"I can guess that it's going to be advantageous to be living it and walking it every day," said Horwitz, who is not involved in the project. "It's like any tenant who wants to be near its customers. There are just synergies that are created with that physical proximity."
Small move, big plans
Westfield plans to move into about 80,000 square feet at the Century Plaza Towers, a reduction from the 135,000 square feet it has occupied at 11601 Wilshire Blvd. in Brentwood, where its lease expires in the spring.
Terms of the lease are not known, but if the deal is signed this month, the company could begin moving into the space as early as this year, sources told the Business Journal, just as work on the mall property begins in earnest.
Westfield Century City has about 150 stores, including luxury retailers Tiffany & Co., A/X Armani Exchange and Thomas Pink. It is anchored by a Bloomingdale's, and includes an AMC Theatres multiplex, a Gelson's Markets grocery and hip restaurants such as Pink Taco.
Westfield bought the mall for $165 million in 2002. It bought the two office towers in later years; the total project property is 22 acres. It completed a first set of improvements several years later, relocating the 15-screen multiplex to the southwestern portion of the mall and building a 1,308-square-foot dining area on the second floor in 2005. It expanded the Gelson's grocery and added a luxury retail wing the next year.
The current project would add 359,000 square feet of shopping space and 262 residences but reduce the total office space by about 250,000 square feet.
"The proposed improvements would promote the future vitality of the shopping center and enhance Century City as a walkable community by providing options to live, play, work and shop in area that is already an established employment hub," said the company's environmental impact report.
Some of the new retail space and all of the office space would be added above a stretch of shops along Santa Monica Boulevard where the mall is now only one story. Other shops would be added elsewhere, including to the space vacated by the relocated Bloomingdale's.
A 39-story tower with residences, with the new Bloomingdale's on the bottom floor, would replace a 13-story building on the northeastern corner of the property at Santa Monica and Avenue of the Stars. Among the current office tenants are law firm Barkin Smith LLP and a Citibank branch. Westfield is offering lease renewals of only about a year as it readies for demolition.
The second office tower at Century Park West and Constellation Boulevard on the southwest corner of the property was home to investment bank Houlihan Lokey Howard & Zukin but is now vacant. It would be demolished and replaced with a seven-story parking structure, with two stories below ground.
Company growth
This is not the only mall for which Westfield has big plans.
The company has said that its new corporate strategy will focus on increasing profitability by focusing on its highest-volume and higher-end properties.
It has been selling off Class B and noncore properties while also creating joint ventures to generate capital and pay down debt. Among its most notable deals was a decision last year to sell majority interest in seven U.S. malls and the entire interest in an eighth, to Starwood Capital Group in Greenwich, Conn., for $1.15 billion.
Meanwhile, Westfield is spending $180 million to upgrade its Westfield UTC Mall in San Diego with new shops, restaurants and theaters. More prominently, it is in a $1.25 billion joint venture with the Port Authority of New York and New Jersey to develop and lease the retail portion of New York's new World Trade Center complex, where 352,000 square feet of shops, restaurants and other attractions could open as soon as 2015.
Elsewhere in Los Angeles, Westfield has plans to substantially expand its existing Woodland Hills presence with the development of an outdoor shopping center, known as the Village at Westfield Topanga. The project includes a new Costco store, 100 new shops and restaurants, a hotel and office tower. It will be situated between Westfield's two existing malls, the Westfield Topanga and Westfield Promenade.
The $450 million project was hotly contested, but the City Council approved it this year. Westfield plans to begin developing the Costco this year and the shops by 2014.
It also has plans to expand its Westfield Santa Anita mall in Arcadia as well. It added a $120 million outdoor promenade in 2009, and wants to add shops and restaurants.
For reprint and licensing requests for this article, CLICK HERE.