Landlords Don't Dig Subway Plan
Pair tap CEQA to bury Metro project.
Monday, June 18, 2012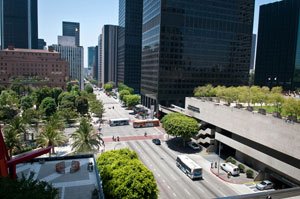 Some of downtown L.A.'s biggest players are taking on the Metropolitan Transportation Authority over a planned subway route that would tear up a major Financial District thoroughfare.
Owners of City National Plaza, the Westin Bonaventure hotel, Citigroup Center and the California Club are balking at the prospect of years of construction on their three-block stretch of Flower Street.
The owners have tried to play down the dispute, but months of negotiations have broken out into legal wrangling. And it even has prompted developer Jim Thomas, chairman and chief executive of City National Plaza owner Thomas Properties Group Inc., to employ a legal strategy usually hated by developers: alleging violations of the California Environmental Quality Act.
Carol Schatz, president of downtown business group Central City Association, said the commercial property owners articulated their concerns to Metro officials at meetings she helped set up this year, but the sides couldn't come to an agreement.
"If the street is going to be torn up for four years with all the digging and the heavy equipment that is required, how are they supposed to lease an office building and how is the Bonaventure supposed to be able to sell rooms?" she asked. "Four years is a very long time and a lot of revenue is at stake."
Prompting the disagreement is the downtown 1.9-mile, $1.4 billion Regional Connector subway project. Most of the route, which would connect the Expo, Blue and Gold lines, will be dug using an expensive tunnel-boring machine that leaves the surface undisturbed.
But for a stretch of Flower between Fourth and Seventh streets, the agency is planning to use a more disruptive cut-and-cover method in which workers dig a trench from the surface.
Metro officials say tunneling under that stretch of Flower is unfeasible. They note the agency would have to order a second more powerful machine because of various underground obstructions. But even then, there are other problems.
"It's much more complicated and much more expensive to do that," said Diego Cardoso, executive officer of planning and development at Metro, the agency in charge of Los Angeles County mass-transit systems. "Even if you were able to do it, the geology of the soils in addition to the (shallow) height of where we would tunnel prevents us from using a tunnel-boring machine in a safe and cost-effective way."
The agency has not released cost estimates, but analysts say that use of a tunnel-boring machine can double construction costs.
But the property owners aren't buying the explanation. Thomas Properties and the Bonaventure filed separate legal challenges a month ago in Los Angeles Superior Court seeking to stop the project in an attempt to pressure Metro to tunnel. They allege the agency has failed to fully account for and mitigate environmental impacts, has not proved that tunneling is unfeasible and has not handed over a tunneling feasibility study.
At the same time, the property owners are in a balancing act of not wanting to seem obstructionist. In fact, Thomas Properties released an unusual joint statement with Metro the day the company's lawsuit was filed, stating that it "fully supports the Regional Connector as a key component of our public transportation network and the parties are committed to reaching a swift and reasonable resolution of their issues."
The property owners declined further comment.
Promises and concerns
As part of Metro's current rail-line expansion, the Regional Connector promises to be a major boost to the area's mass-transit network. By linking the Blue and Expo lines at the Seventh Street Metro Center with the Gold Line's Little Tokyo stop, it will enable travel between lines without transfer. For example, riders would be able to go from the San Gabriel Valley to Long Beach or from Culver City to East Los Angeles without getting off. Subway stops also will be added at Second and Hope streets, on Second near Broadway, and at First Street and Central Avenue.
Construction is scheduled from 2014 to 2019, and the Obama administration has given the project a lift by allocating $31 million in federal funds in next year's budget.
But Financial District property owners started raising concerns earlier this year about the cut-and-cover construction planned for Flower. Using such a method, a trench would be excavated in sections from street level down. After a tunnel is constructed inside, each section would then be backfilled and the surface restored. Metro officials said "tie-backs," or underground rods used to stabilize surrounding buildings, would complicate the use of a tunnel-boring machine.
In February, Thomas Properties, the Bonaventure, the California Club and Citigroup Center owner Hines Interests Ltd. sent a letter to Metro that says the years of construction on Flower would hurt business and asks the agency to tunnel.
"The fact that the Financial District, the area of the project with the most impacts and economic risk, is the only area of the main line of the project not to be mitigated by the use of the (tunnel-boring machine) is simply inexplicable from a policy and practical standpoint," it stated.
Another irritation: Metro had recently eliminated a planned Regional Connector station on Fifth and Flower streets, so the property owners felt they would bear the heaviest construction burden with few of the eventual benefits.
Talks fail
The talks Schatz helped broker got the two sides close to a deal. Metro signaled it would be willing to make some concessions, such as tunnel boring part of the way, opening more traffic lanes during construction and speeding up the project, she said. But the talks fell apart when the property owners decided it wasn't enough.
"Sometimes this becomes a battle of consultants who all are attempting to do the best thing for their clients," she said.
Instead, the Metro approved a final environmental impact report for the project in April with cut-and-cover for part of Flower as it had originally planned. Thomas Properties and Bonaventure owner Today's IV Inc. soon filed their lawsuits under the California Environmental Quality Act. The California Club and Hines are not plaintiffs, but they're listed as affected properties and presumably would benefit from some concessions that might be won.
In their lawsuits, the property owners each state that the construction on Flower will cut off access to cars and disabled people, and lead to seismic risks, noise and other environmental impacts that have not been properly studied or mitigated. Each seeks an injunction to stop the project unless tunneling is used.
CEQA lawsuits are often employed in the state to delay developments. Proponents say such lawsuits are a good way to slow down projects to make sure issues and impacts are identified and addressed. Builders say they slow progress, make projects more expensive and sometimes are merely ways for activists to get payoffs to drop their suits.
Thomas Properties, which in addition to the City National and Paul Hastings towers owns a parking garage at Fourth and Flower, is in an uncomfortable position. As one of the region's big-name developers, it has faced down CEQA lawsuits in the past. Its battles include a legal fight it won a decade ago over its Campus El Segundo project, which would have converted more than 40 acres of land into office space, but still has not gotten off the ground. Last year, state lawmakers cited AEG Inc.'s Farmers Field project and Thomas Properties' now-canceled NBC Universal expansion as reasons to pass a bill that would fast-track CEQA challenges to major developments. That law could benefit Metro in its CEQA challenge fights because lawsuits are fast-tracked and must be heard by the Court of Appeals within 175 days.
What's more, Jim Thomas has been a supporter of transit projects and even founded the transit advocacy group Fixing Angelenos Stuck in Traffic.
"He plays a strong role in trying to find solutions to transportation problems, so you know that if he is taking this action, it's because he believes his assets are at great risk," Schatz said.
Thomas Properties declined to comment.
Looking for resolution
Metro has not yet filed a response to either lawsuit and both sides are continuing negotiations. Metro's Cardoso said the legal challenges could delay the project but that in the meantime the Regional Connector is going ahead as planned.
"We are proceeding with what we have recommended," he said.
Dale Goldsmith, an attorney who defended Thomas Properties in a past CEQA fight but is not involved in this matter, said the challenges filed by Thomas Properties and the Bonaventure are narrower than most CEQA challenges and thus more likely to result in a resolution.
"Often when you have CEQA lawsuits there's a kitchen-sink approach and you throw everything in," Goldsmith said. "This is clearly not a typical NIMBY-style lawsuit. These are focused lawsuits with a specific target of getting construction techniques to be modified."
It isn't the only legal headache transit officials are dealing with related to the Regional Connector.
In Little Tokyo, Japanese Village LLC, owner of 92,000-square-foot retail, dining and office development Japanese Village Plaza, has filed a CEQA challenge, too. It cites noise and vibration, which would be caused by the subway running directly under the property.
The property owner, which did not respond to calls for comment, also alleges the construction could hinder future development plans.
Cardoso said Metro is continuing discussions with that property owner as well.
For reprint and licensing requests for this article, CLICK HERE.