Sunset Strip Has Room for Marriott
Hotelier loses reservations about luxury brand.
Monday, June 11, 2012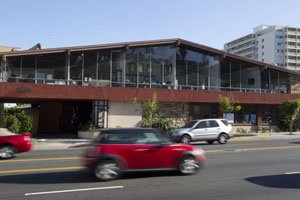 L.A.'s Westside hotel market is one of the hottest in the country, with hip clientele, top room rates and low vacancies. Now, Marriott International Inc. wants a piece of it.
The Bethesda, Md., hospitality giant is planning to build a luxury hotel with condos, a nightclub, and rooftop pool and bar on West Hollywood's Sunset Strip.
The lodging would be the first West Coast location of its Edition luxury chain, a stalled brand that it is relaunching to compete with rivals such as the W and Standard, which aim for young and affluent visitors.
The company is acquiring the development rights to what had been known as the Sunset Doheny Hotel from Malibu's Weintraub Real Estate Group. It plans to build an 11-story, 190-room hotel plus some condos in its place.
Last week, the West Hollywood City Council approved modified project plans for the 9040-9056 Sunset Blvd. site, and Marriott is seeking an architect so it can submit designs next year and begin construction shortly thereafter.
The importance of the hotel to the company is highlighted by the fact it is departing from its typical business model, in which it operates hotels built and owned by third parties.
"This is a very unusual move for the company and it shows their dedication," said Jim Arnone, a Marriott attorney, at the June 4 City Council meeting. "The reason Marriott is putting tremendous resources into this now is this is a tremendous brand that they know will succeed."
About four years ago, Marriott created the Edition brand with boutique hotelier Ian Schrager in an effort to compete with Starwood Hotels & Resorts Worldwide Inc.'s W hotels and other such brands. At the time, it had planned to open 100 Editions worldwide over the next decade. But the recession struck and its first Edition, in Waikiki, Hawaii, closed down. It now only operates a single location of the brand – a 78-room hotel in Istanbul, Turkey, that opened last year.
But over the last two years, Marriott has been acquiring other properties and reaching agreements worldwide to relaunch the brand. It has announced plans to spend at least $800 million to develop Editions in London, New York and Miami in the next two years. The West Hollywood hotel is among three other locations that would open soon after, perhaps as early as 2015.
The hotels will be luxury boutiques, individually designed for their locations and operated at four-star quality levels.
Hotel consultant Alan X. Reay, president of Irvine's Atlas Hospitality Group, said that opening such a luxury boutique in West Hollywood appears to be a smart move.
He said the New York market is the only one in the nation that commands higher room rates or has lower vacancies. He noted that nearby hip hotels such as the Standard Hotel, owned and operated by New York-based Andre Balazs Properties, on Sunset Boulevard are wildly popular.
Nonetheless, as with any new brand, the company may still face challenges in attracting visitors not familiar with the chain.
"Obviously an area like West Hollywood really plays well for that kind of brand," said Reay. "The big question is how well-known the brand will be."
Approved project
Weintraub Real Estate, owned by developer Richard Weintraub, received approval in 2010 to build a 148-room hotel with rooftop pool and bar, several thousand square feet of retail but no nightclub. However, the project didn't have a hotel operator attached to it.
Marriott stepped in this year and has a deal with Weintraub to purchase the project for an undisclosed price, assuming the West Hollywood City Council approved modifications, as it did last week.
The Edition will feature not only 190 hotel rooms but 20 much larger condos that will average about 2,500 square feet. An 8,500-square-foot roof deck with pool and a bar will be open to the public, as will be a 5,000-square-foot nightclub named Crazy Box under the ground floor.
Asking rates for the condos and hotel rooms were not disclosed. However, consultant Reay expects that a basic room will run about $250 or $300 a night. The Sunset Strip's Mondrian Hotel, owned by Morgan Hotels Group in New York, asks about $350 to $510 a night, while rooms at the nearby Standard Hotel range from about $225 to $400. A few miles away, the W Hotel Hollywood asks from $220 to $720 a night.
Reay anticipates that the Edition hotel will be about 70 percent to 75 percent occupied year-round, a high rate but consistent with hotels in various parts of the Westside.
The site has such a high profile that West Hollywood is requiring Marriott to choose a well-known architect that will create an iconic structure on the Sunset Strip.
Weintraub had hired Eric Owen Moss Architects in Culver City to design a structure with glass walls, exposed metal and other conspicuously modern features. But Marriott attorney Arnone told the council the hotel chain wants to redesign the project to be more in line with its other properties. That redesign is expected to cost at least $1 million and a year's time.
While it's unclear how the company may interpret what would qualify as an L.A.-specific design, its Waikiki Edition borrowed heavily from typical island architectural motifs.
The Hawaiian hotel, now owned by another operator, has white walls, dark wood floors, natural wood and teak furniture, and a surfboard art installation behind the reception desk. The guest rooms have large shutters dividing the bedroom from bathroom.
Its Istanbul location also references local architectural motifs, with a domed lobby, and heavy use of silver and gold on oak and rosewood walls.
Sense of anticipation
Local business leaders are eager to see the project built as soon as possible.
The western end of West Hollywood's stretch of Sunset Boulevard near Doheny Drive hasn't seen the same level of development as the eastern end and has fewer clubs, retail stores and restaurants.
West Hollywood Chamber of Commerce Chief Executive Genevieve Morrill said she believes that the hotel will have a catalytic effect on the area, spurring more retail.
"The significance of realizing this project cannot be understated," Morrill told the City Council. "Its content, owners and potential to recharge the economy on the west end of the Strip is very significant."
Meanwhile, Todd Steadman, executive director of the Sunset Strip Business Association, told the council that Marriott's ideas for the hotel would fit right in on the Strip.
"I like the addition of outdoor dining space and the nightclub, which really enhances the nightlife experience for visitors and residents," he said. "We are very excited about this project."
For reprint and licensing requests for this article, CLICK HERE.