New Broadcaster Accents Latinos
Spanish network MundoFox to take on Univision, Telemundo.
Monday, June 11, 2012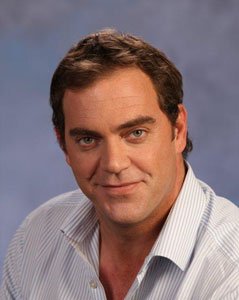 For decades, Univision and Telemundo have been the main attractions for Spanish speakers who tune in to broadcast television in the United States.
Some Latino-oriented cable and broadcast networks have cropped up, but none has successfully challenged the two networks' dominance.
Now, in a bid to become the third major Spanish-language broadcast network, MundoFox is about to launch this summer from Los Angeles – and it expects to reach 75 percent of U.S. Latino households with its very first show.
It's a surprising figure, but reflective of the muscle behind it: Rupert Murdoch's News Corp., which is teaming up on the venture with RCN Television Group, a leading Colombian broadcasting company.
News Corp. already has a stable of three Spanish-language cable networks in the United States under its Fox brand, including sports programmer Fox Deportes. But by launching a broadcast network, Fox is trying to take a much larger share of the Hispanic audience.
"If you really want to make a dent and capture a big piece of this market, you have to think in broadcast," said MundoFox President Emiliano Saccone in an interview with the Business Journal.
The network, which operates out of Fox Entertainment Group offices in Century City, also has a different take on programming, summed up by its slogan: "Americano Como Tu," or "American like You."
Unlike the traditional novella-dominated fare on Univision and Telemundo, MundoFox is essentially trying to translate North American-style programming for a Latino audience.
While the network has yet to produce original shows, in the meantime, it is offering a slew of existing high production-value programming including dramas, sports games and a forthcoming national newscast. Many of these shows are coming from RCN and Fox.
Competing efforts
But as the network gears up for its August launch, competitors are stepping up their efforts to reach the same viewers.
Market leader Univision Communications Inc. in New York has grown on the back of its popular telenovelas to become the fifth largest broadcast network in the country, consistently beating English-language networks in primetime ratings. This year, the company launched three cable networks, including Univision Deportes, a sports offering, and has plans to launch an English-language cable news network next year as part of a joint venture with ABC News, owned by Burbank's Walt Disney Co.
Meanwhile, Telemundo, owned by Comcast Corp.'s NBC Universal, has committed to increasing original productions by 40 percent for the 2012-13 season and will also rebrand for the fall season to better reach viewers that identify with both U.S. and Latin American programming.
MundoFox also will be competing with a half-dozen or so second-tier Spanish language networks. One of the largest is Burbank's Liberman Broadcasting, which founded the Estrella TV broadcast network in 2009.
Since January, MundoFox has signed about 40 local affiliates, many in major markets, including flagship station, KWHY-TV (22) in Los Angeles, which was previously independent. Other stations across the country, including the Chicago affiliate, have been poached from smaller networks such as Mega TV, a Spanish-language broadcast network based in Miami. None of the affiliates thus far has been owned and operated by Fox.
Currently, the biggest hole is the lack of a New York affiliate, but the network is in negotiations to get one.
Reaching 75 percent of Latino households by launch would put the network just behind Univison and Telemundo, based in Hialeah, Fla., which both reach more than 90 percent of U.S. Latino households.
MundoFox executives believe that with the U.S. Latino population in excess of 50 million, advertisers will support another network to reach them.
Julio Rumbaut, a Miami consultant to Spanish-language TV networks, said MundoFox has secured distribution at a fast pace and expects the network is right in assuming advertisers will flock to it.
"Advertisers like competition and options," Rumbaut said.
New viewers
The partnership between RCN and Fox dates back for years in Colombia. The Latin American broadcaster airs TV shows in its home country produced by Fox, such as "El Capo," a drama about the richest and most wanted drug dealer in Colombia.
Fox's Latin American TV business has grown substantially over the past decade, leading MundoFox's Saccone several years ago to pitch Fox executives the idea of distributing similar content in the United States. The kicker in getting News Corp. and Fox executives on board, he said, was the result of the 2010 census, which showed the population of U.S. Hispanics increased by 43 percent over 10 years.
RCN had already been distributing some of its content in the United States through an agreement with Univision. The shows included "Rosario Tijeras," a drama about the romantic exploits of a young woman vigilante.
"Our shows have performed quite well and that's why we took the chance and the risks of launching the new network – to get a bigger piece of the pie," said Lucas Kappaz, vice president at RCN.
In addition to RCN's programming, MundoFox will air shows produced by Fox International, including "Kdabra," which tells the story of a 17-year-old runaway with supernatural powers. Other programming will come from Fox's three U.S. cable networks, a group called Fox Hispanic Media that includes Nat Geo Mundo and Fox Deportes.
Popular U.S. programming such as medical drama "Bones" on Fox's English-language broadcast network will be dubbed and also carried. Some content will be acquired from third parties. In addition, a news show will be broadcast each night from Los Angeles, anchored by Rolando Nichols, who will also continue to anchor the L.A. nightly news on KWHY.
Saccone said that while the network will take advantage of existing content pipelines to start, MundoFox is developing two unscripted programs, such as a talk show, that he's hoping will be ready to air later this summer. The plan is to have original scripted shows ready for next year.
Since so much of the initial content will come from shows already produced by News Corp. and RCN, the network expects to lose only about $50 million in its first year, according to sources close to the venture. That's significantly smaller than what other startup networks can lose their first year. Discovery Communications Inc. in Silver Spring, Md., for example, has notoriously lost hundreds of millions of dollars from its launch of Oprah Winfrey's OWN Network.
Still, even with plans to keep startup losses in check, a major new broadcast network is no small challenge. Saccone compared it to the challenge faced by the Fox broadcasting network, which was founded in 1986 to compete with ABC, NBC and CBS. The idea was to offer edgier and youth-skewing programming, and Saccone is hoping to pull off a similar trick with MundoFox.
"Given our content, look and feel, we'll have a natural skewing towards younger, higher socioeconomic status audiences," he said.
Perhaps the biggest stage where the competition will play out is on TV sets across Los Angeles. The region has the largest population of U.S. Latinos in the country and is home to popular stations for Telemundo on KVEA-TV (52) and Univision on KMEX-TV (54), as well as Estrella TV on KRCA-TV (62).
In fact, KMEX was the highest-rated local station in the market among adults 18-49 as of February, and that includes English-broadcast stations.
Alberto Mier y Terán, senior vice president and general manager at KMEX, said he's paid attention to the MundoFox launch, but is focused on what he can do to improve his own station.
"I worry about what we can do as a station," he said. "What happens after that, I can't control."
Meanwhile, Lenard Liberman, who founded Estrella TV, said he's been able to expand his network from a producer of content in the 1980s to a broadcast network with distribution to dozens of markets based on the growing demand for Spanish-language TV nationwide. He's purchased stations across the country, securing distribution in 57 markets reaching 77 percent of Latino households.
Among its most popular fare are singing and dancing shows, such as "Mi Sueno Es Bailar," or "My Dream Is to Dance." During the recent network presentations to advertisers in New York, it announced plans for a sitcom about an immigrant family living in Los Angeles starring a popular Mexican comedian. Also talked about was a reality show focused on models sharing an L.A. mansion.
Liberman thinks having a major new entrant will actually be good for other Latino TV stations, since it will raise their collective profile.
"Anytime somebody takes the time to get in the Spanish market, it says that the market is real and that more advertisers should take it seriously," he said.
For reprint and licensing requests for this article, CLICK HERE.