New Broadcaster Accents Latinos
Spanish network MundoFox to take on Univision, Telemundo.
Monday, June 11, 2012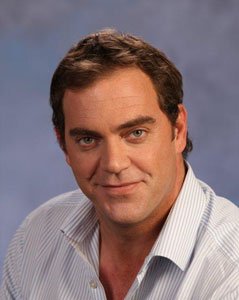 For decades, Univision and Telemundo have been the main attractions for Spanish speakers who tune in to broadcast television in the United States.
Some Latino-oriented cable and broadcast networks have cropped up, but none has successfully challenged the two networks' dominance.
Now, in a bid to become the third major Spanish-language broadcast network, MundoFox is about to launch this summer from Los Angeles – and it expects to reach 75 percent of U.S. Latino households with its very first show.
It's a surprising figure, but reflective of the muscle behind it: Rupert Murdoch's News Corp., which is teaming up on the venture with RCN Television Group, a leading Colombian broadcasting company.
News Corp. already has a stable of three Spanish-language cable networks in the United States under its Fox brand, including sports programmer Fox Deportes. But by launching a broadcast network, Fox is trying to take a much larger share of the Hispanic audience.
"If you really want to make a dent and capture a big piece of this market, you have to think in broadcast," said MundoFox President Emiliano Saccone in an interview with the Business Journal.
The network, which operates out of Fox Entertainment Group offices in Century City, also has a different take on programming, summed up by its slogan: "Americano Como Tu," or "American like You."
Unlike the traditional novella-dominated fare on Univision and Telemundo, MundoFox is essentially trying to translate North American-style programming for a Latino audience.
While the network has yet to produce original shows, in the meantime, it is offering a slew of existing high production-value programming including dramas, sports games and a forthcoming national newscast. Many of these shows are coming from RCN and Fox.
Competing efforts
But as the network gears up for its August launch, competitors are stepping up their efforts to reach the same viewers.
Market leader Univision Communications Inc. in New York has grown on the back of its popular telenovelas to become the fifth largest broadcast network in the country, consistently beating English-language networks in primetime ratings. This year, the company launched three cable networks, including Univision Deportes, a sports offering, and has plans to launch an English-language cable news network next year as part of a joint venture with ABC News, owned by Burbank's Walt Disney Co.
Meanwhile, Telemundo, owned by Comcast Corp.'s NBC Universal, has committed to increasing original productions by 40 percent for the 2012-13 season and will also rebrand for the fall season to better reach viewers that identify with both U.S. and Latin American programming.
For reprint and licensing requests for this article, CLICK HERE.
Prev Next