A Fine Day At the Office
SPECIAL REPORT: Executive Compensation
Monday, June 11, 2012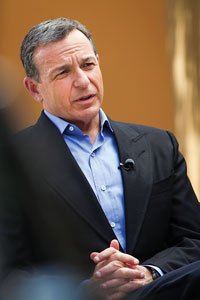 Last year, Walt Disney Co. Chief Executive Robert Iger led his company to higher profits, sales and cash flow, and he took home a 13 percent increase in compensation.
But what may have been an open-and-shut case in the past for a pay raise was hotly contested. The company found itself fighting the influential shareholder advisory firm Institutional Shareholder Services, which said Iger was overpaid. It recommended that shareholders reject his compensation in a new federally mandated "say on pay" vote.
In the end, Disney managed to garner shareholder approval, and Iger's $33.4 million in pay now tops the Business Journal's survey of chief executive compensation at the Los Angeles County area's 50 largest public companies. But it was only after agreeing to eliminate a perk known as the tax gross-up, in which the company would pay taxes on any severance package if Iger were to lose his job in an acquisition.
His case was illustrative of the tension between rising executive pay and new shareholder scrutiny. Of the 50 chief executives in the Business Journal's 2011 survey, 30 saw higher compensation than the previous year, partly due to higher profits. However, new say-on-pay rules granting shareholders the right to vote on pay have placed companies under more pressure to justify compensation and to eliminate pay unrelated to performance.
"Shareholders have been active about contacting boards to talk to them about what the compensation policy is and how to improve support in a say-on-pay vote," said Paul Hodgson, senior research associate at Governance Metrics International, a corporate governance consultancy in Portland, Maine.
Executive pay was up for most of the companies surveyed, though the cumulative pay of chief executives in the Business Journal's annual survey was down 13 percent to $386 million. The cumulative figure was skewed by large up-front payments in 2010 to Air Lease Corp.'s Steven Udvar-Hazy and DirecTV Inc.'s Michael White.
Udvar-Hazy topped the Business Journal's previous survey at $57.8 million after receiving two years' worth of stock and option awards up front in anticipation of his company's initial public offering in April 2011. He saw his pay dip to less than $4 million in the current survey. White's pay was also brought down significantly after receiving several years' worth of stock awards at once in 2010.
For those executives other than Udvar-Hazy and White, compensation was up an aggregate of 6 percent, in line with national trends. An analysis by the Associated Press showed that average chief executive pay was up 6 percent in the United States in 2011. Analysts say pay has risen despite increased pressure because of higher profits and the practice of changing pay based on peer companies.
Prev Next
For reprint and licensing requests for this article, CLICK HERE.