A Fine Day At the Office
SPECIAL REPORT: Executive Compensation
Monday, June 11, 2012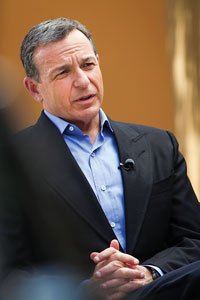 Last year, Walt Disney Co. Chief Executive Robert Iger led his company to higher profits, sales and cash flow, and he took home a 13 percent increase in compensation.
But what may have been an open-and-shut case in the past for a pay raise was hotly contested. The company found itself fighting the influential shareholder advisory firm Institutional Shareholder Services, which said Iger was overpaid. It recommended that shareholders reject his compensation in a new federally mandated "say on pay" vote.
In the end, Disney managed to garner shareholder approval, and Iger's $33.4 million in pay now tops the Business Journal's survey of chief executive compensation at the Los Angeles County area's 50 largest public companies. But it was only after agreeing to eliminate a perk known as the tax gross-up, in which the company would pay taxes on any severance package if Iger were to lose his job in an acquisition.
His case was illustrative of the tension between rising executive pay and new shareholder scrutiny. Of the 50 chief executives in the Business Journal's 2011 survey, 30 saw higher compensation than the previous year, partly due to higher profits. However, new say-on-pay rules granting shareholders the right to vote on pay have placed companies under more pressure to justify compensation and to eliminate pay unrelated to performance.
"Shareholders have been active about contacting boards to talk to them about what the compensation policy is and how to improve support in a say-on-pay vote," said Paul Hodgson, senior research associate at Governance Metrics International, a corporate governance consultancy in Portland, Maine.
Executive pay was up for most of the companies surveyed, though the cumulative pay of chief executives in the Business Journal's annual survey was down 13 percent to $386 million. The cumulative figure was skewed by large up-front payments in 2010 to Air Lease Corp.'s Steven Udvar-Hazy and DirecTV Inc.'s Michael White.
Udvar-Hazy topped the Business Journal's previous survey at $57.8 million after receiving two years' worth of stock and option awards up front in anticipation of his company's initial public offering in April 2011. He saw his pay dip to less than $4 million in the current survey. White's pay was also brought down significantly after receiving several years' worth of stock awards at once in 2010.
For those executives other than Udvar-Hazy and White, compensation was up an aggregate of 6 percent, in line with national trends. An analysis by the Associated Press showed that average chief executive pay was up 6 percent in the United States in 2011. Analysts say pay has risen despite increased pressure because of higher profits and the practice of changing pay based on peer companies.
"Overall executive compensation has risen in the last year," said Fred Whittlesey, principal consultant at Compensation Venture Group Inc. in Bainbridge Island, Wash. "There are a lot of moving parts to it, but companies form peer groups and no one wants to be paid below average. If everybody's paid above average, there's only one way the numbers can go."
Trailing Iger by one spot on the list was Stephen Chazen of Occidental Petroleum Corp., whose pay was down 17 percent to $31.7 million. Coming in at No. 3 was Michael Johnson of Herbalife Ltd., who received a 187 percent pay hike after leading the company to big profits and a 51 percent jump in share price.
The Business Journal ranked executives by total company compensation, which included salary, bonuses, stock and option grants, and any additional perks, as listed in public filings. (See page 19.)
New pressures
Shareholders have lobbied for more measures tying pay to performance, rather than simply pushing for curbed pay. It was a continuation of a trend that has gone on for several years.
Take the case of Jacobs Engineering Group Inc. In January of last year, the Pasadena firm became one of the first companies in the country to lose a say-on-pay vote.
As a result of the Dodd-Frank financial regulatory reform law, companies with a certain amount of publicly traded shares have to hold shareholder votes on executive compensation. The votes are nonbinding, but they can embarrass a company into making changes and can lead to litigation.
When shareholders voted against executive compensation at Jacobs, the company reacted swiftly. It replaced most of the stock and option awards given to Chief Executive Craig Martin and other executives with "market stock unit grants," in which the number of shares earned depends on the company's stock performance.
The company also increased Martin's stock ownership requirements, seen as a way to further link his pay to stock performance. The changes led to an 8 percent decrease last year in the valuation of Martin's compensation package, though it may be worth much more if the company performs well over the next three years.
"The (Human Resource and Compensation) Committee carefully considered at numerous meetings the fact that less than a majority of the voting shares were voted in favor of the 2010 executive compensation program," the company said in its proxy statement.
Appeased by the changes, 82 percent of Jacobs shareholders approved the company's proposed compensation for 2012.
Shareholders also forced changes at Kilroy Realty Corp. After a majority "no" vote on pay last year, the company lengthened the vesting period for stock and option awards from two to five years in order to tie compensation to long-term performance, and eliminated perks such as the tax gross-up, and reimbursement for tax and financial planning services. It left unchanged the value of Chief Executive John B. Kilroy Jr.'s compensation at $6.4 million annually.
Still, the moves weren't enough, as a majority of shareholders again voted "no" on the company's executive compensation. Kilroy has not indicated if it will pursue further changes.
Overall, it appears the pressures have changed how executives are paid. The Business Journal's survey found higher stock awards and smaller cash bonuses than the year before, an approach generally favored by investor groups.
"Companies are directly responding, or they foresee something they're doing or not doing that could draw a negative recommendation," Whittlesey said.
Results?
The say-on-pay pressure marks just the latest iteration of years of efforts by shareholders and activists to peg executive pay to performance. An analysis by the Hay Group and the Wall Street Journal suggested those efforts have had an effect, finding stronger correlation between the two last year. It found a 0.6 percent change in pay for every 1 percent change in a company's return to shareholders, whether in a positive in negative direction.
An example of someone who felt the effects of that correlation was Dean Scarborough, chief executive of Avery Dennison Corp. After receiving a sizable $2.2 million bonus in 2010, he did not receive a bonus last year due to a drop in the company's earnings and slow revenue growth. Moreover, the company's poor stock market performance meant that some of Scarborough's stock awards from previous years, worth millions, were canceled. The valuation of his compensation package dropped 40 percent to $7.27 million.
Still, pay and performance numbers were not perfectly aligned on a year-to-year basis. While compensation for most executives in the Business Journal's survey was up, the average company on the list was down 3 percent in the stock market in its 2011 fiscal year.
That's in part because stock and option awards reported in public filings are valued at the beginning of the fiscal year and not readjusted until the year is over. Long-term awards that go unrealized for years also make it difficult to compare pay and performance year to year.
What's more, not everyone thinks the changes being implemented are having the intended effect. Whittlesey said many of the changes are cosmetic. For example, a company may require its chief executive to own more stock, then turn around and simply award more shares to help meet the guidelines. Other companies set low performance metrics or make only a small percentage of their stock awards performance based.
"I think we're not really making progress and what we're doing is getting into some very complex plan designs," Whittlesey said.
However, Hodgson has a brighter view, even though he believes that only those few companies that feel threatened with a negative say-on-pay vote are making changes.
"We're moving closer to having a better correlation between compensation and performance," he said. "I think there's still fairly significant distance to go."
For reprint and licensing requests for this article, CLICK HERE.