Sky's the Limit for Data-Tapping 'Smart Irrigation'
Controller from Cyber Rain checks weather while running system.
Monday, June 4, 2012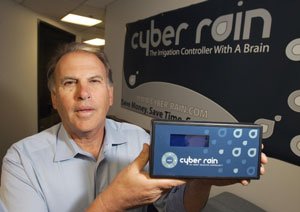 A controller for a large estate costs about $400. A complex such as Park La Brea has about 50 controllers costing about $1,000 each. School districts usually need about five per campus of about $1,000 each. Cyber Rain does not charge for monthly weather updates or maintenance fees.
The installation process is easy enough for people to do on their own, said Krug, who installed his own home controller. Commercial buildings usually use building maintenance staff to put in controllers.
In response to an e-mail from the Business Journal, an EPA spokeswoman wrote that Cyber Rain was granted the certification "for technologies and practices that result in more efficient use of water."
Ron Dembo, founder and chief executive of Toronto clean-tech software company Zerofootprint, said that it's time smart irrigation was implemented on a wider scale.
"Water is energy and we waste it like crazy on lawns," Dembo said. "Something like this is going to save an amazing amount on water."
But he said that with limited new construction, Cyber Rain may not benefit from the state requirements for water management as much as the company hopes. The problem is that the new law addresses new construction, not existing or so-called "legacy" buildings.
"The amount of new construction to old construction is a small percentage," Dembo said. "The real issue we should be tackling is the legacy. If you want to make real inroads into water conservancy, tackle the legacy."
Gwen Huff, a land and water use scientist at the State Water Resources Control Board, agreed.

"The ordinance is somewhat limited now because it applied in large part to new construction," said Huff, who was part of the team that rewrote a draft of the smart irrigation law. "There's little new construction now."
Despite minimal new construction, Cyber Rain's Krug said he sees the industry moving toward smart irrigation systems, as opposed to what he calls dumb irrigation, meaning automated sprinkler systems.
"Dumb controllers will go the way of the horse and buggy," he said, "and the entire market will shift to smart controllers."
For reprint and licensing requests for this article, CLICK HERE.
Prev Next