Fallout From Bratz Hits Bald Dolls?
Mattel, MGA make own lines for sick kids.
Monday, June 4, 2012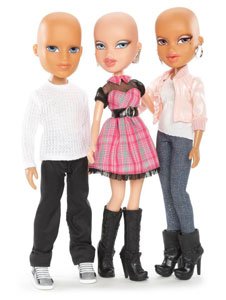 Toy companies Mattel Inc. and MGA Entertainment Inc. have been in a well-publicized doll brawl for the better part of a decade.
And a new scuffle has broken out over bald dolls designed to give confidence to young cancer patients.
It all started in December when cancer patient and mother of four Jane Bingham asked Mattel to make a "beautiful and bald Barbie." When the El Segundo toymaker turned her down, saying the company doesn't consider unsolicited product ideas, MGA stepped in and offered to do what its bitter rival wouldn't.
In early February, the Van Nuys company announced it would make six bald dolls – three Bratz and three Moxie Girlz – called True Hope dolls. The company will start selling the dolls this month in Toys 'R' Us stores in the United States, Canada and the United Kingdom. By July, the dolls will be available online at Target.com and other retailers.
Susan Hale, director of public relations for MGA, wrote to Bingham in February to tell her the company would be creating the True Hope dolls.
"While not Barbie, we hope that our move will prompt other toy companies to step up," Hale wrote.
Six weeks later, Mattel backpedaled. The company announced it would make some bald dolls after all. Instead of selling them in stores, the El Segundo company will donate the dolls, which will be a "friend of Barbie" like Ken or Skipper, directly to children in hospitals. The dolls won't be available until 2013.
Richard Gottlieb, chief executive of toy industry consultancy Global Toy Experts in New York, said the bald dolls might help MGA recover from any setbacks the Bratz brand sustained during the long battle over its ownership.
"The brand equity among children declined quite a bit," he said of MGA's Bratz. "I think for MGA this was an opportunity to reassert the brand and get publicity for the company."
Jim Silver, editor in chief of TimetoPlayMag.com in New York, said he understood why Mattel initially hesitated to make a bald Barbie.
"For Mattel, this is a decision that can't be made overnight," Silver said. "It has to be studied for a long time. You don't just wake up one day and say, 'Let's give our $200 billion brand cancer.'"
Facebook campaign
Bingham, who lives in Sewell, N.J., created the bald Barbie Facebook page five years after she was diagnosed with follicular non-Hodgkin's lymphoma, a cancer of the white blood cells. Her long blond hair began falling out when she started chemotherapy treatments, and her youngest daughter, Belle, then 4, had a hard time understanding what was happening to her mom.
"She would try to copy me and wear scarves on her head, too," Bingham wrote on the page.
Bingham said a bald Barbie could help children identify with and understand people they know who must deal with hair loss.
"I was seeing the hair-loss stigma in a new light through my own experience," she told the Business Journal. "For men, bald is trendy and even sexy now, completely accepted. That's not true for women and children. They are already dealing with so much, they should not need to deal with embarrassment from their hair loss."
In its first three days, the Facebook page attracted more than 800 supporters, and the numbers continued to grow. Today, the page has almost 160,000 followers.
Supporters of the bald Barbie movement wrote letters, e-mails and Facebook messages to Mattel for weeks, and they signed an online petition to have a bald version of the iconic doll created.
But before the new year, a member of Mattel's consumer relations team turned down the requests. Bingham said the rejection only reinvigorated the movement.
"It didn't faze me much," she said. "It didn't stop our persistence to be not just heard but understood why this was good and important."
That's when MGA, which had been following the social media movement, came in and promised to make the dolls.
But Silver said there could be a drawback for MGA: The company could face criticism for selling the dolls rather than donating them to sick children as Mattel will do.
"There are concerns about, well, how much money are they going to make from these dolls, profitwise?" he said. "I think MGA is doing a good thing, but if these dolls take off, those questions are going to be asked."
Isaac Larian, MGA chief executive, said the decision wasn't about money.
"MGA doesn't really care if there is a market for these dolls or not. We didn't make them for profit," he said. "The most important point for MGA in creating Bratz and Moxie bald dolls was to publicize the cause and get rid of the stigma of not having hair for children who are unfortunately affected by these horrible diseases."
The True Hope dolls will retail for $14.99, the same as Bratz and Moxie dolls that have hair. The True Hope line includes six different doe-eyed characters: Cloe, Yasmin and Cameron under the Bratz brand, and Avery, Sophina and Jaxson under the Moxie Girlz brand. Two are male dolls. The company said one dollar from the sale of each True Hope doll will be donated to the City of Hope, a cancer research, treatment and education center in Duarte.
Gottlieb said MGA was positioned to bring the dolls to market faster than Mattel could.
"MGA is a privately held company, and they're smaller, so they're able to move faster," he said. "It was a good marketing opportunity for them to respond to this community that was very passionate about children who lose their hair. It got Bratz back in the news in a positive light."
The two toymakers have been fighting like schoolgirls for years. In 2004, Mattel sued MGA, claiming Barbie designer Carter Bryant developed the idea for the Bratz dolls while working at Mattel in the late 1990s and then gave the idea to MGA.
In 2008, a federal jury in Riverside ruled in Mattel's favor, awarding the toy company $100 million in damages and rights to the Bratz franchise. But MGA appealed and in 2010 the ruling was overturned in the 9th U.S. Circuit Court of Appeals.
A year ago, a federal jury ruled MGA was the rightful owner of the Bratz dolls line, and last August, the judge on the case ordered Mattel to pay MGA $309 million in damages and attorneys' fees.
As the litigation dragged on, MGA's Larian blamed Mattel for the stress he said killed his father, tore apart his family and caused Bratz designer Carter Bryant to have a stroke.
A number of observers opined that the doll brawl between the two L.A. toymakers seemed to have become personal.
Mattel's plans
Mattel will manufacture 10,000 bald fashion dolls that will come with wigs, hats, scarves and other fashion accessories. The company will donate them exclusively to children's hospitals in the United States and Canada. Some dolls will also be donated to the National Alopecia Areata Foundation in San Rafael.
Alan Hilowitz, a spokesman for Mattel, said the company's response was carefully thought out.
"We made the decision not to sell these dolls at retail stores and profit from them, but rather more directly and immediately get these into the hands of children who can most benefit from a play experience with these dolls," he said.
Some comments on the bald Barbie Facebook page criticized Mattel for making so few bald dolls, saying that the limited-edition doll would just become an expensive item for collectors. But Silver said that won't likely be the case.
"It's very easy for them to go back and make another 10,000," he said. "You never want to over produce, you want to under produce."
Besides, neither company really knows yet how well the dolls will be received. Silver, who has battled cancer himself, said he wouldn't be surprised if the dolls don't go over well with children.
"For some of these kids, it could be comforting to get a doll that looks like them," he said. "But a lot of these kids just want to be normal. They want to be like other kids. They aspire to have hair again someday."
But Bingham said the dolls aren't meant to be associated with disease.
"We are not proposing a cancer Barbie as some people have been calling it, or a sick Barbie or a chemo Barbie," she said. "We are proposing a bald Barbie, beautiful with accessories."
For reprint and licensing requests for this article, CLICK HERE.