Fallout From Bratz Hits Bald Dolls?
Mattel, MGA make own lines for sick kids.
Monday, June 4, 2012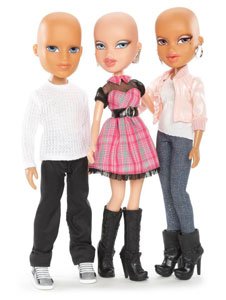 Toy companies Mattel Inc. and MGA Entertainment Inc. have been in a well-publicized doll brawl for the better part of a decade.
And a new scuffle has broken out over bald dolls designed to give confidence to young cancer patients.
It all started in December when cancer patient and mother of four Jane Bingham asked Mattel to make a "beautiful and bald Barbie." When the El Segundo toymaker turned her down, saying the company doesn't consider unsolicited product ideas, MGA stepped in and offered to do what its bitter rival wouldn't.
In early February, the Van Nuys company announced it would make six bald dolls – three Bratz and three Moxie Girlz – called True Hope dolls. The company will start selling the dolls this month in Toys 'R' Us stores in the United States, Canada and the United Kingdom. By July, the dolls will be available online at Target.com and other retailers.
Susan Hale, director of public relations for MGA, wrote to Bingham in February to tell her the company would be creating the True Hope dolls.
"While not Barbie, we hope that our move will prompt other toy companies to step up," Hale wrote.
Six weeks later, Mattel backpedaled. The company announced it would make some bald dolls after all. Instead of selling them in stores, the El Segundo company will donate the dolls, which will be a "friend of Barbie" like Ken or Skipper, directly to children in hospitals. The dolls won't be available until 2013.
Richard Gottlieb, chief executive of toy industry consultancy Global Toy Experts in New York, said the bald dolls might help MGA recover from any setbacks the Bratz brand sustained during the long battle over its ownership.
"The brand equity among children declined quite a bit," he said of MGA's Bratz. "I think for MGA this was an opportunity to reassert the brand and get publicity for the company."
Jim Silver, editor in chief of TimetoPlayMag.com in New York, said he understood why Mattel initially hesitated to make a bald Barbie.
"For Mattel, this is a decision that can't be made overnight," Silver said. "It has to be studied for a long time. You don't just wake up one day and say, 'Let's give our $200 billion brand cancer.'"
Facebook campaign
Bingham, who lives in Sewell, N.J., created the bald Barbie Facebook page five years after she was diagnosed with follicular non-Hodgkin's lymphoma, a cancer of the white blood cells. Her long blond hair began falling out when she started chemotherapy treatments, and her youngest daughter, Belle, then 4, had a hard time understanding what was happening to her mom.
Prev Next
For reprint and licensing requests for this article, CLICK HERE.