In the Bag
Lori Raya worked her way up from assisting cashiers and collecting shopping carts to become Vons' first woman president.
Monday, June 4, 2012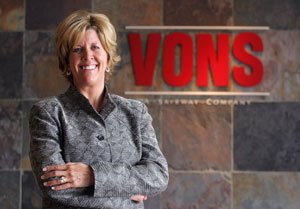 Lori Raya is the first woman president of Vons grocery stores, which also operates Pavilions grocery stores. She was born in Englewood, Colo., in a lower-middle-class household. Her parents divorced when she was still young, and her mom worked a lot. She played basketball throughout high school and her talent for the sport even paid her way through college. She thought one day she'd be a biology teacher, coaching basketball, softball or tennis on the side. But she never got her degree. When her scholarship money ran out and she was still a few credits shy of graduating, Raya got a job as a bagger at her local Safeway. She worked her way up, mostly at Safeway stores but with a stop at the Vons division, where she met her husband. She now oversees 26,000 employees in 278 grocery stores throughout Southern California and Nevada. Raya sat down with the Business Journal at her corner office at company headquarters in Arcadia recently to talk about her love for sports, her rise through the ranks at the grocery company and her responsibilities as a role model for female employees.
Question: What was your childhood like?
Answer: I played basketball all the time when I was growing up. My parents were divorced when I was 13, and I have an older brother, three years older than me. He was very athletically inclined. My family was in general. My mom worked two jobs to help ensure that my brother and I could continue to go to a great high school in Aurora, Colo., Smoky Hills High School. She felt strongly that one of the best ways we would be able to go to college was if we did it through our athletic skills. So I spent a lot of time with my older brother and his friends when I was growing up because he took care of me when my mom was at work.
How was that?
I was playing pickup football and baseball and basketball with 15- and 16-year-old boys. My brother told me, "If you're going to hang out, you better hold your own." So I think I learned to compete at a very young age and at a very high level with my brother helping me.
Were you tall for your age in high school?
Not really. I was 5'5" in high school when I played. Then I shot up to 5'7" in college, which is my current height. That's why I played point guard. It's the position you absolutely do not need height for. It's the person that leads the team down the court. They really start the entire offense moving.
Did you end up getting an athletic scholarship as your mom hoped?
I did. At the school I went to – Mesa State College in Grand Junction, Colo. – I was starting point guard for four years. But I was a little bit more intrigued with my athletic career than I was my scholar career, so to this date I am probably 15 credits short of having my certificate. I actually do not have a bachelor's degree.
What did you study?
I started my degree, believe it or not, in business management. But after two years I found I didn't like the book studies. It wasn't intriguing enough for me.
So what did you do?
I moved my focus to education. I changed majors. My focus was biology. So my credits that I'm short would actually enable me to teach high school biology.
Why biology?
I was always very interested in sports medicine. Sports meant a lot to me. It taught me a lot about life, and I was always very engaged in that. So I moved my focus to that and then I minored in coaching. I spent a lot of my first years working for Safeway, when I was 21, coaching on the side. I coached at a Catholic high school in Denver. I coached basketball, and I also assistant-coached the softball team and the tennis team.
Do you still play?
I'm not playing softball or basketball at this point in time, although some of my current co-workers would like to challenge me to at least a game of Horse, if not one on one.
Have you picked up any other hobbies to fill the gap?
I actually started playing golf. My husband, Sam, is a very big golfer; he's golfed all his life. He won't really teach me how to play because he just thinks I would beat him.
How did you go from playing basketball in college to working at Safeway?
Quite honestly, after I finished four years and still didn't have my degree, I had to move back home from Grand Junction to the Denver metro area. I moved back in with my mom. She thought it might be a good idea for me, at the age of 21, to have an income.
How did you get your start at Vons?
I started in Denver bagging groceries at the end of the check stand, and as the person that would be in the parking lot bringing the carts into the store and helping customers out in the store. Doing cleanups, just the entry-level position.
So what made you decide to stay rather than finish your education?
When I was promoted to floral manager, I was at a point of leaving and going back to school. I had a store manager, her name was Carolyn Rees. She noticed that I had a passion and that I could pick up skills very quickly. She asked me while I was on my summer break from coaching and going to school if I would try to come into a management position. I took her up on that opportunity. That was really when I made my decision to stay.
You're the first woman president of Vons. What does that mean to you?
I am, and in our company's history, I'm only the second female division president our entire organization has put into the position. I take that with a lot of pride, but also a lot of responsibility. Within this division alone I have 26,000 employees, and over 50 percent of them are female. I think I represent the opportunity for many others to follow.
Do you think that you bring a fresh perspective to your job?
I do think I can bring a different perspective. Males and females are different in the business world. I think it allows me to be able to connect with the female employees I have and talk to them in a way to motivate them that you can still manage to have a family and achieve a goal that you might have within this organization. Then, I think on the other side, since I'm a bit competitive and athletically inclined, I'm able to connect with the male team members I have in the division.
What does the president of Vons do?
Ultimately, I'm responsible for making sure that 26,000 employees enjoy what they do and that they understand their role within the organization. So a lot of communication. On the other front, I'm certainly responsible for all the financial metrics that come within a division, your sales, your profits, all that. Now, instead of looking at the numbers for one store as a store manager, I look at the numbers for 278 stores. And I'm certainly not in it alone. I have a team who helps me. Then we spend a fair amount of time with community giving, which is also something that's very important to me.
What's a typical day like for you?
Wake up at 5 a.m., grab the iPhone to see what messages came in overnight. Retail is a 24-7 business. While many of us are home having dinner and sleeping, we have folks shopping and working in our stores. From there, depending what the day was, I commit to be out in the field at least two if not three days of the week. What I mean by that is being in our stores, interacting with our customers, talking with our employees. For me, I can learn a lot more and help a lot more there than if I am sitting in the office. If I am in the stores, I will visit five stores and walk through the store and look at the departments.
And when you're not in the stores?
A typical day might be two to three conference calls that I participate in, either here at the division level or even with corporate staff.
Do you work late often?
Generally, I try to leave by 5 o'clock every night. I might do a few e-mails at night at home just to make sure I stay on top of it, especially if I'm traveling. In the office, I spend a lot of time analyzing sales data with my team, having conference calls, calling my retail teams. It's generally a day in the office from 7 to 5.
What were some of the challenges you faced getting to where you are?
For me, the challenge was I always felt I was ready to move up, but there weren't always positions open above me to step into. The challenge for me was keeping myself engaged and learning new skills while I was waiting.
What advice would you give a woman looking to follow in your footsteps?
I think probably one of the biggest things that somebody told me is have the courage to make sure that others around you and above you know where you want to be within your career and your organization. There was a time when I felt somebody would always recognize what I was doing and knew the contribution I was making to the organization. But in everybody else's busy day, they don't always see how much you contribute.
Who has influenced you most in life?
Certainly my mother, a woman who raised three kids but who also made a point to make sure her kids would receive a great education. Many times she worked three jobs. She worked seven days a week, and she worked basically from 6 in the morning until midnight all those days. She is still my biggest fan. She's excited that I'm here. I think to some degree she might not understand the magnitude of what I do, but she's certainly very proud.
Tell me about your family.
My family is still in Colorado. I have a brother and sister, but I'm the youngest. I have five wonderful nieces and nephews. I do not have any children of my own, but I do have a fantastic stepdaughter who I do actually call my own.
How did you meet your husband?
I was fortunate enough to meet my husband, actually, at Vons. I spent a year in this division before, and while I was here I had the opportunity to meet Sam.
Do you ever miss Colorado?
I'm able to travel back and forth frequently to see my family, which I do. What I do miss are the season changes. I miss fall in Colorado, but I don't miss winter in Colorado. My family really enjoys coming to California. They've enjoyed Northern California, and now they're already looking at all the landmarks and amusement parks and places they'll be able to see when they come see Aunt Lori in Southern California.
Where do you buy your groceries?
My husband and I do all our shopping at Vons and Pavilions. My husband, Sam, does the grocery shopping. He enjoys it. He's retired from Vons, so he enjoys being in the store. He's also a very good cook. It's a way for him to get the ingredients he wants.
For reprint and licensing requests for this article, CLICK HERE.