Pet Peeved
Owners could lose shops to city ban on critter sales
Monday, July 30, 2012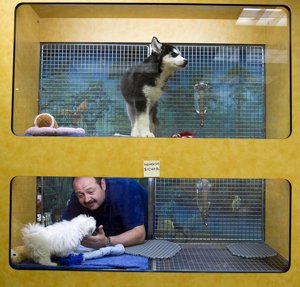 For six years, Andrew Mazor has been the proud owner of Puppy and Me Inc., a small, clean pet store in Sherman Oaks.
The family-owned business clawed its way through the recession, even surviving repeated picketing by angry animal activists out front. But Mazor worries the store won't get to celebrate its seventh anniversary.
That's because the Los Angeles City Council earlier this year called for a ban on the sale of dogs, cats and rabbits in local pet stores. A first draft of the ordinance is expected to go to the council for approval in late August.
Mazor, who sells only puppies and a limited number of related accessories at his shop, said the ban would drive him out of business.
"If I were to stop selling puppies, I would not be in business selling this stuff. I would be done," he said. "Clothing? Toys? Leashes? This is not where my passion is. I don't care about this stuff. I care about the dogs."
Councilman Paul Koretz, who represents neighborhoods in West Los Angeles and the San Fernando Valley, proposed the ban in an effort to address animal lovers' concerns that the pet shops get their animals from "mills" that breed puppies and kittens in unhealthy conditions. Critics of the stores think people should adopt pets from animal shelters.
The law, which would exempt stores that get animals from shelters, humane societies and registered rescue organizations, would go into effect after a six-month grace period following council approval.
The law has drawn opposition from the national pet industry and local pet stores. Last week, the Pet Industry Joint Advisory Council in Washington, D.C., flew members of its team to Los Angeles to meet with local pet store owners, reporters and city administrators.
Mike Canning, president and chief executive of the council, said he agrees with the sentiment behind the law, but doesn't think a ban will change consumers' habits. Those who want purebred animals will likely go outside city limits to get what they want instead of adopting a shelter animal.
"The fact is bans don't work," he said. "There's no evidence that says if I want a purebred dog and I can't find it in a city pet store I'll buy a mixed-breed dog from a shelter. There's no connection between the two."
Fish, birds, lizards
Of the 137 pet stores registered with Los Angeles Animal Services, only about 12 will be affected by the ban. Most of them are concentrated in Koreatown. Some store owners there declined to comment for this story.
Prev Next
For reprint and licensing requests for this article, CLICK HERE.