Stretching Out
CEO Sky Meltzer pushed Manduka to be more flexible in its line of yoga products.
Monday, July 9, 2012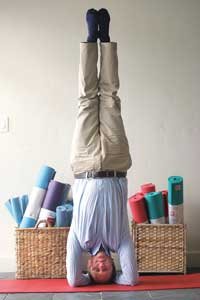 Sky Meltzer's parents were hippies; that's where he got his celestial name. His parents were so caught up in the counterculture, in fact, that his mother gave birth to him in a teepee, where the family lived for a short time. Meltzer long resented his parents' hippie history, but has since come around to appreciate the way he was raised. But that sense of acceptance only came well after he had graduated from Stanford University. He studied economics there, then took a job on Wall Street as a financial analyst. Realizing the demanding lifestyle was not right for him, Meltzer moved back home. He got into yoga then, just before moving to Los Angeles to restart his business career. In 2008, he began working as chief executive for Manduka LLC, a company built around one product: a sturdy black yoga mat that cost $100. In the four years Meltzer has been with Manduka, he oversaw the company roll out dozens of new yoga products now for sale in about 2,000 stores around the world, including retailers such as Sport Chalet, REI and Lululemon Athletica. The company has grown its revenue 12 times over and the number of employees has ballooned from three to almost 50. Meltzer met with the Business Journal at Manduka's El Segundo office and warehouse to discuss his childhood, why he fled Wall Street and how an ankle injury led him to yoga.
Question: Tell me about your childhood. Where were you born and what were your parents like?
Answer: I grew up in San Diego and my name is Sky because I was born to two hippies, actually conservative hippies, surprisingly enough. My father's a doctor of preventative medicine and I was exposed to yoga from very early on. My parents were very committed to living a life that was healthful. We were vegetarians, and my parents practiced yoga and tai chi and acupuncture. So from my first waking moment, I was exposed to those types of Eastern modalities and a holistic way of being and thinking about health.
What did your mother do?
My mom was a mom. She now is a project manager for an environmental engineering firm, but growing up she was a mom. I was born in a teepee in a place called Elfin Forest.
How did that happen?
I just have very free-thinking parents who wanted to live in a natural setting. My dad's a doctor, so he delivered me. One of my most prized possessions is an amazing photo of my dad holding me postdelivery. There's blood on my dad and blood on my mom, and it's very primal, but it's very cool.
Prev Next
For reprint and licensing requests for this article, CLICK HERE.