Stretching Out
CEO Sky Meltzer pushed Manduka to be more flexible in its line of yoga products.
Monday, July 9, 2012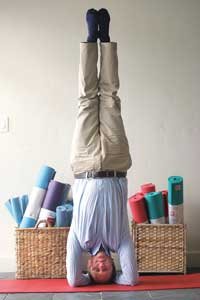 Sky Meltzer's parents were hippies; that's where he got his celestial name. His parents were so caught up in the counterculture, in fact, that his mother gave birth to him in a teepee, where the family lived for a short time. Meltzer long resented his parents' hippie history, but has since come around to appreciate the way he was raised. But that sense of acceptance only came well after he had graduated from Stanford University. He studied economics there, then took a job on Wall Street as a financial analyst. Realizing the demanding lifestyle was not right for him, Meltzer moved back home. He got into yoga then, just before moving to Los Angeles to restart his business career. In 2008, he began working as chief executive for Manduka LLC, a company built around one product: a sturdy black yoga mat that cost $100. In the four years Meltzer has been with Manduka, he oversaw the company roll out dozens of new yoga products now for sale in about 2,000 stores around the world, including retailers such as Sport Chalet, REI and Lululemon Athletica. The company has grown its revenue 12 times over and the number of employees has ballooned from three to almost 50. Meltzer met with the Business Journal at Manduka's El Segundo office and warehouse to discuss his childhood, why he fled Wall Street and how an ankle injury led him to yoga.
Question: Tell me about your childhood. Where were you born and what were your parents like?
Answer: I grew up in San Diego and my name is Sky because I was born to two hippies, actually conservative hippies, surprisingly enough. My father's a doctor of preventative medicine and I was exposed to yoga from very early on. My parents were very committed to living a life that was healthful. We were vegetarians, and my parents practiced yoga and tai chi and acupuncture. So from my first waking moment, I was exposed to those types of Eastern modalities and a holistic way of being and thinking about health.
What did your mother do?
My mom was a mom. She now is a project manager for an environmental engineering firm, but growing up she was a mom. I was born in a teepee in a place called Elfin Forest.
How did that happen?
I just have very free-thinking parents who wanted to live in a natural setting. My dad's a doctor, so he delivered me. One of my most prized possessions is an amazing photo of my dad holding me postdelivery. There's blood on my dad and blood on my mom, and it's very primal, but it's very cool.
What was it like growing up in that kind of environment?
As you could probably imagine, growing up with the name Sky, I have had my fair share of being teased. My name rhymed with shy, cry, lie, all those things. As a child, what I wanted was a conventional upbringing. I'm very proud of my roots now, but as a child nobody else I was friends with was born in a teepee or was a vegetarian.
Do you have siblings?
I have four siblings, but they have very normal names. When I say my parents were hippies for a moment in time, I was certainly born in the heart of that. My sisters are Justine and Jessica, and I have two brothers, Brock and Jordan.
Where did you go to college?
I went to Stanford University for college and I majored in economics. After Stanford I went into corporate finance; I worked for an investment bank on Wall Street. For two years I was an investment banking analyst, and it was that program that really drove me to yoga, specifically.
How so?
I was working seven days a week, 12 to 15 hours a day. I often joke that everything I learned in my professional life I learned as an investment banker. But by the end of it I realized that I need to be emotionally connected to what I do. So I took a little bit of time off.
When did you start practicing yoga?
I broke my ankle when I was an investment banker, right before I left, in a boating accident in Europe. My sister said, "You should come to this yoga class." I said, "Oh, come on, yoga's for girls! My name is Sky, I want nothing to do with hippie culture." But I will never forget that first yoga class.
What was it like?
It was so hard and my muscles were shaking and I was dripping with sweat. I was watching these people do what to me was so inspiring, like press up into a headstand. The amount of agility and sheer strength and focus and concentration it took, I was really inspired by that. So I fell in love with yoga; I started going every day.
When did you come to Los Angeles?
I moved to Los Angeles for a job in business development for a digital media company in 2001, and I asked my teacher in San Diego, "Where should I take yoga when I go to L.A.?" He said, "Well, you need to study at YogaWorks on Montana Avenue."
Why there?
YogaWorks on Montana Avenue was a very famous yoga studio back in the day because it was through that studio and that teacher training that a lot of important opinion leaders in yoga today were trained. So I got an apartment right by YogaWorks and I went to class every day after work when I could.
You got into teaching yoga later. How did that happen?
In 2001 the markets crashed and I was working for a startup and money was tight, so I helped open the doors and close the doors at this company. I found myself with a little time on my hands again, and there was a teacher training starting at YogaWorks.
Why did you want to teach?
I really wanted to understand why my hamstrings seemed to have grown 8 inches, because when I first started, I could barely touch my knees! I wasn't interested in teaching, per se, but I wanted to learn more. So I applied and it was very competitive. Somehow I weaseled my way into the class! It was a very pivotal moment for me, because it was in that program I happened to meet my wife, actually. I started teaching yoga as a hobby after that experience.
So what was your job then?
I went to work for MGM Studios in brand marketing while I was teaching yoga as a hobby. After a couple years at MGM, I realized I needed to work for a company where it made a huge difference if I got up in the morning and showed up. There, my influences were very micro. I wanted to do something more meaningful.
So did you finally get into the business of yoga?
Yes. At that time (2004), YogaWorks had this idea of building an international brand of yoga. I lobbied for a job on their management team and they ended up hiring me. It was there where I was first able to mix two of my passions, which were yoga and business.
How did you end up at Manduka?
Manduka was a very important vendor to YogaWorks. I met Peter Sterios (founder of Manduka) about four years later and Manduka was for sale. He wanted to focus on teaching and product development. The group that purchased Manduka hired me to run the business.
Tell me about Manduka. How did it get started?
In the late '90s, yoga mats were an afterthought. Yoga was becoming very popular in the U.S., but yoga mats were pretty much huge PVC rolls in the back of yoga studios that were cut to length and dimension and maybe cost $10 or $12.
So Peter Sterios saw a business opportunity there?
Yeah. The thing about a yoga mat is it really helps the experience of yoga practice. Because if you sweat a lot like me, and you're slipping all over the place and your mat is bunching up, you're spending the whole time trying to get comfortable versus working on your postures and actually practicing yoga. Peter identified and engineered this mat that stood in place, that didn't bunch, that lasted a lifetime. We have a lifetime guarantee on it.
When did Manduka become more than a yoga mat company?
In 2007, Manduka launched a line of natural rubber yoga mats. In 2008, we launched a yoga towel, block, bag and strap.
Tell me about your daily routine.
I wake up and I spend time with my 1-year-old daughter, Luciana, who is my biggest yoga teacher. She loves to do downward dog with me. Then I will either practice yoga at home or I will go to the gym and do some type of exercise. I come into work at 9 a.m. Then I will do whatever is of service to this company until the evening, when I go home and spend time with my family.
What does that mean? What are your typical duties?
Being a CEO of a high-growth small business, a startup business, you have to roll up your sleeves and wear a lot of hats. It includes being the brand guardian and working with our creative team. It's architecting our growth and business strategy to make sure we are generating sales in the right channels and growing our sales the right way.
How do you balance your work life with your home life?
I'm always striving to find that balance, the right time with the business, the right time with the family, the right time for myself. But I don't necessarily think balance is perfectly attainable; it's something you strive for. The moment you find it you're going to be knocked off balance, that's the challenge of life.
Who influences you most in life?
My wife, for sure; my wife and daughter. It sounds cliché but it's true.
How so?
They teach me, they challenge me, they give me great moments of joy. There's so much that happens in the practice of yoga that's a metaphor for life. To me, at the very root, yoga is about transformation. People will say, "I can't do yoga because I'm not flexible." But it doesn't matter your level of flexibility or strength or athleticism, because what yoga does is it puts you in postures to find those places, that edge that's really hard, and helps you learn how to work that edge. It's at that place where transformation can occur. So when you ask how do my wife or my daughter influence me, they challenge me to be my best self and to find those places where I can transform as a father, as a husband and as a leader of this company.
What do you do to relax – aside from yoga?
I love to spend time on the beach and I love to travel. Put me on a plane and land me in a new time zone with a language other than English and there's nowhere I'm happier in those moments.
Has your interest in yoga led you to India yet?
I've not been to India, but it's a place I plan to visit and I look forward to visiting one day. But honestly, today you don't need to go to India to study yoga. They say there are more yoga classes in Santa Monica on any given day than in any other city in the world, and the caliber and level of teaching here is outstanding.
What's the best advice you've ever received?
Time is all you have, and time is what you are in the most control of. It's very easy in this world of receiving a lot of e-mails and the fast pace of business to be reactive to what's in front of you. It's very important to make sure that as a business professional you're proactive with how you spend your time, that you make sure you are spending time on what's going to move the meter. I had a boss give me that advice and I think about it every day as I prioritize and reprioritize what I need to be spending my time on.
What advice would you give a young entrepreneur?
Don't take no for an answer. When you're small and when you're starting out, there are going to be a lot of stop signs. You have to find clever ways to get things done. It's important to have the capacity to find another angle to accomplish your goals.
For reprint and licensing requests for this article, CLICK HERE.