SpaceX Fires Up South Bay Real Estate Market
Aerospace: Elon Musk firm takes104,000 square feet next to its headquarters.
Monday, July 9, 2012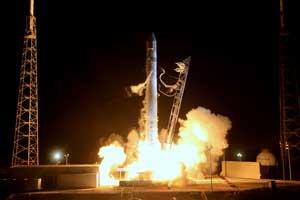 Space Exploration Technologies Corp. made big headlines for a successful spaceflight in May. But the month before that, the Hawthorne company quietly leased a new warehouse near its headquarters and production plant.
And the April signing for at least 104,000 square feet at 12520 Wilkie Ave. in Hawthorne – just across Crenshaw Boulevard from the company's headquarters – could be just the start of a real estate growth spurt for the company.
Known as SpaceX and led by Los Angeles billionaire Elon Musk, the company is looking to expand even further. Sources said the company has put out feelers for much more industrial space in the South Bay.
Jeffrey Kernochan, managing director of the local office of Dallas real estate firm Fischer & Co., represented SpaceX on the Wilkie Avenue deal. He said the company was looking for storage space for raw materials and plans to move into the building in October.
The lease came just a month before the most important event in the company's short history: On May 22, SpaceX successfully launched a cargo capsule that later docked with the International Space Station, the first private spacecraft to do so.
SpaceX officials did not return calls for comment, but the company's larger footprint and potential expansion is likely tied to growing number of rockets the company expects to launch over the next few years. Since 2006, SpaceX has launched eight rockets, but it is scheduled to launch at least 10 over the next 18 months and nearly 40 by the end of 2017.
The company's flight plans include 12 launches to the space station, including two this year. SpaceX has a $1.6 billion contract with NASA to ferry supplies to the station. May's successful mission was the final test before SpaceX begins delivering on the contract. The company eventually plans to take astronauts into space.
Along with its government contract, the company has a growing list of missions for commercial customers. SpaceX this year plans to launch a satellite for Canadian aerospace and information services company MacDonald Dettwiler and Associates Ltd. Next year's schedule includes launches for Thai satellite operator Thaicom and for Taiwan's national space agency. In 2014 and 2015, the company will launch satellites for Hong Kong's Asia Broadcast Satellite and Satelites Mexicanos of Mexico City.
Out of space
Most of the development and assembly of the rockets used for those flights will take place at SpaceX's 273,000-square-foot headquarters and production facility on Jack Northrop Avenue in Hawthorne. The company also has offices in Washington, D.C. and McGregor, Texas, as well as launch facilities at Cape Canaveral, Fla., and Vandenberg Air Force Base.
The company has more than 1,800 employees, up from about 150 in 2005 when it was headquartered in El Segundo, and is now looking to hire more. The company's website lists nearly 100 current openings.
That's a rarity in the South Bay's once booming aerospace industry, where most companies – including big players such as Northrop Grumman Co. and Boeing Co. – have downsized over the past decade. Indeed, though SpaceX now uses at least 377,000 square feet in the region, that's a tiny fraction of the millions of square feet of industrial real estate vacated by other aerospace companies.
Still, SpaceX is growing, and even has businesses outside of the cargo and satellite launch businesses. Last year, Microsoft co-founder Paul Allen announced SpaceX will build rocket engines for a space launch and tourism company called Stratolaunch Systems Inc. That company plans to build a massive plane in Mojave that will carry SpaceX-powered rockets laden with cargo, satellites or tourists to an altitude of 30,000 feet before launching them.
For reprint and licensing requests for this article, CLICK HERE.