AIDS Charity Turns Ire on L.A.
Non-profit: County denies condom-fueled feud with AHF.
Monday, July 9, 2012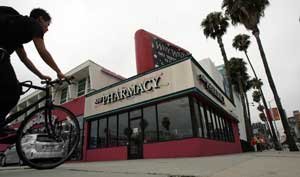 In recent years, the AIDS Healthcare Foundation's aggressive fundraising and advocacy tactics have led it to tangle with rival AIDS organizations, corporations and government agencies.
Now, the combative Hollywood non-profit is taking on Los Angeles County officials after being passed over for a $75 million contract.
What's more, the foundation claims that the county is cutting it out of contracts as payback for its hard-hitting activism – in particular, a recent campaign to force county officials to police condom use in the porn industry.
"We're being punished for our advocacy," President Michael Weinstein said. "I think the condoms in porn issue is a particularly sore point for them."
The county Board of Supervisors awarded a $75 million no-bid contract to Oakland's Ramsell Corp. earlier this year, tasking the company with the administration of a new pharmacy network for HIV and AIDS patients. The program is a transitional one meant to prepare the county for switching patients to a new plan under national health care reform.
AHF said it would have wanted the contract, but county officials never solicited bids. The foundation has launched a legal battle to void the contract, claiming the no-bid process was improper. It's also lost out on or had slashed two other recent contracts with the county.
The fight comes as the two sides square off over the porn issue. AHF, having already succeeded in getting city of L.A. officials to pass an ordinance mandating condom use in the porn industry, announced last week that a similar measure had qualified for the county ballot in November. County officials have said condom enforcement is not a priority and that it should be a state issue.
In addition to the ballot measure, AHF has previously sued to force the county to mandate condom use in the porn industry, but lost.
For their part, county officials denied that AHF's advocacy was a factor in contract decisions and said the no-bid process was needed to quickly implement a program in anticipation of health care reform.
"There's no secret plot," said Vincent Harris, senior adviser to county Supervisor Mark Ridley-Thomas. "It's purely a business transaction."
Aggressive tactics
The largest AIDS health care provider in the country, the AIDS Healthcare Foundation is active in more than 20 countries. In the county, it has seven clinics, six pharmacies and 13 Out of the Closet thrift stores.
But AHF also has become known for its aggressive tactics under the leadership of founder Weinstein, who has proved unafraid to pick fights in his efforts to expand the organization.
In 2010, AHF started an AIDS fundraising event, the California AIDS Walk, and scheduled it mere weeks before the long-established AIDS Walk Los Angeles, setting off a legal fight with AIDS Walk L.A. organizers. In 2006, it similarly drew the ire of AIDS Walk Miami organizers after launching a Florida AIDS Walk in nearby Fort Lauderdale, which has rapidly overtaken the AIDS Walk Miami in fundraising.
AHF doesn't always play nice with its advocacy efforts, either. In addition to pressuring government officials over condom use in the porn industry, it recently has taken on the Hershey Co., calling for a boycott of the "Un-American" chocolate maker in Hershey, Penn., for its ties to a boarding school that denied admission to an HIV-positive student.
Despite making enemies, AHF has nearly tripled revenue since 2005, bringing in $328 million last year.
The biggest generators of revenue are its pharmacy and health care programs, in which it has agreements with governments and insurers to provide medical services and drugs to HIV and AIDS patients. Grants and contributions accounted for less than one-tenth of annual revenues last year.
The $75 million contract at issue is part of the county's preparations for federal health care reform. Currently, thousands of HIV and AIDS patients in the county are cared for under a federal program called the Ryan White Care Act. Many of those patients are set to move to Medicaid rolls in 2014.
In anticipation of this switch, the county is moving about 5,000 patients into a transitional program called Healthy Way L.A. that started July 1. It has hired Ramsell to oversee a network of area pharmacies that will provide drugs to patients. Ramsell oversees a similar program in Oregon.
But AHF argues it should have had a chance to bid and filed a lawsuit in Los Angeles Superior Court. Last month, a judge ruled in its favor and canceled the contract, saying the county should have opened it up to competitive bidding.
County officials responded by reauthorizing a month-to-month contract with Ramsell. They also agreed to put the contract out for bid again by next year. AHF tried but failed to stop the county from approving the monthly contract with another lawsuit. Now, it is challenging the new contract as well through the continued legal proceedings.
"We want to have the opportunity to bid on it," Weinstein said. "We think that sole source is abused routinely. Basically, the county feels it can do whatever it wants when it wishes to."
Ramsell declined to comment through a spokesman.
Other contracts
AHF said it has been on the losing end of other contract decisions from the county. It bid on a roughly $3.5 million contract to coordinate eligibility screening and other administration services for AIDS and HIV patients, but the county pulled the contract last year without awarding it.
Mario Perez, director of the county's division of HIV and sexually transmitted diseases programs, said the county canceled the contract due to upcoming changes in health care reform, which will complicate eligibility requirements.
The county also notified AHF in May that a contract worth about $7 million a year for outpatient care for AIDS and HIV patients was being switched over from a model in which the organization receives a fixed payment to provide care to one in which it receives fees for services. Perez said the move will ensure different county contractors receive equitable payments for the same services, while AHF claims the changes could cut the contract's value in half.
While AHF has linked its contract issues with some of its advocacy efforts, including the push to require condom use in the porn industry, county officials deny any connection even as they acknowledge differences over the issue.
"I think those allegations are completely unfounded," Perez said. "AHF's a partner of ours and we continue to conduct business with them."
Perez said that county health officials believe HIV prevention should focus on groups most at risk of new infections, including gay men, transgenders, blacks and Latinos – while the porn industry is a smaller factor.
"When I consider all the infections in the county, (porn actors are) a group that is not impacted as greatly as some of the target groups in our county," he said.
Ramsell's contract started July 1, but AHF is still fighting to void it. A hearing is scheduled in November. Even if the organization doesn't win in court, the interim contract will be opened up for bidding in the next year.
"AHF will be welcome to enter a competitive process with Ramsell and any other contractor," said Sylvia Drew Ivie, a senior deputy for Ridley-Thomas.
Still, there could be more at stake than just one contract, said Michelle Sherman, an HIV-AIDS pharmacy consultant in Dana Point. When the transitional program ends and some AIDS patients are switched over to Medicaid in 2014, the county will likely be looking for an administrator.
"You'll need someone to administer that program and L.A. County could very well choose Ramsell as well," she said. "It's very likely AHF will be interested."
For reprint and licensing requests for this article, CLICK HERE.