Developer Exits Another Downtown L.A. Project
Sonny Astani sells entitled development in $63 million deal.
Monday, July 2, 2012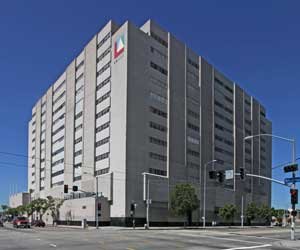 Developer Sonny Astani had spent the last couple of years in a heated and high-profile legal battle with hedge fund Starwood Capital Group attempting to keep control of his $260 million Concerto condo project in downtown Los Angeles.
So when news broke last week that he was selling another downtown project entitled for 700 residences – for a jaw-dropping $63 million – his motivation was easy to understand. The price is about $500 a square foot. Last year, comparable land sold for $274 a foot.
Astani told the Business Journal that he had wanted to build the three-building project at Eighth Street and Grand Avenue himself and had been in negotiations with a lender to fund the $300 million project. But he couldn't come to an agreement about terms of the loan or a requested equity stake sought by the lender. So when he received the lofty acquisition offer from a group of investors through the Colorado investment vehicle CPIVG8, it was just too good to refuse.
"I just came off a big battle with Starwood. I didn't want a situation where I had no control and was dealing with lawyers and consultants," he said. "The dollar amount was high enough that even a die-hard developer like me who makes his living by building, renting and management, had to consider it. It was a hard decision but I'm pleased."
Astani declined to disclose how much he will clear once his expenses and other costs are deducted, but said it would be substantial enough to assist with his other developments, including a 200-unit residential development on 10751 Rose Ave., near Sepulveda Boulevard in Palms, that is in the entitlement process. He also has three other large residential projects in downtown, Hollywood and Koreatown in the pipeline.
Astani had nearly completed the Concerto project when his lender, Corus Bank, failed and was seized by the Federal Deposit Insurance Corp. in 2009. Astani's funding evaporated and he placed the project into bankruptcy.
Astani then battled with Starwood, which bought stakes in Corus' assets from the FDIC. Astani settled with the Greenwich, Conn., hedge fund last year, selling his interest in Concerto for $9.5 million.
The principals of CPIVG8 could not be reached for comment, but according to Astani they plan to begin construction on the downtown project within the next couple of months. The design calls for a steel-and-glass shell, a rooftop pool, ground-floor retail and a large public space.
Cheap Not Chic
Downtown's struggling L.A. Mart design center traded hands for just $55 million last month to a group that thinks it can turn the 13-story building around.
A local investment group formed a limited liability corporation, PHR LA Mart, to buy the property, which spans two city blocks at 1933 S. Broadway. The seller was Vornado Realty Trust, a New York real estate investment trust.
Vornado, which acquired the building in 2000 for $54 million, has been divesting itself of noncore assets around the country, especially its less lucrative retail properties, such as L.A. Mart.
The 784,000-square-foot design center has offices and showrooms, and sits on more than nine acres near South Grand Avenue and Washington Boulevard. But it's just south of the downtown core and is only about 60 percent occupied. One of its chief tenants has no connection to the design industry: the Los Angeles County Department of Children's Services rents about 150,000 square feet.
However, the investment group was able to purchase the property for only about $1 more a square foot than when it last sold 12 years ago. Given the price, it plans renovations to increase occupancy, sources told the Business Journal.
Bob Safai, Matt Case and Brad Schlaak of Madison Partners represented the seller.
Korean Trade
In one of the largest multifamily sales in Koreatown this year, a 90-unit apartment complex traded hands for nearly $24 million last month.
Palo Alto real estate investment trust Essex Property Trust bought the complex at 690 S. Catalina St., known as Park Catalina, from Northwestern Mutual Life Insurance Co.
The Milwaukee insurance company, which bought the complex for $23 million in 2005, is refocusing its portfolio on larger residential developments and didn't want to hold on to the modestly sized building. Meanwhile, Essex is an eager buyer of buildings of about 100 units and valued at more than $10 million, according to the company website.
The Koreatown location was also a selling point given the enactment this year of the U.S.-Korea free trade agreement, said Joe Leon, Jones Lang LaSalle Inc.'s managing director in Irvine who represented both sides in the deal.
"With recent foreign trade policy changes with Korea, the Koreatown submarket has experienced incredible in-migration, providing for tremendous apartment demand and rent growth," Leon said.
The 10-year-old Park Catalina complex features four studio, 36 one-bedroom and 50 two-bedroom units that are virtually all occupied. The units average about 810 square feet with a monthly rental rate of about $1,860. It also has a clubhouse, business center and fitness center. Essex plans to complete some light renovations.
Jones Lang Vice President Javier Rivera also represented both sides in the deal.
Staff reporter Jacquelyn Ryan can be reached at jryan@labusinessjournal.com or (323) 549-5225, ext.
For reprint and licensing requests for this article, CLICK HERE.