Coffee Maker Aims to Perk Up Sales
Rival roasters force Farmer Bros. to brew premium line.
Monday, July 2, 2012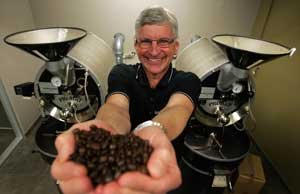 It's been five years since Torrance coffee distributor Farmer Bros. Co. bought high-end roaster Coffee Bean International in Portland, Ore., in an attempt to break into the growing specialty coffee market.
In the intervening years, competitors such as Peet's Coffee opened 60 stores, Starbucks opened nearly 500 and even McDonald's started offering premium coffee drinks. Farmer Bros., meanwhile, has lost more than $130 million and seen its stock price tank, and its customers have yet to brew a single cup of high-end coffee.
Only next month will Farmer Bros. finally launch a nationwide specialty coffee line developed with Coffee Bean's help.
What took so long? It looks like the company drank too much, too fast and is just now getting past its hiccups.
The company traces the trouble to the 2009 acquisition of the restaurant delivery division of Sara Lee Corp. of Downers Grove, Ill. The unit had hundreds of employees, thousands of products, and dozens of overlapping delivery routes and distribution centers. Farmer Bros. concentrated on melding the two companies.
"Acquisitions are difficult and integrations are really hard," said Michael Keown, who took over as Farmer Bros.' chief executive in March. "It's never as easy as, 'We buy and now you're all one big, happy family.'"
Only within the last year has the Sara Lee acquisition been fully integrated into Farmer Bros., freeing up the company to turn its attention to developing premium coffee products with the help of Coffee Bean. Specialty coffee is relatively new territory for Farmer Bros., which for decades has specialized in more middling offerings targeted to office break-rooms, small restaurants and convenience stores.
The new product line goes by the branding the Artisan Collection by Farmer Bros. and was unveiled at a restaurant trade show this spring. Ed Arvidson, president of coffee consulting firm E&C Consulting Inc. in Bend, Ore., said it's a step in the right direction for the company.
Now, the question is whether Farmer Bros. can establish artisan bona fides while holding on to existing customers.
"They need to make available higher-quality coffee. To some extent, they have to reinvent themselves," Arvidson said. "But you don't want to abandon the customer base you have. If there are people willing to pay $4 a pound and they're happy with that flavor profile, don't mess with that."
Slow roast
Farmer Bros., founded in Los Angeles 100 years ago, sells ground coffee, tea, spices, salad dressing and other food service products to more than 60,000 restaurants, hotels, offices and stores. It also sells and services coffee brewing equipment. Most Farmer Bros. customers are small businesses, though its coffee can also be found nationwide at Hilton hotels and in most Las Vegas casinos.
Until now, the company's coffee products have mostly been traditional and low priced, the kind of coffee that might be found at a local diner, though it also has a few middle-grade products found in restaurants such as Morton's steakhouses.
Arvidson said he recalls Farmer Bros. being a prominent and respected brand decades ago. But as coffee started going upscale and the company didn't follow suit, that image faded.
"When I was a kid, my dad would go to a restaurant and say, 'They've got Farmer Bros. coffee, that's good,'" Arvidson said. "But we've seen coffee change from daily, mindless consumption to the understanding that there can be something really good and satisfying in that cup."
Farmer Bros. management recognized that trend years ago. But turning that into a new business line has been a lengthy process.
The company unveiled lackluster products in 2003, including an Italian roast advertised as having "intense, full-bodied flavor."
The following year, longtime leader Roy F. Farmer, son of the company's founder, died of cancer. His son, Roy E. Farmer, took over as chief executive but committed suicide in early 2005.
In 2007, coffee industry veteran Roger Laverty took over as chief executive and oversaw the purchase of Coffee Bean. But 18 months later, the company saw an opportunity with the Sara Lee delivery business, which, thanks to that company's financial struggles, was acquired below book value for $45 million.
It was a big purchase, but Farmer Bros. couldn't pass up the deal. At the time, Farmer Bros. sales were mostly in the Western United States, while Sara Lee's were mostly in the East and Midwest, giving Farmer Bros. a national presence in the food service industry.
But two years later, the process of combining sales forces, product catalogs, facilities and delivery routes still wasn't complete. Meanwhile, Farmer Bros. was sinking in red ink as coffee commodity costs soared and it couldn't raise prices quickly enough. The company was also losing customers – its own and Sara Lee's – to regional roasters and specialty competitors.
Laverty stepped down just a few months before Farmer Bros. announced a loss of $54 million for the fiscal year ended June 30, 2011. It was the company's fourth consecutive annual loss.
New management
Keown, hired as chief executive in March, and Jeff Wahba, the company's chief financial officer since 2010, said the Sara Lee acquisition was a good move, but it meant specialty coffee was put on the back burner.
"Coffee Bean was allowed to continue basically on its own and continue to grow, while Farmer Bros. was focused on integrating (with Sara Lee)," Wahba said. "It wasn't until a year ago we had these together."
Coffee Bean had operated essentially as its own business, providing private-label specialty coffee to coffee houses, restaurants and grocery stores. But last year, Wahba and Coffee Bean President Patrick Criteser, who together served as interim co-chief executives at Farmer Bros. before Keown was hired, decided it was time to move forward with a specialty line for Farmer Bros.
The company's coffee buyers sourced beans from around the world, and roasters at Coffee Bean in Portland and at Farmer Bros. headquarters in Torrance developed roast levels and coffee blends that make up the collection's 15 products.
The Artisan Collection will be roasted in both Portland and Torrance and distributed exclusively through Farmer Bros.' food service sales force. Offerings range from such standard fare as French roast to blends sourced from specific regions such as Peru to a hip, urban brew called South Bay Blend, which is a medium roast said to have a spicy lemon flavor.
The company would not disclose prices for the new products, though Wahba said they will be "appropriately priced as specialty coffee items" and will vary by region.
Farmer Bros.' sales staff is being trained to sell the new products to existing customers interested in an upgrade, but management hopes the artisan coffees will help them penetrate coffee houses not already served by Coffee Bean.
"We've got customers who want to compete with Starbucks and Peet's and Caribou," Keown said. "There's a whole level of restaurant we probably couldn't have gone after before that we can go after now."
The stock market has yet to reward the company's efforts. Farmer Bros. stock hit a low of $4.60 in September, the same month that raw coffee prices peaked at about $3 per pound, then rose as coffee prices started to fall. Since Keown took over, the stock has fallen from about $12 to close June 27 at $7.25.
At that low price, some investors believe Farmer Bros. is a steal. Anton Brenner, an analyst at Newport Beach investment firm Roth Capital Partners LLC, initiated coverage of Farmer Bros. last month and rates the stock a "buy," with a target price of $11. In a June 1 report, Brenner estimated Farmer Bros. will turn a profit in the quarter ended June 30 and be profitable for all of the next year.
Coffee analyst Arvidson said it's good that Farmer Bros. is getting into premium coffee, but he cautioned that the company's old-school name and reputation for cheaper coffee could set the Artisan Collection back.
"It could still be roasted and blended by Farmer Bros., it just needs a different name," he said. "It's like Toyota and Lexus. Nobody's going to pay $60,000 for a Toyota."
For reprint and licensing requests for this article, CLICK HERE.