Electric Trucks Seek Euro Spark
Maker Balqon looks abroad after port bellyflop.
Monday, January 30, 2012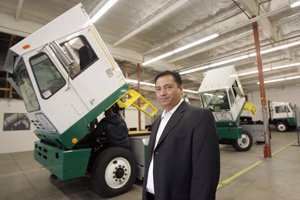 When Balqon Corp. sold its expensive and experimental electric trucks to the Port of Los Angeles a few years ago, it hoped companies that tested the vehicles would buy more.
But operators didn't like the trucks, finding their batteries ran out quickly while hauling heavy loads. So they parked them despite the port's $6.4 million investment.
Now, the Harbor City company is betting it can revive its fortunes with a better battery – and by leveraging sky-high European diesel prices.
Balqon is supplying its electric drive trains to Belgian truck maker Mol Transport Solutions for sale in Europe, where Balqon Chief Executive Balwinder Samra believes diesel prices are high enough to offset the trucks cost.
"The higher the fuel cost, the easier we can justify the premium associated with electric vehicles," Samra said.
Indeed, the trucks are expensive, selling in Europe for about the equivalent of $260,000. Comparable diesel models from Mol sell for about $111,000.
But with diesel fuel in Europe selling upwards of $7 a gallon, almost twice the U.S. price, the idea is the electric trucks will be cheaper in the long run because the electricity needed to charge the vehicles will cost much less.
"What you can justify in 18 months in Europe might take four years in the U.S," Samra said.
If Balqon's trucks prove popular on the continent, it would be a huge step forward for the company, which has sold trucks only to the port and a few other customers, and has lost millions of dollars each year.
It also would be a relief to officials at the Port of Los Angeles who invested millions in the company as part of the port's landmark clean-air programs only to watch the trucks falter. But industry analysts and potential customers say the company's strategy is far from a sure thing.
Galen Hon, a program leader at the International Council on Clean Transportation, a Washington, D.C., think tank, said fuel prices would have to rise much more to make the transition feasible.
"The main driver for the foreseeable future in Europe is cost," Hon said. "Certainly the fuel (costs) would help them out, but can they make up the cost of the extra $100,000?"
Officials from Mol are not deterred. They said they believe there is demand for the vehicles, which will function as yard tractors, and will haul cargo short distances within shipping terminals or distribution centers.
"I think some operators are very interested, but it will take some time to be convinced," said Marc Vanderberghe, a project engineer for the Hooglede, Belgium-based company. "We have normal, diesel-driven tractors that are less expensive than the electric drive. But based on fuel costs and maintenance, they're coming close to each other."
Hard to start
Balqon was founded in 2005 by Samra, an engineer, and some friends in his Aliso Viejo garage. The company sold its first tractor to the Port of Los Angeles and the South Coast Air Quality Management District in 2007 for $527,000. After a series of tests, the port ordered 20 more Balqon tractors and five on-road trucks for $5.8 million, and the company agreed to move its operations to the Harbor City community of Los Angeles.
The company and its electric trucks are part of a drive to reduce diesel emissions at the port. The Clean Truck Program adopted over the last few years required truckers to buy the latest model diesel trucks for hauling cargo in and out of the port. At the same time, port officials are pushing terminal operators to use zero-emission yard tractors and other equipment within the port complex.
But operators given the chance to try the electric tractors were unimpressed, saying the vehicles ran out of juice before a full shift was through. So, in April 2009, the port gave Balqon $400,000 to develop longer-lasting batteries, but the second round of tests didn't go much better. The company retrofitted the trucks with a third battery, and Samra said ongoing tests of those trucks have been more successful. California Cartage Co., the Long Beach company testing the latest trucks, did not return calls for comment.
Mol and Balqon are testing electric tractors with the latest battery at a distribution center in Belgium, and Samra said the tractors are performing well, running 11 to 12 hours between charges. A charging station installed at the center recharges the trucks in five to eight hours.
Vanderberghe said the tractors are meeting expectations, but that Mol isn't anticipating big sales, at least not right away. The company hopes to sell just 10 or 20 tractors this year.
The initial market, he said, will likely be urban distribution centers, where the vehicle's quiet drive train will help companies meet local noise ordinances. But customers at ports, which represent a much bigger market, are less likely to buy.
"It will take some time until ports make such a change," Vanderberghe said. "If you can convince ports to work with electric vehicles, then sales would be higher. Distribution centers are talking about much smaller numbers."
Regulation implication
Despite the L.A. port's desire to have fleets of zero-emission trucks, Samra believes in general that the United States is a more difficult market both because of lower fuel prices and less stringent regulation of emissions.
"One of the things we don't have in the U.S. is the regulatory environment that gives value to zero emissions," he said.
Indeed, European Union member nations have accepted binding targets for greenhouse gas emissions and Europe already has the kind of emissions cap-and-trade system that has been held up in the United States for years.
But it's not clear the overall regulatory climate will have much of an impact on Europe's appetite for costly electric vehicles.
Hon of the International Council on Clean Transportation said terminal operators in Europe, if anything, have become less interested in electric vehicles over the past few years.
"Before the crash, everyone was more willing to do a lot more in terms of investing in prototypes. Now it's back to bare bones, and that's for the entire logistics industry," he said.
Ross Clarke, director of design and operation of new terminals for APM Terminals, the terminal arm of Copenhagen, Denmark-based shipping giant A.P. Moller-Maersk Group, noted that California and the ports of Los Angeles and Long Beach are pushing zero-emission equipment more than any European port.
"We don't have any of the same sort of legislation you do in California, where there's legal requirements for people to start implementing zero-emission technologies," Clarke said. "We're not facing any sort of compulsion to change over to electric terminal tractors."
Some terminal operators in Los Angeles and Long Beach have requirements, written into their leases, to test electric tractors and other clean equipment, and the ports aim to expand those requirements. Terminal operators might eventually be required to replace all diesel equipment.
But port officials say they won't force tenants to use equipment if it's too expensive or doesn't work properly, meaning a mandate for electric tractors could be a long way off.
"Certainly we have to be mindful of the fact that our tenants and our customers have businesses to run," said Chris Cannon, the L.A. port's director of environmental management. "We need to help develop technologies that can fit into a business model and be used on a large scale."
For reprint and licensing requests for this article, CLICK HERE.