Electric Trucks Seek Euro Spark
Maker Balqon looks abroad after port bellyflop.
Monday, January 30, 2012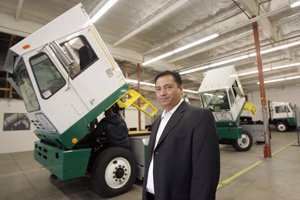 When Balqon Corp. sold its expensive and experimental electric trucks to the Port of Los Angeles a few years ago, it hoped companies that tested the vehicles would buy more.
But operators didn't like the trucks, finding their batteries ran out quickly while hauling heavy loads. So they parked them despite the port's $6.4 million investment.
Now, the Harbor City company is betting it can revive its fortunes with a better battery – and by leveraging sky-high European diesel prices.
Balqon is supplying its electric drive trains to Belgian truck maker Mol Transport Solutions for sale in Europe, where Balqon Chief Executive Balwinder Samra believes diesel prices are high enough to offset the trucks cost.
"The higher the fuel cost, the easier we can justify the premium associated with electric vehicles," Samra said.
Indeed, the trucks are expensive, selling in Europe for about the equivalent of $260,000. Comparable diesel models from Mol sell for about $111,000.
But with diesel fuel in Europe selling upwards of $7 a gallon, almost twice the U.S. price, the idea is the electric trucks will be cheaper in the long run because the electricity needed to charge the vehicles will cost much less.
"What you can justify in 18 months in Europe might take four years in the U.S," Samra said.
If Balqon's trucks prove popular on the continent, it would be a huge step forward for the company, which has sold trucks only to the port and a few other customers, and has lost millions of dollars each year.
It also would be a relief to officials at the Port of Los Angeles who invested millions in the company as part of the port's landmark clean-air programs only to watch the trucks falter. But industry analysts and potential customers say the company's strategy is far from a sure thing.
Galen Hon, a program leader at the International Council on Clean Transportation, a Washington, D.C., think tank, said fuel prices would have to rise much more to make the transition feasible.
"The main driver for the foreseeable future in Europe is cost," Hon said. "Certainly the fuel (costs) would help them out, but can they make up the cost of the extra $100,000?"
Officials from Mol are not deterred. They said they believe there is demand for the vehicles, which will function as yard tractors, and will haul cargo short distances within shipping terminals or distribution centers.
For reprint and licensing requests for this article, CLICK HERE.
Prev Next