Restaurant Puts Down Some Roots
Post & Beam hopes customers dig produce grown on site at eatery.
Monday, January 2, 2012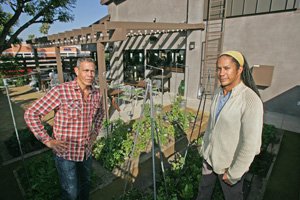 A restaurant opening in Baldwin Hills this week will offer something to diners that few other L.A. restaurants can: fruits, vegetables and herbs hand-picked just moments before hitting the plate from the restaurant's on-site gardens.
Restaurateur Brad Johnson and chef Govind Armstrong joined forces to open Post & Beam, a casual restaurant that will serve moderately priced California comfort food with ingredients sourced from its backyard.
The restaurant, which used to be a Golden Bird that served fried chicken, will have gardens taking up more than 250 square feet of its outdoor space. Armstrong planted vegetables such as beets, fava beans and sugar snap peas, to name a few, and a variety of leafy greens, including kale, mustard greens and escarole. He also planted herbs such as oregano and lavender, and the property is host to at least three kinds of fruit trees.
"It's going to be a lot of work but a lot of fun," Armstrong said. "When you're trying to grow this much stuff, it is very much a labor of love."
Only a handful of L.A. restaurants have on-site gardens, and most of those are herb gardens. Huckleberry Bakery & Café in Santa Monica, for instance, has planters out back with herbs and strawberry plants.
The gardens at Post & Beam are already beginning to sprout, but Armstrong said it's unrealistic to believe he could source even half of the restaurant's fresh ingredients from them.
"I'd be happy with 10 percent," he said.
To fill in the gap, the restaurant will pick up fresh seasonal produce from the South Central Farmers' Cooperative and local farmers markets.
The restaurant is one of the final steps in a $30 million revitalization of the Baldwin Hills Crenshaw Plaza, a mall that had been largely neglected since the '80s before Capri Urban Investors LLC bought it in 2006.
"Bringing in restaurants was a critical component to our overall success," said Ken Lombard, Capri Urban Investors president.
But one of the biggest reasons Johnson and Armstrong decided to go ahead with the gardens was because they chose a location off the beaten path.
"With commercial space in desirable markets in Los Angeles, rarely do you get space to have a patio and a garden and unlimited parking," Johnson said.

But right now the gardens are more of an experiment than an established part of the restaurant's operations.
Armstrong said he still has to wait to see which plants thrive and which plants don't.
For reprint and licensing requests for this article, CLICK HERE.