National Geographic Seeks Help in Hollywood Jungle
Movie unit folded into industry vet Ashok Amritraj's Hyde Park.
Monday, February 27, 2012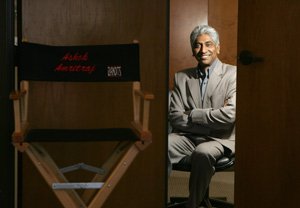 In the latest "Ghost Rider" movie, Nicolas Cage plays the devil's bounty hunter, annihilating opponents with a fiery chain and spewing a trail of carnage behind his motorcycle.
It's pure comic-book, fan-boy fluff.
And it's also the latest credit for producer Ashok Amritraj, who has a surprising follow-up gig: reviving flagging National Geographic Films, whose last big hit six years ago was about penguin migrations in Antarctica.
The National Geographic Society turned to Amritraj last month, shuttering its L.A. production office and folding its film unit into Amritraj's Sherman Oaks production and financing company, Hyde Park Entertainment.
It's an odd pairing on the surface, and Amritraj acknowledged he will bring a commercial sensibility to the venture. But he also said he will focus on acquiring scripts for both documentaries and narrative features that will be true to the society's purpose-driven message.
"It's a question of finding movies that bear the (National Geographic) brand, that have a feel where they can be wide-release films," Amritraj said.
Still, the challenge is clear: The last time National Geographic Films produced a hit in that vein was 2005's "March of the Penguins," which grossed a surprising $77 million at the domestic box office.
In comparison, last year's "The Way Back," a story about World War II soldiers escaping the Russian gulag, starring Ed Harris and Colin Farrell, and directed by Peter Weir, was a box-office dud. The film grossed just $2.7 million domestically, despite A-list talent and a reported budget of $30 million.
"Way Back" was financed by film fund Image Nation Abu Dhabi, an entertainment financing arm of the United Arab Emirates-based Abu Dhabi Media that committed in 2008 to spend $100 million on National Geographic productions.
Indeed, prior to the recent deal, Hyde Park also was a partner in the film fund, with Amritraj securing $250 million in financing from Image Nation in 2008.
Tim Kelly, president of the National Geographic Society, said Amritraj's existing relationship with Image Nation made him a natural fit to take over National Geographic Films.
"Given he and Abu Dhabi are both interested in financing National Geographic projects, it's a good combo," Kelly said.
Still, much of the Image Nation financing has yet to be put to use by National Geographic Films, with the only production to come out of it so far being "Way Back."
Kelly said the challenge is finding suitable films and that the film fund is content to wait until the new joint venture finds good content.
"We don't have any set number of films we need to put out," he said.
Re-creating the success of "March of the Penguins" will be tough. National Geographic acquired the original French movie at the 2005 Sundance Film Festival and hired Morgan Freeman to narrate an English version. The film is one of the most successful documentary releases ever.
Since then, National Geographic's largest box-office gross came from specialty film "Sea Monsters: A Prehistoric Adventure," a 40 minute movie shown on Imax and 3-D screens starting in 2007 that grossed $24 million domestically.
Distribution woes
One problem has been an inconsistent approach to distributing and marketing the films, with some handled in-house and others by distribution companies, which demand a share of the box office. For example, nature documentary "Last Lions," was distributed by National Geographic last February. The film was critically well received but came out in limited release and grossed just $635,000 domestically.
Nature documentary producer Mark Shelley, executive director of non-profit Sea Studios Foundation in Monterey, said "Last Lions" no doubt would have benefited from a larger distribution footprint and marketing campaign.
He said the film's production values and story line rivaled "African Cats," a release of Walt Disney Co.'s Disneynature unit that came out just two months later and grossed $15.4 million domestically. Both films tracked families of African lions battling for survival.
"They haven't put into (prints and advertising) what Disneynature and some of the other bigger studio projects have put in," Shelley said.
In response, Kelley said that except for specialty releases, such as large-format Imax movies, the joint venture will seek outside distributors.
Another problem for National Geographic has been quick turnover in its executive ranks. Amritraj will be the third executive to lead the film unit in two years, replacing former Miramax executive Daniel Battsek.
Amritraj, who has financed or produced more than 100 films, said he has big goals for the unit that will take time to achieve, including expanding distribution overseas. An Indian native and former tennis pro, Amritraj has strong ties to distributors in India and other East Asian countries.
He said he is already scouring scripts from talent agencies, hoping to go into production on his first National Geographic film sometime this year.
"Everything is on the table," he said.
For reprint and licensing requests for this article, CLICK HERE.