Coffee Wholesaler Switches to New Blended Recipe
Supreme Bean now running coffee shops with Groundwork pickup.
Monday, February 13, 2012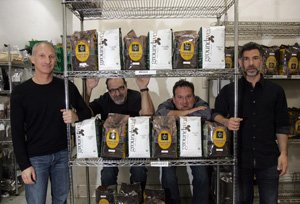 A North Hollywood wholesale coffee company that sells its roasted blends to more than 1,000 local restaurants, hotels and coffee shops is moving from bulk sales into the world of single-serve lattes and cappuccinos.
Supreme Bean LLC announced last month that its principals acquired a majority interest in Venice specialty coffee retailer Groundwork Coffee Co., which has two shops in Venice, two in Santa Monica, one in Hollywood and one in downtown Los Angeles. The deal combined the resources of four businessmen with a range of coffee expertise, growing the company overnight by 50 percent and tripling its number of employees.
The announcement was the latest development at the roasting company. In December, Supreme Bean began selling its roasted coffee beans in 12 local Bristol Farms stores in addition to the 23 Whole Foods stores that already carried its product. In the next week, the company plans to launch a website that will allow online sales for the first time.
The retail venture may present some challenges.
Mary Chapman, a restaurant consultant for Technomic Inc. in Chicago, said operating coffee shops is a departure from running a wholesale business, and that one of the major differences is overhead costs.
"A lot of people underestimate what it takes to run a food service place," Chapman said. "It's a complicated endeavor."
Supreme Bean forecasts $9.5 million revenue in 2012. It expects $3.5 million of that to come from the new retail operations.
The company has 96 employees – 60 in its retail stores – and is the parent of three separate brands: Supreme Bean Coffee Roasters, the wholesale business; Groundwork Coffee Co., the six-store coffee shop chain; and Joe to Go Coffee Service, a turnkey coffee-catering company that serves its brews to cast and crew on film and TV sets.
Jeffrey Chean opened Supreme Bean in 1996 when he decided he wanted to roast his own coffee beans for Joe to Go, which he'd started four years earlier. In 2005, he teamed up with businessman Steven Levan, who had recently purchased a small coffee-roasting company, and the two began growing the wholesale business. They bought the coffee-roasting arm of Groundwork from their friend Richard Karno in 2008, then two other roasters in the following years. Finally, Supreme Bean in August acquired an 80 percent interest in the remaining retail operations of Groundwork.
Eddy Cola, the fourth principal, is the business development manager. He said one of the biggest benefits of acquiring Groundwork was the public face it gave Supreme Bean.
"Particularly on the Westside and in Venice, everybody knows about Groundwork," he said. "It's kind of an institution."
Decision to sell
Groundwork's Karno said he was at a crossroads when he decided to sell.
"To me, it was either I can stay a small business with six retail stores and open up one every couple of years, or I can take a greater leap forward with these people," he said.
Karno said being part of a larger coffee company also gives him an advantage in buying organic coffee, which is more expensive.
"Now we have greater economy of scale, greater purchasing power," he said. "Organic coffee is just 5 percent of the coffee market, and as a retailer, it's a real dogfight to get the best coffee you can get."
Levan, who manages Supreme Bean's operations, said the company is now remodeling Groundwork's two biggest stores. The Hollywood store was expanded by 30 percent to add a full kitchen and capitalize on the lunch crowd.
The acquisition ended up costing the company more than he expected.
"It never ceases to amaze me how many startup expenses there are and how much time it takes to get everybody on the same page," he said.
The partners agree that their ultimate growth plan for retail stores means expanding throughout greater Los Angeles, but not farther.
"We don't have visions of grandeur," Karno said. "We're not out to conquer the world like every company out of the Pacific Northwest seems to be."
With 10 million people in Los Angeles and only six Groundwork stores, there's room for expansion.
Technomic's Chapman said the coffee segment in the United States is still growing. In 2010, the coffee industry had revenue of $15.8 billion, 4.2 percent higher than 2009.
"If the L.A. market is a microcosm of the rest of the U.S., there's room for some growth, even within a single market," she said.
Karno said the local market presents enough opportunity to keep the company busy.
"We recognize that this is a huge geographic and economically viable region, and just to be able to establish ourselves here in the long term is a project," Karno said. "We are an L.A. company determined to remain an L.A. company."
For reprint and licensing requests for this article, CLICK HERE.
Stories You May Also Be Interested In