YouTube Gets Creatives in Los Angeles
Media companies vie for piece of production pie.
Monday, February 6, 2012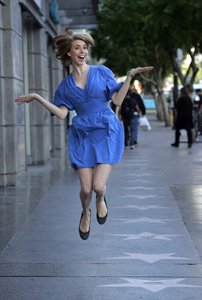 Amanda Taylor is ready to roll out her vision of the next big thing in reality dance competitions. A blend of popular shows "Dancing With the Stars" and "So You Think You Can Dance," her competition, called "Dance Showdown," will pair novices with pro dancers. The audience will vote on their favorites.
But Taylor's show won't be on ABC or Fox. Instead, she's hoping to capture the attention of millions of viewers on YouTube.
Her company, DanceOn, is one of dozens that have signed on to develop video for YouTube's initiative to bring professionally produced content to its online video website as opposed to its famous clips of silly cats.
There's a high concentration of these companies forming in Los Angeles as the city fast becomes known as a new-media and online entertainment hub.
Taylor even moved her 15-person company to Los Angeles from New York in December to be closer to other new-media companies.
"It's interesting to see how YouTube celebrities are all gravitating to L.A.," said Taylor, DanceOn's chief executive. "What's going on in content creation is here. There's definitely a lot of interesting things going on in this area and we wanted to be part of that."
Since YouTube announced its plans to put money into original content channels in October, at least seven L.A. companies have signed deals with the San Bruno company. Among them, Santa Monica's Demand Media has created three YouTube channels that focus on home and garden, pets and female health; Young Hollywood in West Los Angeles has launched a channel dedicated to celebrity and entertainment news; and Hollywood-based Machinima has developed a channel for video game news and trailers.
For those companies, which YouTube calls its content partners, working with the site gives access to the Internet giant's viewers and ad sales. The website has 800 million viewers each month and can sell targeted advertising around its videos. And because it's owned by Mountain View search giant Google Inc., it can promote its videos on a number of Google services.
"There's not a cable channel or network that has the reach that they have," said R.J. Williams, chief executive of Young Hollywood. "They have an amazing infrastructure set up that we can leverage."
But Dan Rayburn, a digital media analyst in the New York office of Frost & Sullivan, noted that a video isn't necessarily guaranteed to become a hit just because it's on YouTube. Some do, but thousands of others never get traction. Many of the site's videos of dogs doing silly tricks or pop culture spoofs don't get more than a couple of hundred viewers.
For reprint and licensing requests for this article, CLICK HERE.
Prev Next