Safe Harbor
Port's new cargo plan won't move all tenants
Monday, February 6, 2012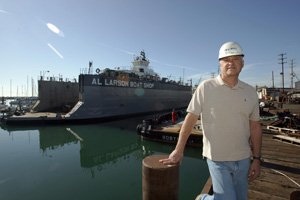 From the exposed wooden rafters of its machine shop, built in the 1930s, to the ancient-looking rails and pulleys that haul ships out of Fish Harbor, the Al Larson Boat Shop on Terminal Island reeks of history, of days when fishing vessels and pleasure boats were common in San Pedro Bay.
But the shop's antique look isn't by design. Like many other tenants in Fish Harbor, which is home to a small fishing fleet, the shop has been on short-term leases for decades as its landlord, the Port of Los Angeles, considered turning all or part of the small harbor into another terminal to handle cargo from Asia. Those short-term leases, measured in months rather than decades, made it foolish for the boat shop and other tenants to invest in any major improvements.
But things have changed in the past seven months.
Port officials in July finally started creating their plan for Fish Harbor. They asked shipping companies how much cargo space they need, asked railroads what improvements they want, and asked local fisherman and fish processors about moving elsewhere. The result: A tentative plan took shape that's quite different from the longtime assumption. The new plan calls for leaving the commercial fishing fleet and many other tenants where they are, even though the port would dedicate some space around Fish Harbor to cargo.
Now, the port seems willing to sign the boat shop to a 30-year lease, and the company is working on environmental approval for a $15 million expansion and renovation.
"It's about time," said Jack Wall, president of the boat shop. "The last time we had a long-term lease was in the beginning of the '80s. That's why the yard doesn't look as polished as others. We're not going to spend $15 million if we can't get a long-term lease."
With the latest plan, port officials say they're trying to strike a balance between shipping companies, which provide about 85 percent of port revenue, and other port tenants.
The plan was also influenced by state law, which calls for the protection of the commercial fishing industry, and by a study commissioned by the Los Angeles City Council that found the port needs more ship repair capacity, like that provided by the Al Larson shop.
Nevertheless, Wall and other tenants, a few of whom may still have to relocate, take issue with parts of the plan, saying the port remains too focused on growing its cargo terminals even as cargo growth has slowed. But they also believe the port has a better appreciation of their businesses.
'A little hope'
"If they're giving (the boat shop) a long-term lease, it does give us a little hope," said Megan Keane, manager of tug and marine services company American Marine Corp., which still might have to move under the latest plan.
Founded in 1903 by Al Larson, a Swedish boat builder in San Pedro – four years before the founding of the port – the boat shop is the oldest shipyard in Southern California and the port's oldest tenant.
The shop, which later moved to Wilmington and eventually to its Fish Harbor site in 1924, initially specialized in building and repairing fishing boats. Today, it's a repair yard only, doing structural and engine installation work on commercial tugboats, oil barges, Navy vessels, fire boats, and other government and commercial vessels. It employs about 90 workers.
Last week, the shop was at capacity, working on nine vessels, including finishing a sandblasting and hull-plating job on a tugboat from Seattle's Foss Maritime Co., repairing the bottom of a Navy landing craft and replacing the transom of a dinner-cruise ship from Hornblower Cruises & Events of Newport Beach.
The expansion plan could triple the number of vessels the yard can service at once.
The project calls for demolishing six of the 10 buildings at the shipyard, tearing down a set of small piers and installing a modern system for hauling vessels out of the water.
Wall said the boat shop has annual sales of about $12 million and expects a roughly 30 percent increase once the expansion project is completed. Construction could begin this year and last about two years.
Business has been steady even through the recession, Wall said, partly because there isn't much local competition. His is the largest shipyard at the port, but it is capable of handling vessels only up to 260 feet in length. The only big shipyard at the neighboring Port of Long Beach can handle crafts only up to 150 feet long.
"I'm only a midsized yard. These ports, Long Beach and San Pedro, are the nation's largest port complex, and yet I'm the biggest yard," Wall said.
Indeed, the scarcity of local ship repair facilities is a key reason the new Terminal Island plan keeps the boat yard where it is. Last year, the port and City Council rejected a plan by Long Beach's Gambol Industries Inc. to build a shipyard at the former Southwest Marine shipyard site, also on Terminal Island. At the time, the council called for a study of the demand and need for more ship repair facilities at the port.
The study, released last month, states that port customers will continue to need local repair services and that the boat shop can meet much of the demand if expanded.
"We're the last one standing, and I think the port doesn't want to be a port without a repair shop," Wall said.
Displacement
Plans for the future of Fish Harbor have evolved dramatically over the past two decades. David Mathewson, the port's planning director, said some plans have gone so far as to fill in much of Fish Harbor and turn it into space for cargo containers.
But those plans, which might have displaced the boat shop and other tenants, have been shelved in part because of Fish Harbor's fishing fleet. Even though it has shrunk from 300 vessels to just 80 over the past few decades, the fleet still has the protection of the California Coastal Act.
"If we filled in Fish Harbor, we'd be forced to put them somewhere else and there really isn't a location that would accommodate all those boats," Mathewson said.
The latest plan would allow the fishing fleet and fish processors to stay put, dedicating most of the north and east sides of Fish Harbor to the fishing industry. That's a big change from a plan released in 2009 that called for turning those areas into space for shipping containers and moving fish processors to the former Southwest Marine site.
The new plan essentially makes a swap, letting fish processors stay where they are and devoting the Southwest Marine site to space for breakbulk cargo – cargo not carried in shipping containers – which shipping companies said the port needs more of.
Those big changes are a step forward, tenants said, but the new plan could still force some tenants to move or lose their facilities. Fish Harbor would become dedicated to fishing and industrial uses, forcing the boat shop to give up a lease on a 140-slip recreational marina it operates near the shipyard, meaning a loss of about $350,000 in annual revenue.
In addition, American Marine, which offers tugboat services, sends supply boats to cargo vessels and provides commercial diving services, would have to move from the southeast to the west side of Fish Harbor to make room for cargo terminal expansion.
American Marine's Keane, whose father founded the business, said the port already made it move in 1993. She asked the Los Angeles Harbor Commission last month to consider paying relocation expenses for displaced tenants.
"The port sees the dollars from cargo ships and sees how much additional container space they can get," she said. "But you can't have cargo without these other services. If you don't have crew boats to take supplies out to a ship, they're not going to come to your port."
Mathewson said port officials recognize that need. He points out that the plan tries to keep support service companies around Fish Harbor rather than in other parts of the port, hopefully minimizing any relocation costs.
Doug Houghton, general manager of Harley Marine Services Inc., a tug and ship fueling company that leases a wharf on the south end of Fish Harbor, said the latest Terminal Island plan still doesn't leave enough room for his company to store fuel barges. Ship fueling represents more than half of the company's local business.
But he also gave the port credit for dedicating more space for support service companies.
"The last 10 to 15 years I've dealt with them, the more they've realized we're a necessary evil, I guess," he said.
For reprint and licensing requests for this article, CLICK HERE.