Hotel Room At a Premium
DEVELOPMENT: Another project eyed near L.A. Live.
Monday, August 27, 2012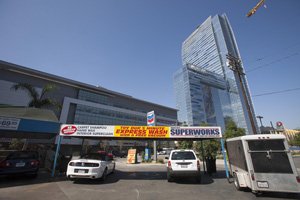 A small corner lot across from L.A. Live is close to being sold for its listed $25 million price to investors who want to build yet another hotel in the neighborhood, sources said.
The site of a carwash and small restaurant, the lot at Olympic Boulevard and Figueroa Street was put on the market at the beginning of the year by owner Robert Bush, who said he is in negotiations with three separate parties, each of whom has indicated a desire to build a mixed-use hotel project.
If the property, a little more than eight-tenths of an acre, sold for its listed price, it would amount to about $682 a square foot. That would make it the most expensive land sale this year in downtown Los Angeles – reflecting the area's status as one of the county's hottest hotel markets. So far the priciest land sale in the area this year was by developer Sonny Astani, who sold his Eighth and Grand project property, entitled for 700 residences, for $485 a square foot.
"The downtown area – with everything going on at Staples Center, the Convention Center and talk about an NFL stadium – has a lot of positive news and demand drivers that may make new hotel construction viable," said Alan X. Reay, president of Irvine consultancy Atlas Hospitality Group.
Ben Neman, a downtown property owner and manager, is one of the prospective buyers, according to real estate data provider CoStar Group Inc. and another source. His Neman Investments owns at least six other greater downtown properties, including a five-story warehouse on 301-303 Fourth St., according to CoStar. The data provider reported Neman wants to build a 476,000-square-foot mixed-use development with a hotel, residences and shops at the site near L.A. Live.
Bush confirmed that he is talks with Neman, but little else.
"We are in discussion with two or three (prospective buyers) but more seriously with one," he said.
Neman did not answer calls for comment.
There are several hotels being developed downtown. American Life Inc. of Seattle and Williams/Dame & Associates of Portland, Ore., are developing dual 23-story Courtyard and Residence Inn hotels. The $172 million complex will feature nearly 400 rooms and be operated by Marriott International Inc.
Boutique operator Ace Hotel also has plans to open a 180-room hotel in the United Artists Theater building at Broadway and Ninth Street. And the closed Wilshire Grand Hotel is being demolished and replaced with a 900-room tower.
The developments follow the opening in 2010 of the 1,001-room JW Marriott-Ritz-Carlton hotel next to L.A. Live, which was developed by AEG, a unit of Denver's Anschutz Co. and the builder of L.A. Live and Staples Center.
AEG has proposed building a $1 billion, 68,000-seat National Football League stadium at the site of the oldest wing of the Los Angeles Convention Center. Parts of the stadium also would double as exhibit space, while yet another convention building would be constructed as part of the plan.
AEG President Tim Leiweke, who is spearheading the campaign, has said downtown would need at least 5,300 more hotel rooms, for a total of 7,000, to handle the larger conventions.
However, the current interest to construct more hotel rooms does not seem dependent on building the stadium, which would only happen if AEG was able to attract an NFL team – and that is far from certain.
After AEG announced plans and a naming deal for the proposed stadium in January 2011, there was a flurry of media reports about various teams possibly moving to Los Angeles. However, those reports have died down and the stadium is going through a lengthy environmental review.
Instead, Reay said the area seems to be benefiting from the Convention Center; increased tourism; and the general improvement in downtown, which has undergone a renaissance as a residential neighborhood.
Rising occupancy
The Convention Center is experiencing a record year, with 24 conventions booked, up three from last year. Meanwhile, average hotel occupancy rates in downtown hit 72.4 percent through June, up from 66.8 last year for the same period.
"I know a lot of people were worried when the JW Marriott-Ritz Carlton opened up that it would saturate the market but every indication is that everyone has improved," Reay said. "There's not been a lot of new construction (of hotels) downtown so there's been very little to keep pace with demand."
The 811 W. Olympic Blvd. property is one of the few available – and developable – properties in the desirable South Park neighborhood, which falls under a community plan that encourages more housing and hotels near the Convention Center.
Currently, the site is only occupied by the 16,000-square-foot L.A. Car Wash and a 1,600-square-foot restaurant. And though it is less than an acre, a full size high-rise hotel could be built on the property or even a smaller parcel.
Reay said he would not be surprised if a leading upper-end brand such as Starwood Hotels & Resorts Worldwide Inc.'s W Hotel or a boutique brand such as Kimpton Hotel & Restaurant Group LLC's Hotel Palomar would be interested in operating a hotel at the site. Hilton Worldwide Inc.'s Garden Inn also might fit well.
"These upper-end, limited-service hotels seem to have a lot of traction and interest from developers, and more importantly from construction financers and lenders," Reay said.
Arty Maharajh, senior research analyst at Transwestern in downtown, said that the potential development signals continued belief in downtown and would be a welcome addition to the area.
"It would add much needed hotel units in proximity to L.A. Live and the Convention Center," he said. "The location of the L.A. Car Wash lot is in an even better location than other hotel developments currently being built downtown as you are a street-light crossing away from the Figueroa Street entrance to L.A. Live and the Staples Center."
For reprint and licensing requests for this article, CLICK HERE.