Homebuilder's House Divided
REAL ESTATE: KB Home investors challenge exec pay.
Monday, August 27, 2012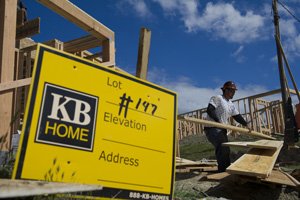 The company pulled out of markets and sold land, reducing the lots it owned or controlled from 131,000 to 38,000 by 2009. At the same time, its employee headcount fell from 6,700 to just 1,400 after several rounds of layoffs. It also sold off its nearly 50 percent share in its French unit.
Those moves helped keep the company afloat, but rivals have been quicker to take advantage of the reviving housing market. Lennar Corp., D.R. Horton Inc. and Toll Bros. Inc. each ended last year in the black. Ryland Group Inc., its Westlake Village competitor, didn't do as well but reduced its losses.
KB Home shares have jumped 50 percent since early June when they were trading around $7, but new-home orders in the second quarter were up only 3 percent from last year. That doesn't compare well with increases of at least 40 percent reported by Lennar and Toll.
The company has partly blamed lending issues. Last year, MetLife Inc. replaced Bank of America Corp. as the company's preferred mortgage lender, only to announce in January that it was shutting down its mortgage lending. KB Home announced a partnership with another lender, Nationstar Mortgage, in March. The disruptions led to a spike in order cancellations.
"As we reflect on the last 18 months, we underestimated the impact that our mortgage relationships with Bank of America and MetLife had on our business," Mezger said in the June earnings call.
But analyst Williams noted that there are other factors for the sluggish turnaround. He said the company's slower build-to-order process has hampered its ability to quickly nab those new customers who have rushed back. And even though KB Home exited poorly performing markets such as Indianapolis and Atlanta over the last several years, it got stuck with land in fringe areas away from city centers when the housing crash happened – properties undesirable in a low-growth market.
Now, with national home sales near a two-year high, the company's growth strategy calls for it to spend about $350 million on new land and development during the second half of the year. The company specifically wants to expand into coastal regions and developed suburbs in order to sell more expensive homes to wealthier customers. That strategy has been successful for its rivals.
"With our operational momentum and the markets improving, we are going on offense, and I have personally made this my top priority," Mezger said during the earnings call.
For reprint and licensing requests for this article, CLICK HERE.