Cool Customer
Real estate developer Bob Champion credits ice cream with launching his business career and landing his wife.
Monday, August 27, 2012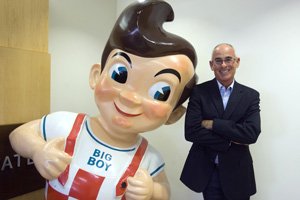 A little ice cream has gone a long way for Bob Champion. The veteran developer began his career as a franchisee of Swensen Ice Cream shops, drawing on that experience to ultimately establish his own company: Champion Real Estate Co. Champion is building two mixed-use apartment complexes under Hollywood's controversial new density plan, which allows high-rises near mass transit. Along the way, he has participated in virtually all of the major trends in California real estate development, including building hundreds of minimalls during the 1980s, not something he is exactly proud of. Later, he went on to build vertical retail and mixed-use residential projects. Like most developers, he was hit hard during the last real estate bust, which left him wondering if he'd be "pushing a shopping cart." Champion, 57, sat down with the Business Journal to discuss his current projects; career; and personal life, in which ice cream also played a big role. He first met his wife, Margie, when she applied for a job at one of his companies. She turned down the job after deciding Champion was one of the most "despicable" men she had ever met. Years later, he proposed to her over a hot fudge sundae; the couple has been married 26 years.
Question: It's hard not to notice the Bob's Big Boy figure in your lobby. Where'd that come from?
Answer: Marriott (International Inc.) owned a number of Bob's Big Boys, which I bought and redeveloped into retail properties. When we closed escrow on one Bob's, which was the second or third oldest in Glendale, the Bob (figure) was still there. I asked them if I could have it and they said yes.
Did you want it because it's named Bob, too?
Maybe a little. But it's an icon and I look at it as a form of art. It's also sentimental. When I was a kid I went to Bob's all the time, and 40 years later there aren't very many anymore.
Any interesting reactions to it?
Well, the Bob looks outward from the inside wall to the window, and that's where the reception desk is. One day the receptionist came in and gave notice. I asked her why because I wanted to address her concerns and she said, "I'm creeped out by Bob! If you sit at the reception desk, he stares at you." I said, "I don't want to get rid of Bob." She said, "If Bob stays, I go." So she left.
Prev Next
For reprint and licensing requests for this article, CLICK HERE.
Stories You May Also Be Interested In