Betting Big
Green card-for-startup program draws capital – and critics
Monday, August 20, 2012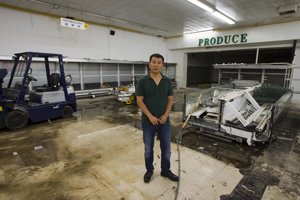 Entrepreneur Sam Tang stands inside a former grocery market in Temple City, empty now save for old equipment, construction debris and a pool of water – and sees an admittedly risky venture.
Two previous groceries in the same space have shuttered, yet Tang plans to sink $2 million into a supermarket scheduled to open in November. What's more, as a recent arrival from China, he knows little about the area. A car dealership owner in his native country, he has never been a grocer.
But to Tang, the risk is worth it. That's because he isn't just opening a business – it's his family's ticket for a green card.
"I'm doing this because of the education for my kids," he said, speaking through an interpreter. "Of course I'm worried about the risks, but that's a part of business."
Tang, 42, is one of a growing number of immigrants trying to gain permanent residency in the United States through a program that offers visas in return for approved job-creating investments.
The program, known as EB-5, has mostly gained notice as a way to funnel money into real estate developments through "regional centers." However, more and more people like Tang are striking out on their own with small businesses. In Los Angeles County, participants have opened or are planning to open grocery stores, insurance agencies, import-export businesses, tutoring centers, restaurants and tour companies, all to get green cards.
To supporters, the program is a win-win, boosting the economy with jobs and investment dollars, while conferring legal immigration status on investors and their families. But others question whether immigration officials are equipped to run the program and vet the business proposals, increasing the likelihood the immigrants will fail.
Scott Hauge, president of Small Business California in San Francisco, said it's hard enough to open a small business as it is – more small businesses closed than opened across the country in 2010, according to the Small Business Administration. Raising additional concerns are the mixed motivations of the program participants and the unfamiliarity many have with their industries or markets.
"If their motive is not to start a business but to get a green card, are these going to be viable businesses?" he said. "Even in the best cases when you have all the resources, a pretty significant number are going to fail in the first three to five years. This is just going to compound it and make it all the worse."
Growing program
Under the EB-5 program, foreign citizens investing at least $1 million – or $500,000 in high-unemployment areas – and creating 10 jobs in the United States can qualify for a green card, which grants permanent residency. The program launched in 1990 but went largely ignored for years. But in recent years, applications have surged as the recession prompted real estate developers to seek new sources of money, particularly from booming China. In fact, most applicants hail from China, although other investors come from such countries as South Korea, Iran and India. The program is set to expire this year, but most experts expect it to be renewed.
Most applicants join other investors in regional centers to fund real estate projects started by third-party developers. Meeting the requirements of the EB-5 program by starting a small business is different.
The entrepreneurs often come to the United States on a temporary visa to lay the groundwork for their company. Then, for their EB-5 application, they send information about the source of their capital, along with business plans, which can include an organization chart, the nature of the business, marketing plans, a description of products, comparisons with leading competitors and financial projections.
U.S. Citizenship and Immigration Services, which reviews the proposed investments, approves about 80 percent of all initial investment petitions (including those for regional centers). At that point, applicants then apply for a conditional green card, which allows them and their families to stay in the country for two years during the period of investment. After two years, if they show they've invested the proper amount of money and created 10 jobs, the conditions are removed from their green card and the process is essentially over; they can stay in the country. After three more years, they can gain citizenship.
More than 3,000 applicants nationwide have received approval to enter the EB-5 program in the federal fiscal year ending Sept. 30, already more than double the number of the previous year. However, only a fraction of applicants create small businesses as individual proprietors, with immigration officials estimating that up to 95 percent instead pool their money in the regional centers. (An even more rarely used option is to buy an existing business and expand it.)
Those who do start businesses on their own say they're wary of regional centers because they don't have control over the real estate projects, some of which have notoriously fallen apart in recent years. Just last year, a construction fund set up for foreign investment in El Monte was shut down and became the subject of a federal fraud investigation.
Steve Qi, an attorney in Alhambra, said he has represented about 20 to 25 entrepreneurs opening small businesses through EB-5 so far, most of them in the last two years. The new businesses include restaurants, import-export businesses and a tour bus company, all in the City of Industry.
"I do see an upward trend in that direction," he said. "I think people are not quire sure about the safety of regional centers and they want to have total control of these investments."
Risk and reward
One such person is Tang. When it opens, his 12,000-square-foot supermarket catering to local Chinese and Latino residents will include a fast-food restaurant and employ about 20 to 30 people. So far, he's spent about $400,000; he ultimately plans to spend $2 million for new equipment, remodeling, rent, employees and merchandise.
He said he made his fortune in China running two dealerships selling Citroen cars made by French manufacture PSA Peugeot Citroën in Changsha, which has a population of 7 million.
He admits to some hurdles in the United States, both expected and not. His English is poor and he attends classes four days a week. The opening of the market has been delayed by snags in the permitting process, which he said has been the biggest problem so far and has cost him extra rent.
He didn't do much research on the site; he discovered the location while driving around his new neighborhood last year.
Though previous grocery stores at the same location, which shares a parking lot with a noodle house and doughnut shop, have closed, he cited the longevity of a nearby 7-Eleven as a sign of confidence.
He doesn't plan to make back his investment for 10 years, and doesn't expect to make a cent for the first two.
In fact, Tang did not say his primary motivation was making money, which he said was much easier to do in China. More important to him was getting a green card for his children, ages 10 and 15. Currently in the United States setting up his business on a temporary visa, he plans to apply for an EB-5 visa in the coming months.
"In China, everybody has too much pressure in school," he said. "It's more relaxed in the U.S."
Danhong Cao, an accountant from the Suzhou region of China who made money through real estate investments, is also pursuing an EB-5 visa for the sake of her child.
Three years ago, she sent her son overseas to a private high school in Southern California. She wanted him to have the option to go to college here and stay as a resident, so last year, she began looking into the EB-5 program. Her investment petition was approved by immigration officials earlier this year.
"If my son can survive and be successful in the United States, my son can be successful in any other country in the world," she said.
Cao, 46, has never previously run a business. But with some help from her friend in the insurance business in Southern California, she opened an insurance agency with offices in San Marino and Rancho Cucamonga in April.
She has already sunk $1.5 million into the business, including $800,000 to buy an office building in Rancho Cucamonga and plans to invest an additional $300,000. About $100,000 a year will be spent on marketing, and she has already taken ads out with a local Chinese-language newspaper and Chinese-language radio stations.
The business sells a variety of insurance plans, but she is focusing on selling expensive life insurance policies costing $500,000 each to wealthy Chinese-American clients whom she meets through business contacts in China.
Cao spends her nights phoning contacts in China, usually going to sleep at 2 or 3 a.m. and waking up just hours later to drive her son to school. She spends her days running the business and learning the ropes from a friend. Like Tang, she goes to English classes four days a week.
She believes she can make back her investment in three to five years, but does have concerns.
"I'm afraid I may not catch up with the development of the business because of the limitation on my English," she said, speaking through an interpreter. "I have to foresee the future and if I can't make the proper (adjustments), my business strategy might be a failure."
Questions, criticisms
Immigration officials estimate more than 40,000 jobs have been created and $2.2 billion invested through the entire EB-5 program since its inception. However, those numbers have failed to sway critics of the program.
David North, a fellow at the Center for Immigration Studies in Washington, D.C., and a frequent critic of the program, said that the government should not be in the business of vetting real estate developments, small businesses or their investors.
"Using the immigration system to raise dollars is inappropriate. It's an extremely awkward way to raise small amounts of money," said North, who estimates the entire program accounted for only one cent out of every $100 in foreign investment in 2010.
Because immigration officials do not separate regional center applicants from the small-business ones, and because of the two-year waiting period before being granted a nonconditional green card, it's difficult to track how many of the small businesses are ultimately successful.
From 2005 to 2011, the immigration service gave 5,822 applicants approval for their EB-5 investments; 2,248 applicants during that same period were judged to have met all investment and job-creation requirements after two years. The figures are for both regional center and small-business applicants.
Small-business expert Hauge questioned whether the businesses would turn out to be legitimate long-term ventures, especially if they are using up money to hire employees in the short term just to meet the requirements.
"How many businesses are going to exist after a couple years?" he said. "They may have 10 employees, but are they viable?"
What's more, opponents could argue that a business that's propped up artificially would compete with neighboring businesses that need to make a profit to survive.
Sanford Perliss, Cao's attorney, said he knew a few clients who sold their businesses after the two-year mark, but often has fallen out of touch with his clients – though he does believe many are successful.
"Usually, if they've got enough money to get a business started, they've got enough to keep it going until it's profitable later," he said. "After the two years is up, that's the end of it as far as immigration is concerned, and usually that's the end of it as far as I'm concerned."
Tang's attorney, Daqin Zhang, brings a different perspective. He said that his clients have tempered expectations for the program and go into it with eyes wide open, expecting to spend lots of money.
"Losing some money is acceptable for the investors," he said. "The USCIS cares about job creation and economic stimulation, and for the investor it's very natural for them to care about the green card."
For reprint and licensing requests for this article, CLICK HERE.