Movie Studio Widens Focus
DreamWorks looks beyond animation to parks, TV.
Monday, August 13, 2012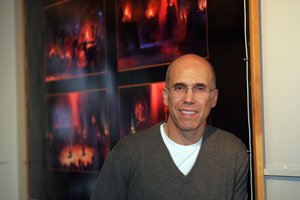 DreamWorks Animation SKG Inc., the Glendale studio known mainly for one thing – producing such animated film franchises as "Shrek," "Kung Fu Panda" and "Madagascar" – suddenly is beginning to look more like an entertainment conglomerate. It is getting involved in a theme park, it has launched a studio in China, bought a prized film and TV library, and might even create a cable channel.
Unlike its much larger neighbor, Burbank-based Walt Disney Co., DreamWorks isn't sinking huge capital into this diversification effort. Instead, it's using licensing deals, partnerships and joint-venture arrangements where possible to expand beyond its core business of animated features.
In the last six months, DreamWorks has formed a studio joint venture in China; announced another joint-venture effort to develop an entertainment district in Shanghai similar to LA Live; agreed to license its franchise characters for a theme park in the Meadowlands area of northern New Jersey; purchased for $150 million the Classic Media film and television library that includes the "Lone Ranger" and "Lassie" television serials; and revealed it is exploring a DreamWorks-branded channel, either online or on cable television.
Driving the expansion effort is a need to be less reliant on an often volatile revenue stream centered on its animation features. Producing only two animated films a year means that revenues plunge in quarters preceding the releases and then spike in the quarters when the movies are released. The moves are also aimed at ensuring that the studio can survive in an era of declining DVD sales.
"The company has made a concerted effort to diversify its volatile revenue stream, which can be a risky business model," said Tuna Amobi, senior media and entertainment analyst with S&P Capital IQ, a unit of Standard & Poor's Inc. in New York. "They are trying to broaden out into more stable revenue streams and to monetize their successful franchises across several merchandizing platforms."
The moves have been largely welcomed by analysts and appear to be a major reason why DreamWorks' stock has stayed relatively steady despite weaker than expected earnings in recent quarters.
"People have faith in the longer-term outlook for DreamWorks with its emerging strategy for diversification," said Tony Wible, an analyst with Janney Montgomery Scott LLC in Philadelphia.
A DreamWorks spokesman last week said company executives were traveling and could not be reached.
However, in an earnings conference call with analysts July 31, Chief Executive Jeffrey Katzenberg confirmed the strategic focus on diversifying the business.
Prev Next
For reprint and licensing requests for this article, CLICK HERE.