Small Private-Equity Firm Begins to Think Big Again
Brentwood sees ripe conditions for exits and new deals.
Monday, August 6, 2012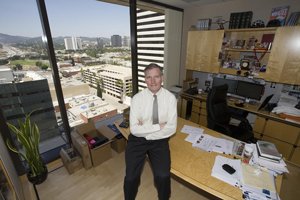 The private-equity market still isn't humming along as it was prior to the recession, but don't tell Brentwood Associates.
After several slow years, the 40-year-old firm, which targets consumer-focused and direct-marketing companies in the middle market, has recently made a flurry of exits and new investments as it gets back to business.
"We've had an incredibly active 2012, probably the busiest time in our history," said Bill Barnum, a private-equity veteran and longtime partner at the West L.A. firm.
Brentwood recently announced one of the highest-profile acquisitions in its history when it took a majority stake in Sundance Holdings Group LLC, a Salt Lake City women's apparel company founded by actor Robert Redford.
The small investment firm doesn't expect to slow down, either. Brentwood plans to announce another acquisition and sale this year, as well as potential follow-on investments. The firm is also raising a new fund.
The activity comes as many local firms remain tentative.
After the financial crisis, private-equity deal flow tailed off sharply, and it has only begun to rise again. During the past year, local firms closed just over 300 deals, about 85 percent of the total in 2007, according to Seattle research firm PitchBook Data Inc. The average deal size, meanwhile, has dropped significantly.
With relatively few attractive deals, the local industry is sitting on more than $33 billion in uninvested capital, according to a recent Business Journal analysis.
Barnum said the market conditions are ripe for investment since buyout firms have been on the sidelines for so long and a number of operating companies are eager to sell.
"There seems to be a little bit of pent-up supply and demand because of the financial crisis and the fact that activity ground to a standstill in 2009," he said. "Now there's kind of a release of activity and a release of energy. We're making up for lost time."
Venture roots
Brentwood was founded in 1972, but for a number of years its deals were primarily venture capital investments. It wasn't until the 1980s that it began taking a more traditional private-equity buyout approach.
Barnum, a Stanford University grad, had worked for Morgan Stanley in New York before joining Brentwood in 1984. With a background in mergers and acquisitions, Barnum co-founded the firm's private-equity division.
He shares a common ancestor with famed circus pioneer P.T. Barnum. Was Bill Barnum ever tempted to go join the circus?
"No, I never was," he said, laughing.
In 1989, with Barnum at the helm, Brentwood raised its first fund dedicated exclusively to buyouts.
"That's when Brentwood Private Equity was born," he said.
Meanwhile, the venture capital side split off and later merged with another firm. It is now called Redpoint Ventures, a highly regarded Menlo Park investor that has backed companies such as Los Gatos' Netflix.
Brentwood has built its expertise in areas such as consumer products, restaurants, education and retail. It targets growing businesses with dedicated customers and strong brands, and the firm tends to be hands-off after making an investment.
The firm, which now has about $650 million under management and 20 employees, has remained relatively small. It ranked No. 21 on the Business Journal's list of biggest local private-equity firms in April. But Brentwood has some big holdings. It counts well-known chains, including Paper Source stores and Veggie Grill restaurants, among its portfolio companies.
"Companies that have strong brands and have a great deal of customer loyalty associated with the brands – that's kind of our niche," Barnum said.
Like many firms, Brentwood's activity dropped sharply after the financial crisis.
But after several years without any exits, the firm sold off three portfolio companies in the span of a few weeks in June. Among the companies it unloaded was Filson Holdings, an outdoor apparel company headquartered in Seattle. Barnum said he expects at least one additional exit this year.
The firm is also looking into new investments. In the past month, it announced a deal to acquire Sundance, a 23-year-old catalog retailer selling women's clothes and accessories with a Southwestern theme. The price was not disclosed.
Matey Erdos, Sundance chief executive, said the investment will likely allow the company to strengthen its e-commerce presence.
She said the company decided to sign a deal with Brentwood because the firm has a reputation for strengthening brands and it specializes in the retail space.
"They asked all the right questions, they understand our business," Erdos said. "They're very strong on the retail side."
For reprint and licensing requests for this article, CLICK HERE.