Letting Go
Susan Franceschini, executive director of ad industry trade group ThinkLA, credits being laid off from Chiat/Day for sparking her entrepreneurial spirit.
Monday, August 6, 2012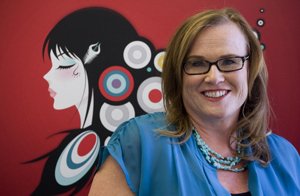 In the L.A. advertising industry, Susan Franceschini is the name everyone knows. From the creative boutique agencies in Venice to the skyscrapers downtown, she provides an anchor of stability in a tumultuous business. As executive director of ThinkLA, a local trade group for the industry, she communicates to more than 6,000 members and produces nearly 50 events a year, ranging from roundtables with a few dozen people to dinners for more than 1,000. Franceschini helped form the non-profit six years ago and has led it since then. Previously, she worked as a recruiter and HR manager at several local agencies. Franceschini met with the Business Journal at her office in Marina del Rey (the group has since moved to Culver City) to discuss how people sometimes throw up during job interviews, the emotional toll of firing people and the growth she found when she was laid off herself.
Question: Are you really a frustrated art director?
Answer: Copywriter. I started in advertising as a floater with aspirations of becoming a copywriter.
What's a floater?
An in-house temp. Whenever a person was sick or on vacation, I would fill in. Assistant media planner, creative coordinator, receptionist – I've worked them all. The job doesn't exist anymore.
Why not?
Maybe it was a luxury for an agency to have someone on staff full time to pop in as a temp when needed. It was a great learning experience for me.
Where did you float?
Davis Ball & Columbatto in Los Angeles. After six months as a floater, the HR department asked me to work for them. I'd never thought about HR, never considered it as a career.
Why did you take the job?
I realized I didn't have the talent to be a copywriter. It wasn't the type of writing I wanted to do. HR was a suitable role for me – helping people find their place, facilitating placements.
How long did you stay?
Seven years. The agency changed names to Davis Elen Advertising. Then I was hired by ChiatDay to become their in-house recruiter. There were 60 open positions when I arrived at Chiat. I had five interviews my first day.
Do you remember any unusual job interviews?
As a recruiter you get a few outliers. I've had people get sick in front of me.
Did they throw up?
They did. Too nervous. And I don't think I make people nervous.
For reprint and licensing requests for this article, CLICK HERE.
Prev Next
Stories You May Also Be Interested In