Lab to Market
SPECIAL SECTION: Innovation/Tech Transfer
Monday, August 6, 2012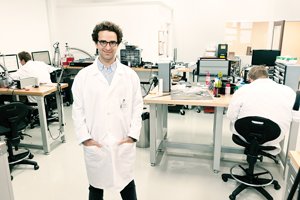 CALTECH, USC and UCLA researchers ponder big questions. How would you improve cancer treatment? Can solar power be produced more efficiently? Why can't X-rays be taken with smaller devices? And sometimes they come up with the answers. When that happens, the technology transfer offices at the colleges can then help them spin off their research into businesses that create jobs and progress. T
This special section details recent tech transfer projects, such as John Dabiri's wind turbines, described below.
CALTECH: Deferring Patent Costs
Caltech's Office of Technology Transfer files more than 100 patent applications a year. Staff at the prestigious science school's tech transfer office realize that startup companies are often low on cash, said Hannah Dvorak-Carbone, associate director at the office. By deferring patent costs, for example, alumni can focus on fundraising and product promotion in the early stages of their companies' existence.
All types of companies come out of the university's research.
"Our startups are as diverse as our research on campus," said Dvorak-Carbone.
One example profiled here is Glassimetal, a recent Caltech startup, which makes a material combining glass and metal that is durable enough for use in aerospace, medical and consumer products.
The tech transfer office focuses on getting laboratory discoveries into the community at large.
"The notion is to try and get the technologies out of the university into a venue where they can actually be used for the benefit of the public," Dvorak-Carbone said.
SCALABLE WIND SOLUTIONS, INC.
Product: Wind Turbine
Founder: John Dabiri
Year Founded: 2011
Location: Altadena
What is it?
Dabiri: A 35-foot-tall, vertical axis wind turbine.
What was the idea that led to the creation of the technology?
Two independent innovations. The first was the discovery at Caltech that vertical axis wind turbines could be configured and spaced in such a manner to derive much more power per acre than was previously known to be possible. The second was to approach wind turbine design starting with a blank sheet of paper and no preconceived notions, asking how one could develop the most cost-effective wind turbine considering not only cost at time of installation but also long-term ownership costs.
What were the biggest challenges?
Looking forward, the challenge will be to ensure that the product is durable enough not to increase the long-term cost of ownership.
What has been the benefit of spinning the company out of a university?
From my perspective as a professor, the benefit has been having an outlet for implementing these technologies in the real world and getting feedback on the nonscientific constraints on the technology, e.g. cost.
For reprint and licensing requests for this article, CLICK HERE.
Prev Next