Building Block
Real estate developer hopes to dress up stretch of La Brea Avenue as shopping strip.
Monday, August 6, 2012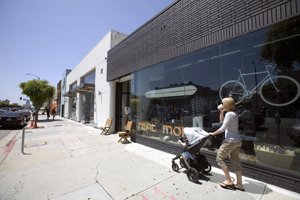 Rodeo, Robertson, Melrose and … La Brea? Retail developer Madison Marquette in Washington, D.C., is betting more than $50 million that its rejuvenation of an isolated block of stores on La Brea Avenue will help turn a disjointed stretch of one of L.A.'s busiest thoroughfares into yet another destination shopping district in Los Angeles.
The project spans 11 buildings and 90,000 square feet between First and Second streets on the west side of La Brea. The street is a thoroughfare for drivers traveling between Hollywood and the Santa Monica (10) Freeway. The location poses a challenge because the developer not only has to find a way get drivers to see the shopping area as they zip past, but also provide enough parking so they can stop.
Brandt Leitze, general manager for Madison Marquette's La Brea property, acknowledged that dense traffic and limited street parking will be tough for the retail center. But the property has a three-story parking garage on the south end, and a vacant lot to the north will be paved for parking, too.
"Having that parking was going to be a key ingredient to our success," he said. "We try to make it appealing to customers to make up for the unfavorable aspects of La Brea Avenue."
Jay Luchs, a broker for CBRE Group Inc. in West Los Angeles who has represented dozens of properties in high-end Westside shopping areas, said the site has advantages, but he remains skeptical.
"The area does have somewhat of an edgy vibe, and if done the right way, they can make that block really cool," he said. "But I don't know that it's going to be the next big destination in L.A."
Luchs worked with Madison Marquette in early stages of the project but is no longer involved.
So far, though, some retailers have been voting with their signatures. At the south end of the property, three tenants have moved into renovated spaces and five more have signed leases with plans to open in coming months. Two more spaces have been leased on a month-to-month basis to pop-up shops since the beginning of the year.
'Fascinating street'
A cluster of independently owned retailers have held shops across the street from the La Brea project for many years, including Nick Metropolis Collectibles, Liberation Yoga, and clothing stores Undefeated Inc. and American Rag Cie.
Eric Hohmann, West Coast managing director for Madison Marquette, said the street could benefit from being more cohesive.
For reprint and licensing requests for this article, CLICK HERE.
Prev Next