Pedal Mettle
Bike-sharing firm looks to get in gear without public money
Monday, April 30, 2012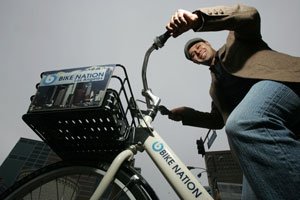 There's a gleaming new bicycle station in downtown Long Beach that is equipped with dozens of secure indoor bike racks, a repair shop, showers and lockers. In short, it's a haven for the bicycle commuter.
The station near the city's central transit hub was built by a private company, but like most of the bicycle infrastructure around Los Angeles, the funding was entirely public.
Indeed, the Los Angeles County Metropolitan Transportation Authority, the city of Los Angeles and other public agencies have been the key to the area's growing network of bike lanes and lockups.
But now a couple of investors are betting $16 million that L.A.'s growing bicycle scene is mature enough to get rid of its government training wheels. Partners Navin Narang and Brad Barlow of Bike Nation USA plan to build a bike-sharing system around Los Angeles – and they believe they can make a buck without any government funding.
"All the main systems in the U.S. have been municipal-driven systems and there's been some level of government funding, but the government dollars tend to dry up," Narang said. "Will a privately funded venture work? Our opinion is it's the only way."
Bike Nation, part of Tustin's First Pacific Holdings LLC, plans to install 400 bike rental kiosks and 4,000 specially designed bikes at public locations in Hollywood, Westwood, Venice and downtown Los Angeles over the next two years, the first step toward what company and city leaders hope will be a larger regional bike-sharing system.
That's not to say the company won't have municipal assistance. The city is helping Bike Nation by permitting bike-sharing stations, most of which are expected to be located on public sidewalks or in parks. And Mayor Antonio Villaraigosa announced Bike Nation's plan at a press conference this month, lauding it as part of his effort to make walking and biking more convenient in the city.
Bike sharing is common in Europe and is emerging in a handful of U.S. cities, but Bike Nation's L.A. system will be larger than most and rare for its reliance on private money. The company is investing up front in the hopes of getting paid back by user fees, advertising and corporate sponsorships.
That model has worked elsewhere, but it remains to be seen how much value sponsors and advertisers will see in supporting the company. Mobis Transportation Alternatives Inc., which operates the downtown Long Beach bike station, had big expansion plans a few years ago, but its growth has stalled as the company hasn't been able to find private money to replace increasingly rare public dollars.
For reprint and licensing requests for this article, CLICK HERE.
Prev Next