Pedal Mettle
Bike-sharing firm looks to get in gear without public money
Monday, April 30, 2012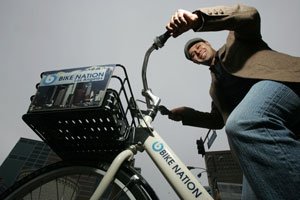 There's a gleaming new bicycle station in downtown Long Beach that is equipped with dozens of secure indoor bike racks, a repair shop, showers and lockers. In short, it's a haven for the bicycle commuter.
The station near the city's central transit hub was built by a private company, but like most of the bicycle infrastructure around Los Angeles, the funding was entirely public.
Indeed, the Los Angeles County Metropolitan Transportation Authority, the city of Los Angeles and other public agencies have been the key to the area's growing network of bike lanes and lockups.
But now a couple of investors are betting $16 million that L.A.'s growing bicycle scene is mature enough to get rid of its government training wheels. Partners Navin Narang and Brad Barlow of Bike Nation USA plan to build a bike-sharing system around Los Angeles – and they believe they can make a buck without any government funding.
"All the main systems in the U.S. have been municipal-driven systems and there's been some level of government funding, but the government dollars tend to dry up," Narang said. "Will a privately funded venture work? Our opinion is it's the only way."
Bike Nation, part of Tustin's First Pacific Holdings LLC, plans to install 400 bike rental kiosks and 4,000 specially designed bikes at public locations in Hollywood, Westwood, Venice and downtown Los Angeles over the next two years, the first step toward what company and city leaders hope will be a larger regional bike-sharing system.
That's not to say the company won't have municipal assistance. The city is helping Bike Nation by permitting bike-sharing stations, most of which are expected to be located on public sidewalks or in parks. And Mayor Antonio Villaraigosa announced Bike Nation's plan at a press conference this month, lauding it as part of his effort to make walking and biking more convenient in the city.
Bike sharing is common in Europe and is emerging in a handful of U.S. cities, but Bike Nation's L.A. system will be larger than most and rare for its reliance on private money. The company is investing up front in the hopes of getting paid back by user fees, advertising and corporate sponsorships.
That model has worked elsewhere, but it remains to be seen how much value sponsors and advertisers will see in supporting the company. Mobis Transportation Alternatives Inc., which operates the downtown Long Beach bike station, had big expansion plans a few years ago, but its growth has stalled as the company hasn't been able to find private money to replace increasingly rare public dollars.
Just as important to Bike Nation is whether car-dependent Angelenos will respond to the company's offerings, especially given the limitations of the city's existing bike-lane network.
"Most people are wary of riding in L.A. traffic. Most cities that have done bike sharing have spent two to five years putting in bike lanes first. L.A. has been kind of late and (its bike lane network) is kind of scattershot," said Richard Risemberg, a local cycling advocate and publisher of website BicycleFixation.com.
He noted that New York, which under Mayor Michael Bloomberg has installed hundreds of miles of bike lanes, is only rolling out a bike-sharing system this year
New venture
Narang and Barlow started Bike Nation three years ago, but announced their first project this February: a small bike-share system in Anaheim. Beyond that system, set to open this summer, neither Barlow nor Narang has any experience in bike sharing.
Narang, 36, founded advertising companies MediaNation and MediaNation Outdoor, which provide sign spinners and branded merchandise. Barlow, 42, founded Employee Relations Inc., which provides sexual harassment avoidance training and other services. They merged their companies eight years ago into First Pacific Holdings, which has since also acquired Technability LLC, a web and app developer.
Narang said Bike Nation grew out of his travels to Paris and Montreal, cities that have had bike-sharing programs for several years.
"I saw how well it worked and how often folks used them, and we were really intrigued by the whole concept. It's such a dynamic product that didn't exist here," he said.
A bike-sharing system is designed to offer bikes at a small fee for trips of less than two miles around densely populated areas – a quick run to the post office or to grab a sandwich. The company plans to cluster them in the different L.A. neighborhoods, with stations located about a quarter-mile apart.
A typical Bike Nation location will include an automated self-locking bike rack, 10 bikes and a self-serve kiosk. To check out a bike, users have to sign up for a membership – ranging from $6 for a day to $75 for a year – and pay with a credit card.
Once the membership is paid, users can ride for 30 minutes at a time with no additional fees, but additional half-hours will cost between $1.50 and $6. The system is designed to discourage users from checking out a bike for long periods.
After a ride, users return to any Bike Nation kiosk, where a GPS system built into the bike signals it has been returned. If a kiosk has no empty spaces, users will have to ride to another location, though Narang said the company hopes to keep such inconveniences to a minimum by sending out teams who will move bikes from full to empty stations.
In the three years since starting Bike Nation, Narang and Barlow have hired Derek Fretheim, who founded self-service kiosk company CeroView LLC, to help develop bike-sharing kiosks. They also worked with an undisclosed U.S. manufacturer to design a bike specially suited to bike sharing. The bikes use a solid drive shaft instead of a chain and have airless tires, both measures aimed at preventing breakdowns. The bikes' built-in GPS device, Narang said, should also serve as a deterrent to thieves. The company will work with the city and get suggestions from community groups and potential users to decide where to locate kiosks.
Making money
Bike-sharing networks now exist in the United States, but many are subsidized by local governments. The District of Columbia, for instance, bought the bicycles and station equipment for its 1,200-bike Capital Bikeshare system, which is now run by Portland, Ore., company Alta Bicycle Share. In Denver, the B-Cycle bike-share program is run by a non-profit set up by city leaders.
Bike Nation expects it will be able to operate for free on public property but not receive any direct financial help from the city. The bikes alone cost $1,800 each, and while Bike Nation would not disclose the cost of its kiosks, the 4,000 bikes, 400 kiosks and self-locking racks for the system's initial rollout are expected to cost $16 million over the next two years. Narang and Barlow said they are covering those startup costs with their own capital and no debt.
To turn a profit, Narang said the company will need lots of Angelenos to use the service, and businesses to sponsor the service or advertise on bikes and kiosks.
"Sponsorships are going to drive a lot of the monetization. There are a whole host of businesses that sustainability is very important to them," he said. "Involving themselves with Bike Nation and supporting our system lines up with those goals."
That involvement could include advertising on bikes, or a company paying to have a kiosk at or near its office. A bike-sharing system in London is sponsored by bank Barclays PLC, while Boston, which has one of the few U.S. bike-share programs, receives similar private money through sponsor New Balance Athletic Shoe Inc. Bike Nation has talked to several potential sponsors and advertisers but has not signed any deals yet.
Gary Lawrence, chief sustainability officer for downtown engineering and consulting giant Aecom Technology Corp., said he imagines plenty of firms would like to have a Bike Nation location nearby as a perk for employees, but only if the businesses are in bike-friendly neighborhoods.
"Corporations do want to be sustainable and they want their employees to know they're sustainable," he said. "But if it doesn't really make sense for really being an alternative mode of transportation – if there's no bike lanes around, for example – I would think that would be less likely."
Lawrence also said firms will probably proceed with caution, making sure to sort through liability and safety issues. For instance, what happens if a company agrees to locate a kiosk near its offices and an employee subsequently gets hit by a car while riding a Bike Nation bike?
"You've got lawyers who will wade in," he said. "None of this is an actual barrier, but there will be all sorts of details to get sorted out."
No check
Bike Nation is not the first private company to try building bicycle infrastructure around Los Angeles.
Mobis Transportation's Bikestation has been around since 1996 and operates secure bike-parking centers in Long Beach, Covina and Claremont. Another company, Bike and Park of Cincinnati, runs a similar center in Santa Monica that opened last year.
But all of those stations were built with public money. In Bikestation's case, the centers rely on subsidies for regular operations. Because of that dependence on government funding, Mobis' ambitious expansion plans have fallen flat. In 2009, the company had built or operated 12 stations nationwide and company leaders hoped for 200 by 2015. The company now has about 20 stations – only seven under the Bikestation brand – and hasn't added a location in two years.
Mobis Chief Executive George Mulling said tight government budgets, as well as the state's move to disband local redevelopment agencies, have made expansion difficult.
"In L.A. County and everywhere else, it's an awfully difficult task to find money," Mulling said. "Any city we talk to, any government agency, is certainly not sitting there with tremendous funding available."
While Mobis continues to vie for publicly funded projects – including a plan to build more bike lockups along local rail lines – Mulling is also taking the Bike Nation approach, meeting with potential advertisers in addition to real estate developers who might be willing to pay for a Bikestation to help woo tenants.
"There's certainly great interest from developers trying to separate themselves from the competition. Offering bike services for people who choose to bike (to work) with some frequency can help do that," he said, but added: "Nobody's actually pulled out a pen and written a check."
For reprint and licensing requests for this article, CLICK HERE.