Phones Look Like Good Call for Accessories Maker
Belkin moves into mobile as way to re-energize growth.
Originally published April 16, 2012 at midnight, updated April 16, 2012 at midnight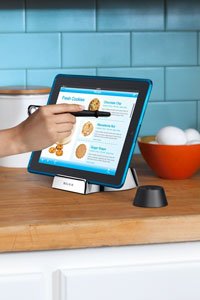 Chet Pipkin was a 21-year-old UCLA dropout when he founded Belkin International Inc. in 1981, tinkering away at his parent's kitchen table in Hawthorne.
All that tinkering amounted to something: He turned the company into one of the fastest growing in Los Angeles, selling cables and other peripherals to serve the burgeoning computer industry.
Thirty years later, with desktops' market share shriveling, and tablets and smart phones the hottest sellers in electronics, Pipkin is remaking the privately held company he still leads.
Call the Playa Vista firm a maker of "appcessories," which are products that work in tandem with mobile devices. They include mounts, protective cases and sleeves for smart phones and laptops, plus add-ons like tablet docks and Bluetooth music receivers.
"Over the last several years, sales have been relatively slim," Pipkin acknowledged. "(But) if we get those experiences right, a positive emotional connection will grow and the market share will grow."
So far, it looks like the company has made some strides.
In November, Belkin received five Consumer Electronic Show awards, including one for a tablet stand and stylus designed for kitchen use. The company is also promoting a wireless adapter that allows people to operate their home theater equipment with their laptops and stream video up to 100 feet away.
However, for all of Pipkin's concerns, it's not as if the company had stopped growing. Sales hit roughly $1 billion for the fiscal year ended Sept. 30. That's an increase from $770 million in 2006.
But that growth rate over six years is a fraction of what Belkin had been experiencing. In 2003, the last of several years that Belkin made the Business Journal's list of fastest-growing private companies, revenue was $550 million, up from $360 million in 2001.
Stephen Baker, a vice president at New York tech industry research firm NPD Group, said that he believes Belkin can again be a standout in a crowded market, provided it continually introduces products consumers take to.
"They have a great brand and are strong with retailers," said Baker, "I think it's a great place to be, but you have to pedal really fast all the time."
Competition in market
Belkin's competition includes Chino-based Incase Designs Corp. and Anaheim-based Mobile Edge LLC. Each have gained a significant market share and are now "two steps ahead" because they started out focused on laptops and mobile accessories, Baker said.
Mobile Edge, founded in 2002, specializes in laptop bags; Incase, founded in 1997, makes cases for phones and other electronics.
Prev Next
For reprint and licensing requests for this article, CLICK HERE.