Europe In The Bag
Plastic bans boost Cereplast resin sales
Monday, September 12, 2011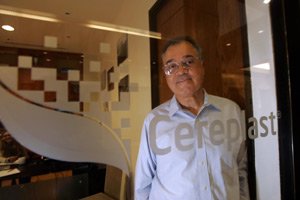 Are government regulations good for business? They've been good for Cereplast Inc.'s business, at least.
The El Segundo company makes resins, which are the building blocks of plastics. But its resins are made of plant material, which means they are biodegradable. The company has seen its sales skyrocket over the past year as new regulations in Europe have prompted businesses there to move away from oil-based resins.
In the first half of this year, Cereplast sold $15.4 million of its resins. That nearly matches the company's sales for the previous four years combined.
"I would say 90 percent of that is due to the regulatory environment we have seen," said Cereplast Chief Executive Frederic Scheer. "The whole ban on plastic bags has been fueling the growth of our company and of the bioplastics industry."
Case in point: Italian companies didn't buy a nickel's worth of Cereplast resins in 2009 or the first half of last year. But in the second half of last year, leading up to an Italian ban on standard nonbiodegradable plastic bags that took effect in January, Italian companies bought $3 million of the company's resins for biodegradable plastic. This year, they took an additional $7 million.
There's more growth on the way. Shomik Majumdar, a vice president at Mountain View-based consulting firm Frost & Sullivan who follows the bioplastics industry, said Europe's consumption of bioplastics is expected to climb 15 percent to 20 percent annually over the next several years.
"The whole pie is getting bigger," he said.
Cereplast makes its plastic resin with starch from corn, potatoes and other food crops instead of with petroleum-based products such as polyethylene. It also makes long-lasting plastic resins using a combination of plant starch and petroleum products.
Despite the increased sales, the 10-year-old company has yet to turn a profit since going public in 2005. It lost $7.5 million last year and has lost $4 million in the first half of this year. The company has sustained itself on equity offerings and debt, most recently selling $12.5 million in convertible notes in May, which raised its long-term debt to more than $16 million.
Scheer projects that Cereplast should start turning a profit in 2012.
Jinming Liu, a senior analyst with Ardour Capital Partners in New York, said that sounds like a realistic goal.
Meanwhile, the company is on track to hit its consensus estimates of a $7.3 million loss, 47 cents per share, on revenue of nearly $32 million this year.
Prev Next
For reprint and licensing requests for this article, CLICK HERE.