Ritzy Gym Chain Hopes to Fit in L.A.
Equinox looks for lift by picking up Sports Club.
Monday, September 5, 2011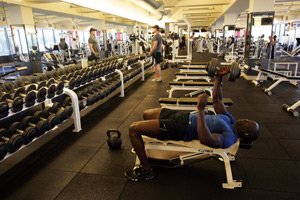 When Sports Club/LA opened its flagship location in West Los Angeles more than 20 years ago, it was called the Taj Mahal of fitness centers. It had first-rate amenities, ritzy décor, and a membership roster of entertainment and sports stars.
The high profile led to a nationwide expansion that brought the upscale gyms to New York, Boston, San Francisco and elsewhere. But Equinox Fitness, another high-end, star-studded fitness chain, also went on an aggressive nationwide expansion and moved in on Sports Club/LA's turf. The end result: Equinox announced last month that it's buying the four Sports Club/LA locations owned and operated by Sports Club Co. Inc. of West Los Angeles.
The $130 million takeover of the four Sports Club/LA locations, including the flagship property in West Los Angeles, spells the end for Sports Club Co. as the operator of the gyms that were once trend setters but became money losers as competition moved in.
"They were the epitome of a health club or lifestyle center," said Glenn Colarossi, president at Stamford, Conn., firm Colarassi Spa & Health Club Consulting & Management. "But more clubs started to offer all of those services."
Equinox emerged as the dominant player among the niche group of upscale, full-service health clubs thanks to its trendy gyms complete with amenities such as spas, laundry service and cafes. Monthly memberships run as high as $178, compared with about $40 at L.A. Fitness or $24.99 at 24 Hour Fitness.
At Sports Club/LA, an executive membership costs about $260 a month. That made the gyms an attractive target, and Equinox had long considered a takeover. Once the sale is completed at the end of this month, Equinox will have 10 facilities in Los Angeles. It's planning to rebrand all four Sports Club/LA locations under the Equinox flag. The four clubs employ more than 700.
"Equinox is buying four well-positioned locations and a linchpin for what they may project as being a great success," said Rick Caro, president at New York fitness club consulting firm Management Vision. "Once Equinox puts its concept and systems in place, and uses the synergies with the other clubs to do some reciprocal marketing, they may be very valuable to Equinox compared to the value they had for Sports Club Co."
Millennium Partners, which bought five Sports Club/LA locations and one Reebok Sports Club/NY location as the chain powered down, will continue to own and operate those under the Sports Club brand.
Celebrity workout
Sports Club/LA has long been popular with celebrities and sports stars looking to sculpt their physiques. The website even touts A-listers spotted at the club: "Victoria and David Beckham enjoying regular Pilates and one-on-one couples yoga sessions, followed by massages," reads one entry on the club's celebrity hot list.
Sports Club/LA founders Nanette Pattee Francini and Michael Talla opened the midtier Sports Connection and Spectrum health clubs in the early and mid-1980s. The partners then launched the first Sports Club/LA on Sepulveda Boulevard in West Los Angeles in 1987, costing $27 million to build. It featured state-of-the-art equipment, valet parking, a hair and nail salon, and sidewalk café.
Sports Connection then sold a 50 percent stake to financier Marvin Davis to raise capital to develop more clubs under the Sports Connection, Spectrum and Sports Club/LA brands. It opened a second Sports Club/LA location in Irvine in 1990.
In 1994, Talla and Francini took the company public under the name Sports Club Co. on the American Stock Exchange and started focusing on the Sports Club/LA brand. The company sold the Sports Connection and Spectrum clubs throughout the 1990s to raise money to pay down debt and to fuel a costly nationwide expansion of Sports Club/LA – each location cost as much as $30 million to develop.
Sports Club Co.'s stock took a beating as the company continued to open more locations without growing profits. The company first reported a net loss in 2000 and didn't report a profit until this year.
Caro of Management Vision questioned the wisdom of running Sports Club as a public company.
"What people look for is a very improved story from quarter to quarter," he said, something Sports Club never provided.
The company had trouble generating any interest among analysts or investment bankers, he said. Few gyms were publicly traded, and that remains the case today.
"The industry as a whole is not an easy one to understand and isn't big enough to warrant a major investment and commitment by a particular investment banking firm," he said.
In 2006, the company sold six of its clubs to Millennium Partners for $80 million, dropped off the American Stock Exchange and landed on the Pink Sheets.
Sports Club Co. then adopted a turnaround strategy: Instead of spending millions to open gyms, the company would leave that work to a developer, then license its brand and manage the gym as part of the chain. The strategy never took off. The company planned to open a Sports Club/LA at an upscale mixed-use development in Dallas under the model, but the plan fell through.
Capital connections
Meanwhile, on the opposite coast, Equinox opened its first location in New York in 1991. The company started undergoing explosive growth when private equity firms North Castle Partners LLC of Greenwich, Conn., and J.W. Childs Associates LP of Waltham, Mass., acquired it in 2000.
North Castle, which specializes in the health and wellness industry, led Equinox's expansion of 21 clubs into four markets nationwide from 2000 to 2005.
New York real estate giant Related Cos. then acquired Equinox for $505 million at the end of 2005. The deal has enabled Equinox to leverage the company's real estate expertise and relationships. At the same time, Related has added Equinox clubs to some of its prime residential and commercial real estate properties, giving the company a marquee anchor tenant.
"Related is housing Equinox in the same building where they are developing high-end condos, and the condos are selling faster and at higher price than if they didn't have that connection to Equinox," Caro said. "At the same time, Equinox has resources that allow it to expand."
Equinox has 55 locations nationwide, including the four Sports/Club LA sites.
But company executives are also focused on developing other types of fitness clubs to keep up with the popularity of niche and boutique studios that offer Pilates or spinning classes for example.
Equinox operates a yoga concept called Pure Yoga; a low-priced, minimalist gym concept called Blink; and an indoor cycling concept called SoulCycle, which the company acquired earlier this year. It's planning to open up to 15 locations in Los Angeles in the next few years.
The company is planning to update the four new locations in Los Angeles with Equinox's signature style of trendy décor and luxury accommodations. It's planning to add high-end amenities such as Kiehl's bath products and cold towels with eucalyptus spray, and new technology such as an Internet portal where members can sign up for classes and track workout goals.
"We are going to make a multimillion-dollar investment in these clubs in renovating them and bringing them to Equinox standards," said Scott Rosen, chief operating officer at Equinox, "and evolving the Sports Club/LA offerings while maintaining their strong service orientation."
But some current Sports Club/LA members and employees are concerned about the takeover of Equinox, which is often referred to as an urban country club.
As part of the deal, Sports Club/LA and Equinox executives said they were required under California law to send termination notices to all of the employees who work at the four locations. Locker room gossip about the notices spread quickly, leaving employees worried that Equinox would not r-hire them. Members also were uneasy about the new owners.
Rosen admits that Equinox could have done a better job communicating its transition plan to Sports Club/LA employees.
"We want to retain their best club employees," he said. "That's our intention. We want to win them over. We want to welcome them to the Equinox family."
In the meantime, executives at Sports Club Co. are assessing their next moves.
"We will be very opportunistic in looking for future investments in real estate as well as operating businesses," Francini, president and co-founder at Sports Club Co., said in an e-mail.
"They've been in the industry 40-plus years going back to the racquetball days," Caro said. "This is an opportunity for them to stand back and figure out what they want to do next, if anything."
For reprint and licensing requests for this article, CLICK HERE.