Mixed Martial Arts Gym Hopes to Pack Extra Punch
UFC looks to take on industry rivals with locations across L.A.
Monday, September 5, 2011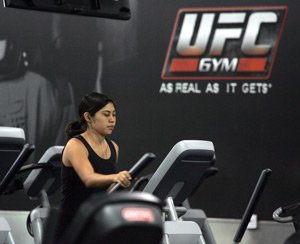 Mixed martial arts battled its way onto America's cable TV channels years ago, and more recently went mainstream with video games and toys. Now, the Ultimate Fighting Championship organization is trying to get fans off the couch and into its new chain of gyms.
The company is building a line of high-impact gyms with a focus on Los Angeles.
In July, UFC Gym, a division of the parent group, broke ground on a Torrance location. It will be the second UFC Gym in Los Angeles County; a Rosemead location opened last summer. The chain's other gyms are in Corona and Concord.
Adam Sedlack, senior vice president at UFC Gym in Corona, said Torrance has the highest pre-enrollment numbers for any of the clubs yet, drawing members from as far as Hollywood.
Sedlack said that there is no fighting at the gyms, although more advanced students may spar with others using pads. But the idea is to follow the training regimen of mixed martial arts professionals.
The company is scouting the Westside, including Century City. Sedlack said he'd like to have at least seven locations across Los Angeles.
The gyms also have stores that sell UFC merchandise, as well as clothing from outside retailers and nutritional supplements.
Grand openings feature appearances by mixed martial arts stars such as Chuck Liddell.
What's driving the expansion? The UFC brand is moving into the mainstream through TV, toys and deals with large venues.
In August, UFC parent company Zuffa LLC in Las Vegas signed with Fox Sports Media Group to broadcast fights on the Fox network starting in November. The fights have been broadcast on cable channels such as Versus and Spike, which target a narrower male audience.
Live UFC events are also staged at large venues such as downtown L.A.'s Staples Center. UFC has an action-figure deal with Malibu toymaker Jakks Pacific Inc. and a video game deal with Agoura Hills' THQ.
UFC wasn't the first extreme-fighting gym in Los Angeles. Legends MMA Gym in Hollywood is backed by Las Vegas-based mixed martial arts promotion company World Fighting Alliance, a UFC rival. Legends opened in 2006.
Ross Franklin, founder of health club consulting firm RF Health Club Consulting in Matawan, N.J., said specialty gyms such as UFC and Legends MMA are increasingly popular.
Meanwhile, big chains such as Gold's Gym and L.A. Boxing have been trying to get in on the trend by adding rooms with heavy bags and classes that feature mixed martial arts training.
The phenomenon has been especially popular in Los Angeles, Franklin said. "L.A. is the trend setter in the health and fitness world," he said. "Trends that happen in L.A. come to New York City next and then to the secondary markets," he said.
Sedlack said UFC Gym's plans include expanding to the East Coast and internationally.
'Brand extension'
UFC Gym got its start in 2007 when Mark Mastrov left as chief executive of 24 Hour Fitness Worldwide Inc. in San Ramon and started a private-equity firm, New Evolution Fitness Company LLC, with a focus on the fitness industry. The Lafayette firm also has stakes in YogaWorks and Crunch Fitness.
New Evolution teamed with Zuffa in 2009 to launch UFC Gym, hoping to cash in on the growing popularity of mixed martial arts.
"Brand identity of UFC is high," Sedlack said. "It made perfect sense as an extension of that brand."
The gyms have about 40,000 square feet of floor space. That includes cardiovascular and weight-training equipment, a full-size octagonal ring for sparring and floor space for drills. The mixed martial arts classes include muay thai boxing, jiujitsu and wrestling.
Membership at the UFC Gym in Rosemead runs from about $40 a month for basic access to gym equipment and some classes up to $90 for a full complement of class hours.
Franklin, the gym consultant, said a bigger TV audience will be crucial to attracting members.
"When people are watching something on TV that looks cool, they want to give it a try," he said.
The gyms target a demographic similar to UFC broadcast viewers, men in their 20s and 30s. But Franklin said as the sport goes mainstream, mixed martial arts gyms are increasingly attracting C-suite clientele.
"There's interest popping up in the executive demographic," he said.
For reprint and licensing requests for this article, CLICK HERE.