Bigger Picture
Warner Center holds on to Panavision as area eyes more residences.
Monday, September 5, 2011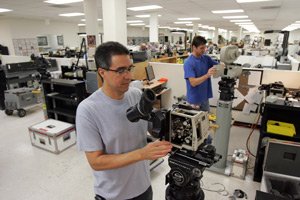 Here's one business tale with a happy ending.
Panavision Inc. last month inked an 18-year, $50 million lease for a 145,000-square-foot headquarters building – only a half-block away from its current digs in Warner Center.
Why move when you're staying so close? Because Malibu developer Richard Weintraub plans to demolish Panavision's headquarters and build two mid-rise apartment towers there when the company's lease expires next summer.
The end result: Weintraub gets to construct rental housing – something much in demand – while the famous camera maker stays local after a wide-ranging 14-month search for a home.
"We took the opportunity to cast a broad net and look across the entire area. There weren't facilities that better suited our needs in other locations," said Panavision Chief Executive John Suh.
The lease was signed Aug. 24 as the city sets about considering the future of the 1.5-square-mile business district in Woodland Hills, which was built up over 20 years starting in the mid-1970s – but recently has begun to evolve with the construction of housing.
Warner Center has roughly 17.5 million square feet of commercial space, and includes tenants such as Health Net Inc. and Universal Music Group. It also has less than 900,000 square feet of industrial space occupied by tenants such as Panavision; down from 1.8 million square feet five years ago.
However, the Warner Center specific plan, which was modified early last decade, anticipated that 3,000 residential units would be built by 2010. The area was already reaching that limit by 2005.
Now, the city's Planning Department, in concert with the Woodland Hills-Warner Center Neighborhood Council and the Warner Center Association business group, is developing a specific plan that envisions Warner Center as a transit-oriented district with even more residential. A draft of the plan was released last month and is under review by several committees, neighborhood groups and eventually the City Council. A final version is due out next year.
In that context, the news that Panavision was staying in Warner Center was welcomed, given fears the district is perhaps veering too rapidly toward residential.
"One never likes to see good companies leave the communities and that's certainly not the goal," said Brad Rosenheim, president of Rosenheim & Associates, who represents Warner Center companies in land-use issues.
"The fortunate fact is that it's worked out well and that's the beauty of Warner Center. It does have the ability to accommodate a myriad of uses. So if a lease comes up and one chooses to move out, there are other opportunities in Warner Center."
Long planned
There is some irony that Panavision is staying in Warner Center, given how developer Weintraub has sought since 2003 to convert the company's headquarters into residential use.
In 2003, his Weintraub Real Estate Group through an LLC called REW DeSoto Partners bought the 6219 De Soto Ave. property for $1.76 million and received approval to raze Panavision's headquarters and build two mid-rise apartment towers, one with 395 market-rate units and the other with 312 senior units.
Weintraub, who redeveloped and owns the Sportsman's Lodge Hotel in Studio City, the Malibu Lumber Yard retail center in Malibu and other properties, said he has waited a long time for Panavision's lease to expire.
He said he plans to break ground on the residential project "the day Panavision moves out," noting that leasing to the company, which has occupied the site for nearly 15 years, didn't bring him an adequate return.
"The building is quite antiquated and the (commercial) demand just isn't there," he said. "With the economy, people are going to be renting for much longer. In New York, people rent forever and that's OK; and I think we need to build for a long-term lifestyle."
The apartment project is expected to take two years to complete. Weintraub said the project will be upscale but rental rates have yet to be established.
Meanwhile, Panavision had to conduct a long search for a new headquarters given its needs for an unusual mix of light industrial manufacturing space, loading docks, corporate offices and retail space – all on a single-floor in a prime urban setting suitable for a film equipment rental service.
"We focused on the service to our customers in the location. Our customers are producers, people who work for studios, camera crews and freelancers and they come from all over," Suh said. "This is our chance to lay things out the way we want them."
Its new building, at 6101 Variel Ave., is owned by New York hedge fund Angelo Gordon & Co. and will be renovated for Panavision's move next summer. It's been vacant since Optical Communication Products Inc., a fiberoptic company, moved out years ago.
The new headquarters will be about 20,000 square feet smaller than the De Soto building, but Suh said the size was secondary to the building meeting the company's more important criteria.
None of its 325 employees will be let go in the move even as Panavision has struggled at times over the last decade making the transition to digital cameras, building up some $300 million in debt amid rapid management turnover.
For reprint and licensing requests for this article, CLICK HERE.