Analysts Give Some Credit to Debit Card Company
BANKING & FINANCE: Green Dot seen as likely purchaser of competitor NetSpend.
Monday, September 5, 2011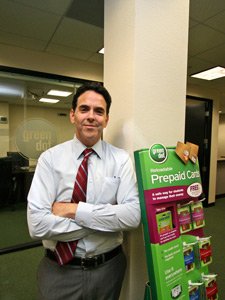 Could Green Dot Corp., which is already the nation's largest issuer of prepaid debit cards, be ready to take an even bigger slice of the pie?
Well, the Monrovia company won't say, but analysts sure seem to think so.
Green Dot is believed to be the most likely candidate to buy Austin, Texas-based NetSpend Holdings Inc., a large prepaid debit card company that is rumored to be on the market.
NetSpend representatives did not return calls, but industry experts say a slowdown in the company's growth and decline in stock price make it a prime candidate for acquisition.
"I'm sure that if NetSpend is for sale, (Green Dot) would at least think about it," said Gil Luria, an analyst with L.A.'s Wedbush Securities Inc. who follows the prepaid debit card market. "It could be worthwhile and accretive for Green Dot to acquire NetSpend."
Founded in 1999 by Steven Streit, a former radio DJ, Green Dot was a pioneer of prepaid debit cards, available at thousands of retailers and used like standard debit cards but not linked to bank accounts.
The market has grown rapidly of late as low-income customers have flocked to the product, attracting large financial companies such as American Express Co. The market is expected to top $118 billion next year.
NetSpend, which went public in October, has seen its stock price drop from more than $16 a share to under $6.
The decline has made the company more attractive to potential buyers, analysts say, and the company could be a good fit for Green Dot. While Green Dot's products are sold mostly through retailers such as Wal-Mart, NetSpend tends to partner with check-cashing companies.
Also last week, Green Dot announced that Eric Duehring was hired as general manager of its card business unit.
L.A. Expansion
Pacific Trust Bank may not be well known to Angelenos, but that's likely to change. And you can thank federal regulators.
With the regulatory environment favoring larger banks, the Chula Vista institution, owned by First PacTrust Bancorp Inc., is making a concerted push into Los Angeles through a series of moves including last week's acquisition of Beach Business Bank in Manhattan Beach.
The $37 million deal was Pacific Trust's second local acquisition in the past three months; the first was the June purchase of Gateway Business Bank in Cerritos. Pacific Trust also plans to open de novo branches in Century City and Santa Monica by the end of the year.
"We see significant growth opportunities within L.A.," said Greg Mitchell, chief executive of First PacTrust.
The bank, which had no Los Angeles County branches and just one loan office a few months ago, expects to have seven area locations by the end of this year.
Mitchell said the decision to expand was spurred by changes in the regulatory environment that favored larger, more capital-rich institutions and made operations more difficult for community banks. Pacific Trust, which now has $1.3 billion in assets, hopes to grow to $5 billion within five years.
"We anticipate that we will continue to be a leader in the consolidation of community banks," Mitchell said.
To aid in its expansion, the bank commenced a stock offering in June that raised $27 million.
Under the terms of the Beach Business deal, Pacific Trust agreed to pay $9.07 per diluted share, a 53 percent premium on the stock price. News of the acquisition sent shares of Beach Business soaring 45 percent Aug. 31, the day it was announced, to $8.60 a share.
When the merger closes, Beach Business Chief Executive Robert Franko will become president of First PacTrust.
New Numbers
Manhattan Bancorp, the El Segundo holding company for Bank of Manhattan, announced in a regulatory filing last week that its second quarter earnings report contained a number of errors.
Among the inaccuracies: The bank lost 40 cents a share in the quarter rather than the reported 44 cent loss, it has $2 million in nonperforming loans instead of the reported zero and the company has a book value of $5.33 per share rather than $5.31.
In an interview, Chief Executive Terry Robinson said the errors stemmed from a late-May change of the company's chief financial officer, when there was "a very thorough re-engineering of the processes associated with verifying all the numbers."
Staff reporter Richard Clough can be reached at rclough@labusinessjournal.com or at (323) 549-5225, ext. 251.
For reprint and licensing requests for this article, CLICK HERE.