3-D Technology Company To Fill More Seats in China
Deal with movie chain hinges on ability to track attendance.
Monday, September 5, 2011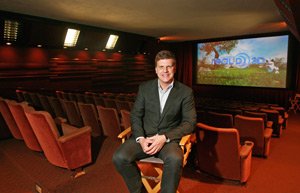 RealD Inc.'s new deal to bring 3-D movie projection to China was driven by increasing development of retail malls anchored by multiplexes in that country.
But the Chinese strategy is not without its challenges, foremost the question of tracking how many people sit down for each show. That's the number that usually determines how much RealD gets paid.
The strategy was highlighted last week when the Beverly Hills 3-D technology company signed a deal with Beijing's Saga Luxury Cinema Management Co. Ltd. to install 100 of its 3-D projection units in the chain's theaters. Saga plans to build 20 theaters in the next three years, and RealD will equip all of them.
As construction of theaters across China continues, analysts cite an increasing demand for 3-D systems. Analysts estimate at least 1,200 digital screens will be built in China this year, the result of a government directive to bring the country's cinema exhibitors up to date.
"China is the fastest growing market in exhibition," said James Marsh, an analyst at Piper Jaffray & Co. in New York. "You need to have a presence there."
In addition to the government directive, a driving force behind many of the new theaters is the growth of shopping mall developments in the country, where movie theaters are often seen as the anchor tenant. A digital cinema brings name recognition to a Chinese mall in much the same way an upscale department store would in the United States, Marsh said.
RealD technology is now in about 17,500 screens worldwide. The company, under Chief Executive Michael Lewis, made its first deal with a Chinese exhibitor last year when it signed with Wanda Cinemas, the country's largest exhibition chain, for up to 500 screens.
The relationship between new cinemas and commercial development was particularly evident when Imax Corp. in Ontario, Canada, signed a deal in March to supply its specialized screens to 75 theaters to Wanda locations. The chain is owned by one of the country's largest property development companies, Wanda Group.
Patrick Frater, editor of trade publication Film Business Asia in Hong Kong, said Imax and 3-D theaters are becoming popular with Chinese consumers as the economy modernizes and the people gravitate toward luxury.
The Saga cinema chain touts "luxurious seats" and "excellent services" on the company's website.
"Across much of Asia, we're seeing the development of premium theaters within multiplexes," Frater said. "Going to the cinema is seen as a rarity and something that can be priced up."
Chinese cinemas will often charge premiums for 3-D, Imax projection and opening-day releases.
But getting into China is not going to be easy for foreign distribution, because the country only allows 20 foreign theatrical releases into its theaters a year. Already, Hollywood production companies such as Legendary Pictures, which was behind "The Dark Knight" and "Inception," are making deals to create films that don't count toward the 20-film quota through joint ventures with Chinese companies.
Tracking numbers
But the Chinese market presents challenges to companies such as RealD, which uses a revenue-sharing model with exhibitors. The company licenses its 3-D system to exhibitors and takes a 50-cent fee from each ticket sold, collecting payment from exhibitors. In most countries, independent companies verify ticket sales.
But China has no third-party ticket data service to provide independent box office statistics in the case of a dispute.
The box office numbers, which are supplied by the government, have come under suspicion recently. Marsh said the lack of credible third-party statistics will make it difficult to implement the RealD revenue-sharing model in China.
A RealD spokesman said the company does not consider the lack of a box office monitoring service a problem, but acknowledged the company has begun taking upfront fees from theaters on a per-film basis in China.
Meanwhile, competitors such as Hollywood-based MasterImage Inc. sell their 3-D systems outright to theaters, and don't collect revenue based on the box office performance of a given film.
Marsh said some Chinese cinema chains prefer the ownership model so that they can maximize profits on big hits.
Other competition in the country comes from Hollywood-based XpanD, which makes projection systems and also pricier 3-D glasses for use in theaters and at home. The company signed a deal with Zhuhai China Film Cinema Service in March to supply technology to 100 cinemas in the chain.
Imax, which counts China as its largest market outside of the United States, isn't a direct competitor with 3-D companies such as RealD because Imax theaters need to be larger than traditional venues and require special construction.
Frater said the Chinese market is still wide open and big enough to split among many projection companies.
"They can all exist side by side," he said. "There is a lot of room for growth beyond what we can see at the moment."
For reprint and licensing requests for this article, CLICK HERE.