Satellite TV Titan Circles Big Lease
DirecTV to sign state's largest deal in decade.
Monday, October 31, 2011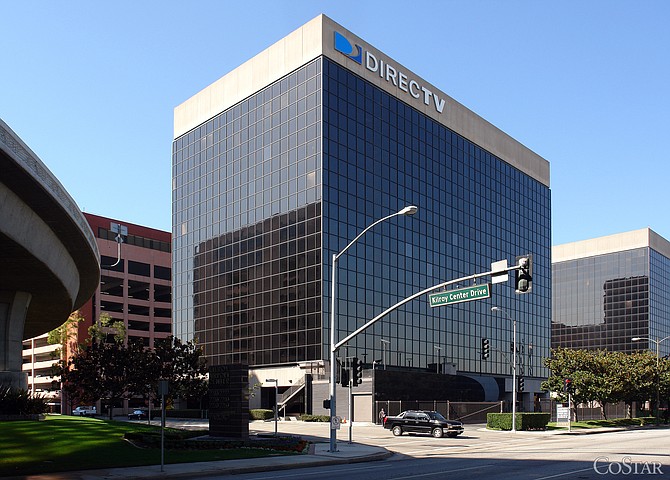 In what would be the state's largest lease transaction in a decade, DirecTV Inc. is close to making a deal to expand its El Segundo headquarters to as much 750,000 square feet, sources told the Business Journal.
The satellite TV provider last week was set to sign a 15-year lease, valued at roughly $400 million, to occupy all three buildings at the Kilroy Airport Center, where it already occupies 205,000 square feet. The deal would consolidate many of its area offices and allow for future expansion.
The lease would soak up some 400,000 square feet that were vacated last year at the 2230 E. Imperial Highway complex by Raytheon Co., providing a boon to landlord Kilroy Realty Corp., an L.A. real estate investment trust.
Sources close to the transaction said the lease was set to be signed as early as Oct. 28, if the two sides could agree on the exact amount of space that DirecTV would take.
DirecTV spokesman Robert Mercer would not comment on the negotiations but acknowledged they were taking place.
"We've not reached any final agreement. We hope to reach a final agreement in the near future," Mercer said.
The satellite TV provider has about 800,000 square feet of offices, including its headquarters, scattered around El Segundo. That would likely mean that some of those satellite offices would still remain after the consolidation.
The lease would be the biggest in the state since 2000, when the Environmental Protection Agency took 950,000 square feet in Sacramento.
The move comes as the company continues to experience strong financial performance and membership growth in its U.S. and Latin American markets. The company has been rapidly expanding its technologies and services.
The deal is welcome news to local landlords and brokers in the area. Raytheon and other defense contractors have given back roughly 1 million square feet in El Segundo's 10.4 million-square-foot office market over the past two years.
"Anytime that a nondefense tenant takes space off the market in El Segundo, it will further help diversify the marketplace," said Chris Sinfield, a broker in Cushman & Wakefield's South Bay office. "DirecTV is an example of a nondefense success story as it is now a major employer. Hopefully they will continue to grow in the market."
Kilroy declined comment for this story, as did the L.A. office of Jones Lang LaSalle Inc., which was said to be brokering the deal.
It may take some time before DirecTV can consolidate its offices at the Kilroy center. While about 400,000 square feet have been unoccupied since Raytheon, a Waltham, Mass.-based defense contractor, vacated last year, other tenants such as communications company Arinc Inc. occupy a portion of the complex now.
Sources told the Business Journal that the deal involves DirecTV taking over other tenants' space once their leases expire, which could take more than 12 months. The company would move into the available space once renovations were complete.
The lease is good news for Kilroy Realty, which has been aggressively targeting new-media and tech companies for its 11.7 million-square-foot portfolio of 106 office buildings, which stretch from San Diego to Seattle.
The El Segundo complex is one of Kilroy's prime assets, and it plans to undertake extensive renovations to the both the offices and outdoor courtyard space for its growing tenant.
In the United States, DirecTV gained 26,000 customers in the second quarter, for a total of 19.4 million domestic subscribers. More impressively, it added 475,000 subscribers in the quarter in Latin America, where it is a leading satellite television provider with 6.7 million customers. In all markets, the company had 26.1 million customers at the end of the second quarter, 8.9 percent more than a year ago.
The company's revenue and profits have grown accordingly. Revenue in Latin America was up nearly 50 percent in the second quarter, driving up total revenue by 13 percent to $6.6 billion. Net income rose 29 percent to $701 million.
Thomas Eagan, an analyst who follows the company for New York independent financial advisory firm Collins Stewart, said DirecTV benefits from being a provider of premium services.
"DirecTV is a company in the pay TV space with some of the best overall fundamentals, customer growth and cash flow growth," he said. "They are not as impacted by economic recession as other cable operators have been because they serve a tier of the population that isn't as impacted by the recession."
Premium services include a streaming movie channel, a National Football League package that offers every single league game and a DVR that can play back separate programs to four different televisions in a home.
The company reported in the second quarter that it's average subscriber paid more than $90 for monthly services, up more than $2 from a year earlier despite the recession.
The company has also seen a change in management. Mike White only took over as chief executive last year when his predecessor left to become president of News Corp., which had a stake in DirecTV. Since then, DirecTV has changed its name from DirecTV Group.
For reprint and licensing requests for this article, CLICK HERE.