Terminal Would Give Port Big Boost
New L.A. port facility would handle massive oil tankers.
Monday, October 17, 2011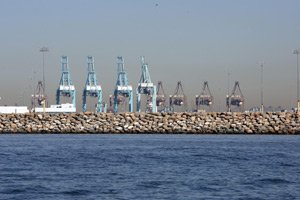 The Port of Los Angeles can easily accommodate giant cargo ships carrying thousands of shipping containers, but it can't handle the kinds of massive tankers that typically transport oil around the world.
That's a problem for Southern California, which has long consumed oil mostly from in state and Alaska, but soon will see the Middle East, Africa and South America become bigger suppliers.
The solution, according to Plains All American Pipeline LP, is to build a $500 million oil terminal that could handle those large tankers. The publicly traded Houston company is set to begin construction next summer on what would be only the second such terminal in Southern California and the first one built in more than three decades.
The project has been in the works for eight years and was slowed by the recession, but Plains All American Vice President David Wright said the terminal is moving forward now that a greater demand for oil has local refiners looking for new supplies.
"The recession set everybody back, but the basic interest is the same," Wright said. "Demand for oil and gas is increasing in the L.A. region."
Plains All American earlier this month received construction permits from the South Coast Air Quality Management District, and the company is expected to complete lease negotiations with the port for the terminal site by early next year.
The terminal won't be up and running for nearly three years, but the fact that it's near construction represents a milestone for the port, which has wanted to develop a major oil terminal for more than a decade as California and Alaska oil production slowly falls.
Kathryn McDermott, deputy executive director of the port, noted that the L.A. oil supply has even become an issue outside of the region.
"The state of California has been looking at the two ports' ability to handle crude into the future, understanding we would have a greater need for crude facilities," she said. "They've been concerned that we will be able to meet the demand for the import of crude oil."
Deep water
At the twin ports of Los Angeles and Long Beach, only one terminal – Long Beach's Terminal 121 – can accommodate the large tankers that commonly import Middle Eastern oil.
The Long Beach port imported 29 million metric tons of petroleum products, mostly crude oil, last year, while Los Angeles imported about 11 million metric tons of mostly distilled products, such as gasoline, ferried in smaller ships.
Prev Next
For reprint and licensing requests for this article, CLICK HERE.