Terminal Would Give Port Big Boost
New L.A. port facility would handle massive oil tankers.
Monday, October 17, 2011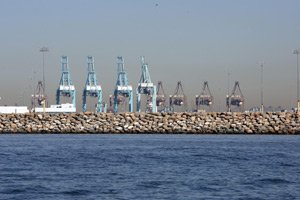 The Port of Los Angeles can easily accommodate giant cargo ships carrying thousands of shipping containers, but it can't handle the kinds of massive tankers that typically transport oil around the world.
That's a problem for Southern California, which has long consumed oil mostly from in state and Alaska, but soon will see the Middle East, Africa and South America become bigger suppliers.
The solution, according to Plains All American Pipeline LP, is to build a $500 million oil terminal that could handle those large tankers. The publicly traded Houston company is set to begin construction next summer on what would be only the second such terminal in Southern California and the first one built in more than three decades.
The project has been in the works for eight years and was slowed by the recession, but Plains All American Vice President David Wright said the terminal is moving forward now that a greater demand for oil has local refiners looking for new supplies.
"The recession set everybody back, but the basic interest is the same," Wright said. "Demand for oil and gas is increasing in the L.A. region."
Plains All American earlier this month received construction permits from the South Coast Air Quality Management District, and the company is expected to complete lease negotiations with the port for the terminal site by early next year.
The terminal won't be up and running for nearly three years, but the fact that it's near construction represents a milestone for the port, which has wanted to develop a major oil terminal for more than a decade as California and Alaska oil production slowly falls.
Kathryn McDermott, deputy executive director of the port, noted that the L.A. oil supply has even become an issue outside of the region.
"The state of California has been looking at the two ports' ability to handle crude into the future, understanding we would have a greater need for crude facilities," she said. "They've been concerned that we will be able to meet the demand for the import of crude oil."
Deep water
At the twin ports of Los Angeles and Long Beach, only one terminal – Long Beach's Terminal 121 – can accommodate the large tankers that commonly import Middle Eastern oil.
The Long Beach port imported 29 million metric tons of petroleum products, mostly crude oil, last year, while Los Angeles imported about 11 million metric tons of mostly distilled products, such as gasoline, ferried in smaller ships.
Plains All American estimates that the new terminal would handle 128 million barrels of oil after it is in operation a few years. Eventually, that amount could nearly double.
That's important because California's oil needs are met by wells in the state and Alaska, both of which are dwindling sources. No overland oil pipelines serve the state; as a result, oil by sea is becoming a much bigger source.
The kinds of big tankers that would call at the Plains All American terminal need channels between 75 and 80 feet deep; Berth 408 at Pier 400 where Plains All American plans to build is 81 feet deep and could handle the tankers. It would be the deepest port oil terminal in the state.
Pier 400 opened 11 years ago and was built on reclaimed land less than a mile from the entrance to Los Angeles Harbor. The port has always planned to have an oil terminal at the now-vacant site because of its deep water and near-ocean location.
"That's the least distance you have to get into the harbor. It minimizes the amount of vessel traffic," Wright said.
Plains All American – which operates terminals, pipelines, and oil and gas storage facilities nationwide – plans to build a terminal capable of docking and unloading a single Very Large Crude Carrier, a ship that carries about 2 million barrels of crude. That's enough to supply the L.A. Basin with gasoline and other petroleum products for about two days.
Much of the oil offloaded from oil tankers will go into pipelines Plains All American plans to extend to local oil refineries and oil storage sites. The company also will build storage tanks to hold 500,000 gallons of fuel at Berth 408. Plains All American would not take ownership of the oil, which refiners would purchase from producers. Refiners would pay Plains All American for carrying the oil through its pipelines.
John Edwards, an analyst with Morgan Keegan & Co. in Houston who follows the company, said the refiner contracts would likely include both a charge per barrel as well as a reservation fee allowing access to Plains All American's terminal pipeline.
"Typically these are huge capital investments," said Edwards,
who added that the project is not dependent on the price of oil, but rather on Southern California demand. "Whether oil is $10 or $100, you're likely going to have to have a terminal there to offset the declining domestic production."
Plains All American did not disclose how it plans to pay for the construction cost, but said it generally funds projects with 55 percent equity and 45 percent long-term debt.
Edwards noted that the company typically sets aside between $500 million and $600 million for capital projects each year.
According to the California Energy Commission, there will undoubtedly be demand for the terminal's oil. The commission in a recent report said the state imported 376 million barrels of oil last year, but will need to import as much as 436 million barrels per year by 2020.
"In 1982, 61 percent of the crude we used came from in the state. Now that's down to 38 percent," said commission spokesman Rob Schlichting. "That means the other 62 percent has to come in by sea. So, yeah, there's a growing need."
The terminal will have another key benefit to the region: oil security. If the Long Beach terminal were damaged or became inaccessible – as it did briefly in 2001 when two small planes crashed in the harbor and blocked the entrance to the Long Beach port – the region could face a shortage of gasoline in days.
"If anything happens to the one large berth, you have an incredibly major problem," Wright said.
Local demand
Wright agreed that a big factor behind Plains All American's decision to build the terminal is that California oil production has been in steady decline since peaking in 1985.
Plains All American operates oil pipelines leading from fields in the San Joaquin Valley into the L.A. Basin, but the company estimates local demand for its crude supplies imported through the port terminal could hit 190,000 barrels per day in a few years. That adds up to about 70 million barrels of oil annually – more than the company could supply from California fields but a fraction of the estimated 250 million barrels that could eventually flow through the terminal.
Also down are imports of Alaskan crude, which are handled by smaller tankers specifically designed for that state, Wright noted.
Unlike many other proposed port projects, there has been limited opposition to the proposed oil terminal. It mostly comes from environmental and community groups that want the tankers to turn off their engines while offloading oil and plug into shore-side electrical power, cutting diesel emissions.
The environmental impact report approved in 2008 calls for 80 percent of ships to plug into shoreside power but that would not occur until the terminal's 16th year of operation. Environmental and community groups wanted more ships to use shoreside power and to use it more quickly.
However, opposition has never reached the intensity of a fight last decade to keep a liquefied natural gas terminal out of the port. Residents and environmental groups oppose LNG mostly on safety grounds, saying an accident or a terrorist attack at such a facility could unleash an explosion rivaling that of a small nuclear weapon. Even an existing butane tank farm in San Pedro has recently drawn more concern from residents who fear there may be safety issues.
Still, Plains All American will not be able to move forward until it can reach delivery deals with the oil companies that run Los Angeles County's six major refineries, most of which are clustered around the ports and the South Bay.
BP PLC, ConocoPhillips Co., Chevron Corp. and other companies all operate refineries in the area. Wright said Plains All American has "several customers we're working with" but he did not disclose which ones.
Wright said talks started several years ago but were halted by both the recession and by uncertainty over the impact of state regulations, specifically Assembly Bill 32, the landmark law that requires California to roll back greenhouse gas emissions. Since then, talks have resumed.
Tupper Hull, a spokesman for the Western States Petroleum Association, which represents the refiners, said there is agreement that a terminal is needed even as California begins to rely more on wind, solar and other forms of energy.
"We have spoken often and loudly that it is vital to the state's long-term interests to ensure petroleum infrastructure is adequate to meet future energy demands," Hull said. "Petroleum, by any credible estimations, is going to be a major source of energy."
For reprint and licensing requests for this article, CLICK HERE.