Property Owner Shuffles Tenant, Sheds Buildings
MPG walks away from two Glendale office towers.
Monday, November 14, 2011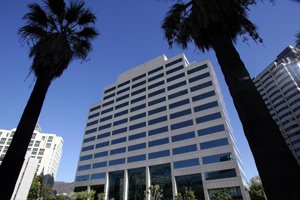 If you know you're going to lose your house, move the family jewels where you can find them. And that's about the strategy MPG Office Trust Inc. has followed in Glendale.
The struggling L.A. real estate investment trust is letting its 801 N. Brand Blvd. and 700 N. Central Ave. buildings go into foreclosure, so earlier this year MPG moved its largest Glendale tenant, Zurich Insurance, to a downtown L.A. building it is retaining.
Zurich vacated nearly 50,000 square feet at the North Brand building with almost two years remaining on its lease, reducing the building's occupancy rate to 65 percent from 82 percent.
Chauncey Swalwell, a real estate attorney at Century City's Strook & Strook & Lavan LLP, said Miami-based building lender LNR Partners Inc. can't be pleased, but can't do much about it.
"Maybe on the surface it smells, but I don't know that anyone has anything to complain about. They didn't do anything wrong," Swalwell said. "For MPG, it sounds like a great move economically."
The buildings will be the third and fourth in Glendale that MPG will give up this year as part of a larger strategy to trim its portfolio and debt load, leaving it to focus on its trophy downtown properties, which include the U.S. Bank Tower and the 777 Tower at 777 S. Figueroa St., where Zurich took 44,000 square feet.
The company also has put a fifth Glendale building, 611 N. Brand, into special servicing status, which often is the first step before foreclosure and an indication an owner is having trouble making loan payments.
John Guinee, managing director of REIT research for Stifel Nicolaus Canada Inc. in Baltimore, expects that MPG will be down to six or seven properties in downtown Los Angeles by the end of next year, down from 50 in Southern California in 2007. Back then, the company was named Maguire Properties Inc.
"Every asset in the portfolio is fully leveraged or overleveraged, so in order to generate cash they are selling anything which is unencumbered by tax protection and has value above the property-level debt," Guinee said. "If it does not have value above property level, it is going back to the lender."
Representatives of MPG and LNR did not return calls for comment.
Debt load
MPG got into trouble when its founder, real estate titan Robert Maguire III, went on a buying spree near the height of the market. Maguire, who has since been ousted from the company, spent $2.88 billion acquiring a 24-building portfolio from New York's Blackstone Group in 2007, much of it in Orange County. He acquired most of the company's Glendale properties in 2005 when he acquired a 10-building portfolio from Los Angeles private real estate investment company Commonwealth Partners for $1.5 billion after a bidding war.
The acquisitions left the company with $4.5 billion in debt in 2007, an amount that has since been trimmed to $2.9 billion.
Earlier this year, MPG sold two other Glendale buildings after struggling with debt payments: a vacant building at 207 Goode Ave. that it built and opened in 2009, and 701 N. Brand, which it had individually acquired in 2006.
The latest decision to walk away from more Glendale buildings was driven by some pretty clear economics. The 280,000-square-foot building at 801 N. Brand where Zurich was a tenant is encumbered with $70.5 million in debt, while the 132,000-square-foot building at 700 N. Central has about $27.5 million in debt.
MPG has only been paying the interest on the principal. Mike Ross, executive vice president at Santa Ana's Grubb & Ellis Co., estimates the buildings with their high vacancy rates are worth closer to a combined $50 million in today's market, about half the $98 million in mortgage debt.
Bill Boyd, senior managing director of Charles Dunn Co. and a longtime Glendale broker, said the towers are attractive, but there is no way the current soft real estate market can support the price Maguire Properties paid in 2006.
"Many still consider 801 as the premiere office building in the market," said Boyd. "The challenge is the lack of leasing activity that can support a value that was quite appropriate a few years ago, but today, unfortunately, is too high."
MPG stopped making payments on the buildings in June, and Chicago-based Jones Lang LaSalle Inc. has been named receiver, taking over leasing and property management. Representatives for Jones Lang LaSalle declined comment.
The next step in the process will likely be a short sale in which lender LNR could lose money, but at a price allowing the buyer to lower lease rates.
Big checks
At the end of the third quarter, MPG was down to 34 properties. Much of what it has shed was in Orange County. In Los Angeles County, the company sold the Pasadena Westin hotel and 550 S. Hope St., among others, this year.
However, the company is doing all it can to hold on to its premier downtown properties: the U.S. Bank Tower, Gas Co. Tower, KMPG Tower, Plaza Las Fuentes and the Wells Fargo Tower. One key reason is that when Robert Maguire III took the company public in 2003, he worked out a deal that would protect his tax liability for any gains since he retains an equity interest in the buildings. And in some cases, it would be substantial. For example, the U.S. Bank Tower was built by a predecessor company owned by Maguire and a partner.
"If they default on the loan on any of those five assets, that triggers their tax protection liability and they have to write a very big check to Rob Maguire," said Guinee, who estimated the payout would range from $5 million to $50 million for each building.
MPG has completed a refinancing for all of its premier downtown properties, and has paid down some of the loan at Plaza Las Fuentes with proceeds from the Westin sale.
The company also has made other major changes. It hired a new chief executive, David Weinstein, in November of last year, and it announced in its third quarter conference call this month that it would be eliminating its chief financial officer position. Current CFO Shant Koumriqian will retain the position until March, after which the company may replace his job with a lower-level accounting position.
That latter moves looks like penny-pinching, but with the company losing $172 million last year, and an additional $13 million in the third quarter, it's cutting where it can. The stock is reflective, lately trading at just over $2 a share.
For reprint and licensing requests for this article, CLICK HERE.