Changing Channels
Local companies pursue additional work from rollout of 3-D networks.
Monday, November 7, 2011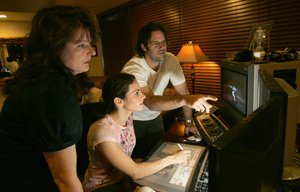 Imagine the early days of television. A whole industry was created, from the manufacturers of cameras to the networks that produced the content.
Somebody even had to design the NBC peacock.
Today, that same type of development is going on, though at a slower and more uneven pace, as 3-D TV networks roll out. And a new cottage industry of local graphics and post-production firms are looking for a piece of the business.
Consider Culver City's Steele Studios.
In February, the company began providing technical support and oversight to 3Net, a joint venture of Imax Corp., Discovery Communications Inc. and Sony Corp. that airs on DirecTV. The network runs 3-D shows produced by Imax and Discovery.
During the spring, Steele helped create 3Net's on-air promotions, which give viewers a preview of the network's shows. And the firm just wrapped work on a new logo for the network, which they hope draws them attention.
"We're hoping that when it hits the air, people will say, 'OK, that's the bar,'" said Jerry Steele, creative director at Steele Studios.
The promos and graphics that accompany opening sequences of the network's shows are on heavy rotation, since 3Net doesn't yet have outside advertisements to fill air time. But the lack of ads hurts more than helps.
Of the four 3-D networks on air, only ESPN 3D carries ads, as advertisers are waiting for a critical mass of viewers to build before investing in costly 3-D spots – which would provide more opportunities for the postproduction firms.
"That's the horse we're waiting for to come in," said Jo Steele, who co-founded Steele Studios with her husband.
Indeed, 3-D television has taken off slower than expected as viewers – who only recently junked their old sets for flat screens – have not exactly embraced the new technology.
Still, the new networks have strong corporate backing and aren't going away. Rod Riegel, vice president of marketing at 3Net, said the industry is hoping that 3-D sets catch on and are the next big consumer electronics purchase during the holidays.
"It's going to put us in a nice position," said Riegel, who added the network hopes to start airing ads in the first quarter.
'TV explosion'
Currently, in addition to 3-Net and ESPN 3D, the only other 3-D networks are DirecTV's n3D and Comcast's Xfinity 3-D. But the broadcast and other cable networks are thought to be years away from rolling out their own 3-D sister networks.
Steele has been in business since 1996 and started with a heavy focus on postproduction work for commercials. Over the years, the firm expanded to music videos and feature films. The husband and wife team decided to move into 3-D after hearing filmmakers George Lucas and James Cameron speak about the technology five years ago and their belief it would catch on.
A few years ago, Steele bought a $400,000 machine called the Quantel Pablo, which allows for editing, color correction and other postproduction work in 3-D. The machines are not widely available, helping bring work.
Projects in the medium now account for a majority of Steele's annual revenue, which ranges from $2 million to $3 million.
In addition to 3Net, Steele has worked for Sony on one of its foreign 3-D channels, though the company declined to talk about the new contract. The medium is growing faster in Europe, where British Sky Broadcasting, French pay TV operator Canal+ and other networks have started broadcasting or developing the channels.
"In Europe, there's one (3-D) BMW commercial after another," said Jo Steele.
Still, getting a contract with a network isn't necessarily steady work. While a network launch can bring business, once the networks are operating they can hire in-house staff to handle technical oversight.
This spring, for example, 3Net started training staff on a Quantel machine and now the network retouches its on-air promos rather than contracting out, Riegel said.
Last year, Hollywood commercial production company Troika, which assisted in the launch of Comcast's Xfinity 3-D, believes the same thing happened to it.
Troika created 3-D animations of the network logo along with a package of graphics that open and close the network's on-air promos. But since Xfinity 3-D launched in February, Troika hasn't received any new calls from network clients.
"There was a lot of interest in that about a year ago, but the interest has been waning," said Dan Pappalardo, an executive producer at Troika.
Upgraded projection
For more consistent 3-D work, the firms are hoping to see a steady stream of commercials. But the ads are slow to come, partly because producing in 3-D is more costly and requires a second camera to create the extra dimension.
To address that issue, companies such as Cameron's 3-D technology company, Cameron Pace Group, are trying to develop cameras that can shoot either in 3-D or 2-D.
Still, what will push 3-D work is growing viewership. And that ultimately comes down to sales of 3-D sets. Last year, some 1.2 million 3-D TVs were sold in North America out of more than 30 million sets. Part of the issue is cost. A top-of-the-line Samsung 40-inch 3-D set retails for $2,000, while a top-of-the-line set of that size in 2-D goes for $800.
A September study by El Segundo research firm iSuppli found that just 13 percent of consumers will upgrade their TVs in the next year, but not necessarily to 3-D.
Michael Pardee, executive producer at commercial visual effects studio Mission Studio in Venice, said he is hopeful the medium will take off but so far he has been disappointed since his firm worked on a 3-D Bud Light commercial that accompanied ESPN 3D's launch last year.
"We haven't had the onslaught that everyone thought was going to happen," Pardee said.
For reprint and licensing requests for this article, CLICK HERE.