Joining the Club
L.A. is turning into a hub for retail sites offering a pick-of-the-month in shoes, jewelry or apparel. Why? Think celebrities.
Monday, May 30, 2011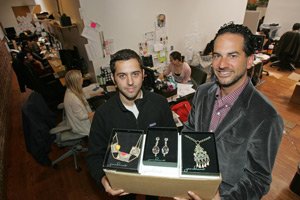 Walk into a high-end boutique on Rodeo Drive, pass the security guard and you may be met by a well-coiffed, Chanel-clad saleswoman who will act as your personal stylist, making recommendations and pointing out the latest trends as you browse the shop's wares.
That kind of attention has been lacking in the online retail experience. However, a new wave of personalized shopping websites has rolled into town and they're making a splash with both consumers and investors.
Most notably, Santa Monica's ShoeDazzle.com Inc., which charges a monthly membership fee, knows customers' preferences well enough to offer a personalized selection of shoes and accessories. It has racked up a client list of 3 million and recently announced the completion of a $40 million funding round led by Silicon Valley venture capitalist Andreessen Horowitz.
Hitha Prabhakar, founder and principal at New York retail consultant firm Style File Group, said ShoeDazzle offers the online equivalent of the helpful and knowledgeable salesperson.
"It's all about personal experience at the store," she said. "It makes sense that you would want that same level of customer service when you shop online."
ShoeDazzle was founded in 2008 and a number of L.A. websites have followed in its footsteps.
BeachMint Inc. in Santa Monica launched jewelry membership site JewelMint.com in October. The company plans to unveil a clothing site, StyleMint.com, in July.
El Segundo e-commerce incubator Intelligent Beauty Inc. jumped into the space last year with a shoe-of-the-month website, JustFabulous, and downtown L.A.-based flash-sales company HauteLook launched a monthly shoe club, Sole Society, in February.
The shopping sites work this way:
A customer fills out a short online survey. Based on her answers, the company offers, say, five different pairs of shoes tailored to her taste each month. Prices range from $30 to $50 per month depending on the website. For that, she can choose one item and have it mailed to her. Or she can also choose to skip the month – eliminating the monthly fee or earning credit for future purchases – or request a different selection of shoes.
Most of these companies create original designs and work directly with manufacturers to produce them. BeachMint's jewelry site, for example, works with a local manufacturer that also creates lines for well-known brands. That means the company can sell jewelry that would retail for $100 for only $30.
BeachMint Chief Executive Josh Berman, who co-founded the company with Diego Berdakin, said the monthly membership model – similar to CD clubs that were popular in the '90s – is predictable and helps him plan the company's growth.
"We like it as a business because we can project and order the right amount," he said. "We also get to learn about our users month in and month out."
BeachMint's new clothing website, StyleMint, will follow the same model as JewelMint, starting with a line of high-end T-shirts. The company plans to launch two more websites for other products later this year.
The low prices and monthly cycle of these sites have made online shopping easier for customers, said Matt Edelman, chief executive of Santa Monica fashion discovery website ThisNext who follows the e-commerce industry closely. But there's also the challenge of keeping customers happy each month.
"Subscriptions services have an inherent challenge that at some point, a customer will look at their credit card statement and be tired of seeing the same charge over and over again," he said. "It's not easy for any company to create great fashion accessories and items that women want to own."
Celebrity power
So how do they keep people coming back? Some websites have formed partnerships with fashion-savvy celebrities.
ShoeDazzle boasts reality TV star Kim Kardashian as a company co-founder and chief stylist who helps design and select shoes, handbags and accessories each month.
JewelMint's jewelry line is designed by actress Kate Bosworth and her stylist Cher Coulter; StyleMint will feature clothing designed by actress twins Mary Kate Olsen and Ashley Olsen.
Prabhakar of Style File Group said ShoeDazzle's connection with Kardashian has been essential to the company's success with customers and investors.
"She's red hot right now," Prabhakar said of Kardashian. "It doesn't matter how young or old you are, she seems to relate to a bunch of different people."
But some of these sites don't have celebrity partnerships. Sole Society and JustFabulous have enlisted the talents of celebrity stylists and fashion experts to help design and select each month's shoe inventory.
Andy Solomon, general manager of Sole Society, said the company wanted to focus less on celebrity cachet and more on its products.
"Certain personalities may come and go," he said. "We really wanted to be about the trends and the shoes."
The most important thing is that the customer feels the goods are being selected especially for her, said ThisNext's Edelman.
"Personalization is the most important aspect of a woman's choice when she's deciding what to buy," he said. "She's looking for something that speaks to her and that she connects to."
For reprint and licensing requests for this article, CLICK HERE.