Refashioning
New execs plan 200 Kitson stores worldwide
Monday, May 23, 2011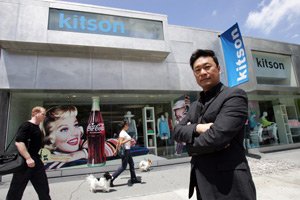 Kitson, known for its celebrity clients and the paparazzi who stalk them outside its stores, gained huge renown over the past decade. But it remained a surprisingly small apparel store chain.
But Kitson soon may be a much bigger business. Kitson's founder, Fraser Ross, plans to roll out as many as 200 Kitson shops in major cities worldwide, put the Kitson name on an array of merchandise and raise investment money to do all that.
Ross has challenged two prominent local executives with the task of taking Kitson's Hollywood glam to the world.
He brought in downtown L.A. investment banker Lloyd Greif of Greif & Co. as a consultant in November. Greif then recruited Chris Lee, a former Forever 21 honcho who led that retailer's phenomenal growth for nearly a decade. Lee took the chief executive reins from Ross this month.
"Fraser's got the tiger by a tail here in terms of the vast opportunity in front of Kitson," Greif said. "And in strengthening the management team, it's good in terms of getting the company ready for the rapid growth I think the company is going to experience."
Kitson, which started with one location on L.A.'s trendy Robertson Boulevard in 2000, became a popular spot with locals and tourists alike. Thanks to paparazzi often staking out the sidewalk, photos of Hollywood starlets shopping there popped up in celebrity magazines – alongside the Kitson name. Crowds of fans soon followed and the popularity led the company to hit $25 million in sales last year and open several more stores, with nine L.A.-area shops and eight international locations making up its portfolio.
While insiders say Ross has one of the world's greatest touches for trend-setting, the 47-year-old recognized that his marketing and merchandising talents could only take Kitson so far. Hence his decision to call Greif to strengthen the company's executive ranks and raise capital, and Lee's assignment to execute the growth plan.
"Kitson has a great brand that is globally known, but it was still a small business" Lee, 43, said. "If you have a great merchant and can surround him with a professional management team, it can be a multimillion-dollar concept."
Lee's plans include streamlining the company's store lineup, getting rid of poorly selling merchandise and opening locations at top malls.
Meanwhile, he has fully embraced his role as Kitson's CEO, mingling with guests at a star-studded bash the company staged last week to celebrate Coca-Cola's 125th anniversary. Noshing on a Pink's hot dog, he looked the part of an executive – but one at a trendy retailer, wearing a tailored suit jacket, black designer jeans and sneakers.
Lee's experience at Forever 21, insiders say, will be crucial to Kitson's success – and in particular to the company's ability to attract investors.
"The first question any investor is going to ask is about the management," said Howard Davidowitz, chairman at national investment banking and retail consulting firm Davidowitz & Associates Inc. in New York. "Because expansion for a small company is a huge challenge, you need technology, you need real estate expertise and you need a lot of internal controls."
Davidowitz said one of the biggest challenges for the retailer is re-creating its Hollywood-centric atmosphere in not-so-Hollywood locales.
"What they are going to need is a different way to have that panache," he said.
Changing room
After opening the first store about 10 years ago, Ross – Kitson is his middle name – began opening more storefronts on Robertson, including separate children's, men's and accessories stores.
Ross also put Kitson locations on Melrose Avenue, in the Malibu Lumber Yard, Americana at Brand, Downtown Disney near Disneyland, Santa Monica Place and Beverly Hills. The Americana store closed in October.
Ross also took Kitson international through a licensing deal with Japanese conglomerate Itochu Corp., which began opening stores in that country in 2009. A Kitson outpost opened in Taipei, Taiwan, last month.
He guided the company through the recession with a strategy of adding inexpensive items such as candles, books and the popular Silly Bandz decorative rubber bands. That helped pull Kitson through hard times while many similar retailers struggled more.
With the economy coming back, Ross has concluded that now's the time to put Kitson on a growth path. But he wanted to stick with what he does best, stocking store shelves with trendy merchandise, while leaving the daily business operations to someone else.
"You just know when you have to part your wings to go to the next level," said Ross, a somewhat reclusive figure who has retained his Canadian accent despite years of living in Southern California.
Ross initially sought advice from his mentor, Skechers U.S.A. Inc. Chief Executive Robert Greenberg. Greenberg introduced Ross to Greif, who said he signed on after seeing the potential to turn Kitson into a major retailer much like Urban Outfitters.
Greif first evaluated Kitson's operations. He quickly realized that Ross was stretched too thin and needed to bring in an experienced retail executive. Greif and Ross then recruited Lee, based on his success at Forever 21, the downtown apparel maker and retail chain.
"Forever 21 has a growth trajectory that most apparel retailers can only dream about," Greif said. "When Chris started, it was doing less than $200 million in sales and now it's doing less than $2 billion. He was there throughout that aggressive growth period and he has experience that frankly Fraser Ross does not have."
Lee began his career at major firms such as Merrill Lynch and Lehman Bros. as a private wealth banker who built a roster of high-net-worth business owners that included apparel manufacturers.
Forever 21 Chief Executive Do Won "Don" Chang hired Lee in 2000 when the fast-fashion retailer was still a mom-and-pop business.
"No one gave us the respect early on. We weren't an audited company," Lee remembered. "A couple of the private equity firms laughed at me when I said I'm going to make this a big company."
Lee originally joined Forever 21 to help take the company public, but the IPO never happened because, Lee said, the retailer became so successful that the company didn't need to do it.
Lee is now looking to add Kitson to his winning record.
"I'm trying to duplicate that here," Lee said, "and it's a high-margin business here. This is brand-launching, high growth, high margin, high value. We are luxury almost."
Master plan
Lee's first step was evaluating Kitson's store operations, discounting slow selling merchandise to make room for fresh inventory from new designers and brands.
He then decided to close one of the retailer's two Kitson Kids stores on Robertson, shutter the Kitson Kids Downtown Disney location and eliminate the Beverly Boulevard outlet. He plans to open a store at a premium outlet center.
He is finalizing plans to open a 3,000-square-foot store that would combine all of the Kitson concepts – women's, men's and children's apparel as well as accessories and gifts – at Honolulu's Ala Moana shopping center. Ala Moana has among the highest per-square-foot sales in the United States.
Jeff Green, president and chief executive at Phoenix retail consulting firm Jeff Green Partners, said the Ala Moana is an ideal location for a Kitson store because the mall is a destination for Asian tourists who are already fans of the brand.
"Now is the perfect time to be eyeing growth because there is space available and because there aren't a lot of new concepts that are evolving," Green said.
Lee is also focusing on international growth, looking to open stores mainly in Europe and Asia through joint-venture deals with local companies.
Also, there's the plan for the Kitson brand.
Kitson originally sold clothes and accessories from other designers and brands, but started selling totes and other small products such as candles labeled with the Kitson name after becoming successful. Ross also licensed the brand name to Skechers for a line of shoes sold at Kitson stores and specialty boutiques.
Lee and Greif see an opportunity to expand the brand even more, eventually putting the name on more merchandise.
"The Kitson name has a certain magic to it," Greif said. "Kitson's blue bag is becoming as iconic as a Tiffany one. People want to be associated with Kitson. That's something you can commercialize."
Greif has been meeting with potential investors. Strategic partners could help Kitson open stores in other countries, for example; private equity firms could take an equity position. He expects to strike a deal within the next six months, and there is a view to take Kitson public eventually.
As Greif and Lee usher in a new era at Kitson, they both credit Ross for his willingness to bring outsiders into the fold. Greif said Ross was smart to realize he had to expand his leadership team.
"I give Fraser a lot of credit. He's very introspective," Greif said. "A lot of entrepreneurs aren't mindful of their limitations, but Fraser is."
For reprint and licensing requests for this article, CLICK HERE.