L.A. Hotels Add Luxury Moniker
Cipriani debuts on Westside, but on Pico.
Monday, May 23, 2011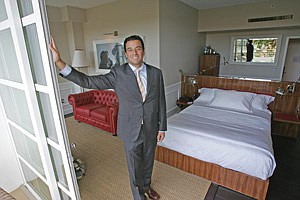 A new brand is turning up the heat on L.A.'s luxury hotel scene, and it's bringing some jet-set glamour and a prominent name to its Beverly Hills-adjacent address.
The Mr. C Beverly Hills hotel, a collaboration between local businessman Bob Ghassemieh and his family and the famed Cipriani family, is set to debut next week.
It's the first L.A. venture by the Cipriani brand, renowned for its private clubs, banquet spaces and fine-dining restaurants throughout the world.
Ghassemieh believes Mr. C, with its panoramic views of the Hollywood Hills, will rival other local high-end hotels.
"We saw the Westside hotel market as a great opportunity to invest in a luxury property because it's supply constrained," said Ghassemieh, who is leading the redevelopment with Alex Ghassemieh, his uncle. "The Montage was the last luxury hotel that was built in the Beverly Hills market that added new rooms."
It won't bring more rooms to the market; standard lodgings were converted to luxury accommodations. After undergoing a $35 million renovation, including the installation of Italian travertine floors, Rosewood-paneled walls and Murano chandeliers, the aging property moved into the luxury class. Room rates are expected to start at $429 a night and go up to $2,000 for a suite after opening specials, putting it in the upper echelon of Beverly Hills hotel prices.
The 12-story, 138-room hotel, which has 12 suites, also has a banquet space on the top floor and a ground-level pool deck that's been outfitted with teak floors and cabanas. There's also a white-table cloth Italian restaurant, also called Mr. C, which will include a pizzeria and serve such Cipriani dishes as homemade lightly baked tagliolini with ham and beef Carpaccio.
Bob Ghassemieh is hoping the amenities will attract well-heeled international and New York travelers as well as local executives, especially those from the entertainment industry.
Alan X. Reay, president of Irvine Atlas Hospitality Group, said it's a good time for a high-end property such as Mr. C to come on line because L.A.'s hospitality market, the Westside region in particular, is coming back strong after a recession that battered the industry.
Indeed, occupancy rates in Los Angeles County rose to 76 percent in March, up from 72 percent the same month last year, according to the most recent data from San Francisco-based Colliers PKF Consulting USA. Revenue per available room, a key metric of the industry's financial health, increased 14 percent to almost $116 from $102 for the same period last year.
The luxury market reported even healthier numbers. Revenue per available room at county hotels with a daily room rate of more than $300 jumped 36 percent in March to $414 from the same period last year.
"This is a huge endorsement of West Los Angeles and the Beverly Hills market," Reay said. "The hotel market has rebounded, especially in the luxury division. It's one of the most sought-after segments in the hotel industry."
On the other hand, he added, name recognition could be an issue. People know the Montage brand and the other big names in Beverly Hills, but Mr. C – even as a division of Cipriani – is new and might not be the first choice of the discriminating traveler.
"Mr. C, from a reservation standpoint, is not as strong as Four Seasons," he said.
Reay also noted that location may be a challenge. The hotel is on Pico Boulevard and Beverwil Drive. While the new hotel is just a trot south of Beverly Hills, Pico is not a name associated with luxury.
"If you look at it on a location standpoint, Montage is No. 1, Peninsula is No. 2, Four Seasons is No. 3 and Mr. C is No. 4," he said.
As for the location, Ghassemieh said, "the only hotels in the competitive set that are closer to the heart of Beverly Hills are the Montage and Beverly Wilshire. And the other hotels, which are Beverly Hills Hotel, Four Seasons, L'Ermitage and Peninsula, for a pedestrian aren't any closer."
The hotel will offer guests a complementary car to take them to nearby destinations.
Checking in
The Ghassemieh family immigrated to Beverly Hills after the Iranian revolution and started First Credit Bank, which specializes in commercial real estate lending. They also started investing in commercial real estate and midmarket hotels throughout the United States.
When the property that would become Mr. C hit the market in 2005, the Ghassemiehs jumped at the opportunity to acquire it. The hotel was operated by Loews Hotels, but the Ghassemiehs decided to run it as an independent, Tower Beverly Hills, while planning the redevelopment.
Bob Ghassemieh then approached Giuseppe Cipriani, who heads that family's business, about partnering on the project. The Ghassemiehs had known the Ciprianis' opulent restaurants and clubs in New York for years.
The Ciprianis began building their enterprise in 1931 with the opening of Harry's Bar in Venice, Italy. The company opened Harry Cipriani in New York in 1985, and has since expanded there with three additional restaurants, two event spaces, a private club and residences. The company also has fine-dining restaurants in London; Hong Kong; Istanbul, Turkey; Venice; and Porto Cervo, an exclusive Italian seaside resort town.
As for bringing in the Ciprianis, Ghassemieh said, "We looked at it as an opportunity to take it to a high level of luxury."
The Ghassemiehs completed a redevelopment plan, but the main lender pulled the construction loan when the economy crashed in 2008. Bob Ghassemieh said the family considered a range of options, but decided to find alternative sources of capital.
Alex Ghassemieh, chief executive at the family's West Hollywood-based private equity firm, Atlantic Pearl Investments Inc., raised preferred equity financing from family and friends.
Meanwhile, Giuseppe Cipriani's sons, Maggio and Ignazio, approached Bob Ghassemieh with the idea of using it as the first hotel in a new brand, Mr. C.
"We've been looking for hotels," Ignazio Cipriani said. "But this was the first one we liked and was convincing. Everything felt good about it."
They decided to cut the renovation budget to $35 million – half of what they had originally planned – and construction crews started working on the property last July.
In the meantime, Bob Ghassemieh recruited Sam Jagger, former director of sales and marketing at Santa Monica's Fairmont Miramar Hotel & Bungalows, to serve as general manager at Mr. C.
Ghassemieh is eyeing future plans for the Mr. C brand now that the hotel is ready to open its doors.
"We always saw this as a long-term strategic partnership," Ghassemieh said. "We'd like to have this first location and then roll out in key markets like New York; Miami; San Francisco; and Washington, D.C."
For reprint and licensing requests for this article, CLICK HERE.